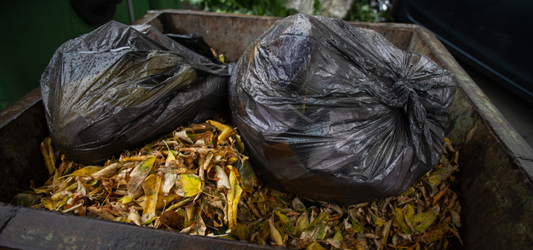 Updated May 19, 2022
Rain, thunderstorms, hail, and other severe weather are obviously not ideal when you have a dumpster rental, but there are ways to mitigate the affects on your rental experience.
Hometown is here to help answer all your dumpster rental questions to make your experience as affordable and stress-free as possible.
We'll go over:
---
---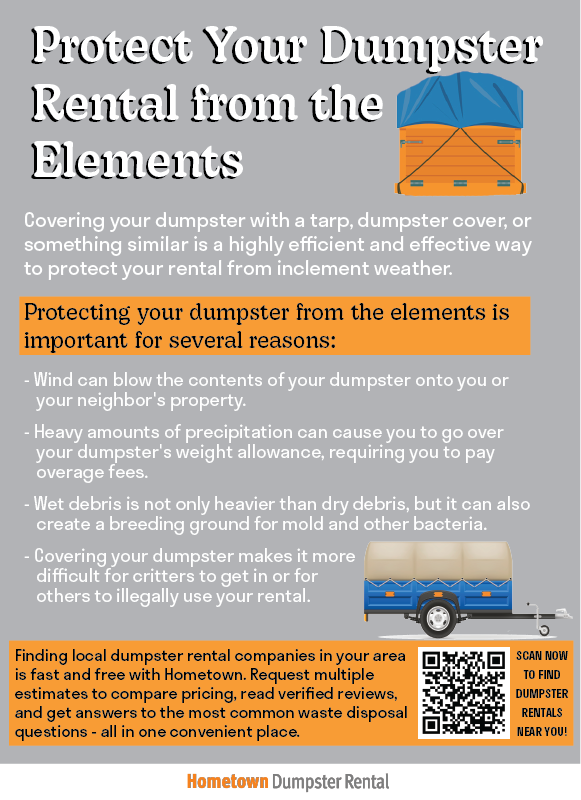 Handling Inclement Weather During Delivery or Pickup
If you have a dumpster delivery scheduled during a time where there is heavy precipitation, it's highly recommended that you place your dumpster on a hard surface and avoid having it placed in a yard.
A heavy roll-off dumpster can easily kill grass regardless of the weather, but doing so while the ground is wet is sure to make the damage more severe, making it harder and more expensive to restore.
A concrete driveway, asphalt parking lot, or graveled area are less likely to incur any damage from a dumpster being placed there.
If there is snow or ice piled up, be sure to plow or shovel and/or salt the area where the dumpster is to be placed and any pathways to access it.
Even better is the option to have your dumpster placed inside a large garage or pole barn.
Not only will the floor be a secure, dry surface, but the overhead protection from wind and precipitation makes protecting your dumpster an easy, one-step process.
Learn more:
Protecting Your Dumpster Throughout Your Rental Period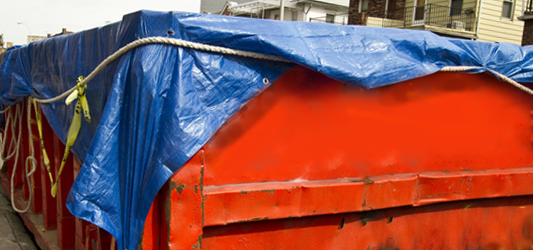 While the open top feature of roll-off and trailer dumpsters makes loading much easier, it creates a problem when weather becomes an issue.
Covering your dumpster with a tarp, dumpster cover, or something similar is highly efficient and effective.
Protecting your dumpster from the elements is important for several reasons:
Wind can blow the contents of your dumpster onto you or your neighbor's property, requiring you to clean it up and/or pay for any damages that happen as a result.
Heavy amounts of precipitation can cause you to go over your dumpster's weight allowance, requiring you to pay overage fees.
Wet debris is not only heavier than dry debris, but it can also create a breeding ground for mold and other bacteria.
Covering your dumpster makes it more difficult for critters to get in or for others to illegally use in your rental.
If you're still in the research phase, Hometown makes finding licensed and insured dumpster rental companies in your area quick and easy.
Hometown publishes locally-owned waste disposal services because we know how much value they bring to customers.
Local dumpster rental companies tend to cost less than nationwide chains and they tend to offer a higher quality of customer service, too.
By entering your zip code and answering a few quick questions about your disposal needs, you'll be shown reputable dumpster companies that service your area.
You can learn more about their services, read verified real reviews, and request free quotes from as many companies as you'd like.
We recommend getting several different dumpster rental quotes to ensure you're paying a competitive dumpster rental price with the availability you require and the customer service you deserve.
---
---
Continue reading: