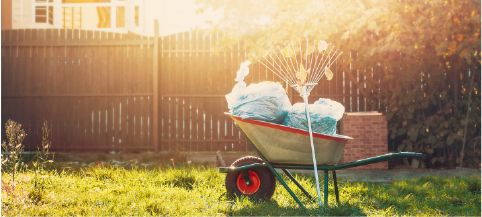 Updated April 23, 2023
Doing a spring cleanup of a yard after the winter season can seem stressful.
If you're unsure where to start when it's time to clean up your yard, it can help to break it down into individual steps.
Hometown can help you minimize stress and streamline your spring yard cleanup project.
The steps to a beautiful yard this spring are simple:
---
---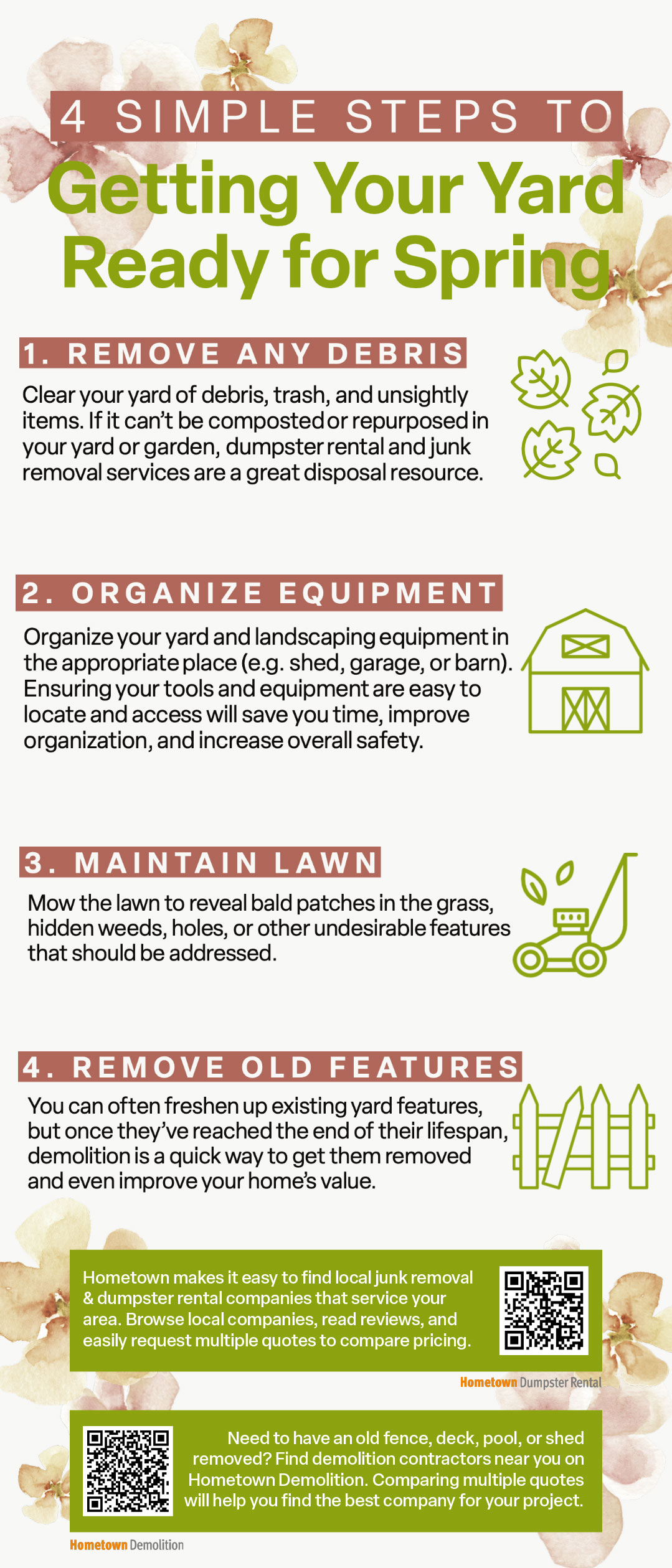 1. Remove Debris
The first step to cleaning up your yard after winter should be removing any and all debris, trash, or other unsightly items that can be removed. For example, get rid of moldy outdoor furniture, broken equipment, old toys, fallen tree debris, accumulated leaves, dead shrubs or trees, etc.
An eco-friendly solution to disposing of yard waste is composting whenever possible, but for items that can't be composted or dropped off at your local green waste disposal facility (Google "green waste disposal near me" to find yours), a junk removal service or dumpster rental is the next best thing.
A 10 yard roll-off is typically large enough for a basic yard cleanup project, or 20 yard roll-off dumpsters are great for larger residential or light commercial yard waste disposal projects. If you don't have the time or ability to clean up all that debris yourself, a junk removal company can be a great resource.
Reach out to local companies to have them come out to your property to provide a quote for your yard cleanup project, and if you like the price they quote you, they'll get started right away.
Hometown makes it easy to find local junk removal companies or local dumpster rental companies, whichever you prefer. You can browse the companies in your area, read customer reviews, and request multiple quotes to be sure you get the best price for great customer service.
Keep reading:
2. Organize and Refresh Equipment
Once you've removed any items that don't belong in your yard, organize your yard and landscaping equipment in the appropriate place (e.g. shed, garage, or barn). Ensuring your tools and equipment are easy to locate and access will save you time, improve organization, and increase overall safety.
Oftentimes, any outdoor furniture, decks, fences, walkways, and driveways can be power washed to remove dirt and grime and reveal their original shine.
Wood decks and fences in need of a boost of protection and color can benefit from a fresh stain.
Likewise, deck furniture and siding that's chipping or faded from exposure to the elements can often be touched up with the appropriate paint to make them look like new again.
3. Tend to the Grass and Landscaping
Next, it's time to tend to the grass and landscaping. Mow the lawn to reveal any patches in the grass, weeds, animal holes, or any other undesirable features that should be addressed.
Then, trim back shrubs and trees to boost plant health and growth and freshen up their appearance. Once you've trimmed back the larger plants, you can then go in and assess the smaller plants, including flowers, and determine areas that need fresh mulch, gravel, or seed.
4. Remove Yard Features as Needed
As previously mentioned, you can often freshen up existing yard features, but once they've reached the end of their lifespan, demolition is a quick way to get them removed and even improve your home's value.
If you have an old fence, deck, pool, or shed/barn that's worse for wear and ready to be removed, Hometown can help you find fence and deck removal companies, pool removal contractors, and shed/barn removal companies too.
Learn more:
---