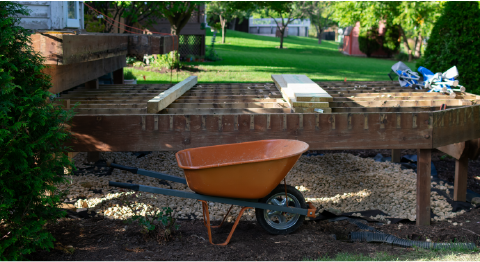 Updated December 6, 2022
Junk removal services are incredibly convenient, which is why so many homeowners and business owners opt to hire junk removal companies to help with their projects.
Most people know junk removal companies are great at getting rid of bulk trash, unwanted furniture and appliances, and remodeling debris, but not everyone knows that junk removal companies are great at helping with light demolition projects, too.
If you're planning a light demolition project, like fence removal, above ground pool removal, deck removal, hot tub removal, flooring removal, etc., you may not realize that junk removal companies can be a great asset in getting the job done as efficiently as possible.
In this guide, we'll go over the light demolition process so you know what to expect, how much you can expect to pay, and who to hire.
Table of Contents:
---
---
Request Quotes from Local Companies
Getting multiple quotes from local junk removal companies for your light demolition project is the best way to ensure you hire the right company for the right price, and nobody makes it more simple than Hometown.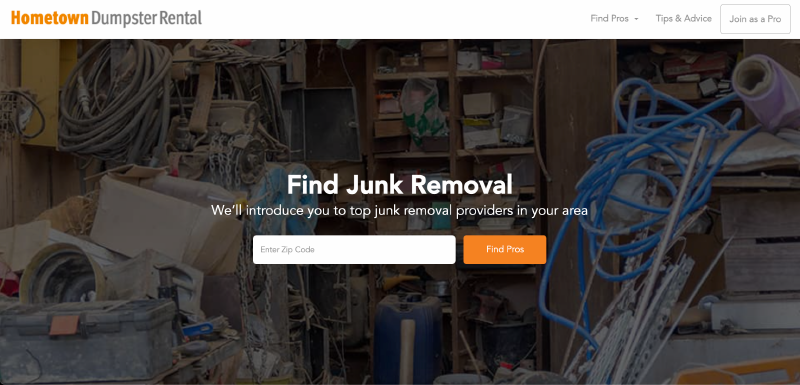 Hometown Dumpster Rental specializes in helping homeowners and business owners find waste disposal companies, including dumpster rental and junk removal services.
We make it easy to request quotes from up to three companies with a single click.
Start by answering a few questions about your project...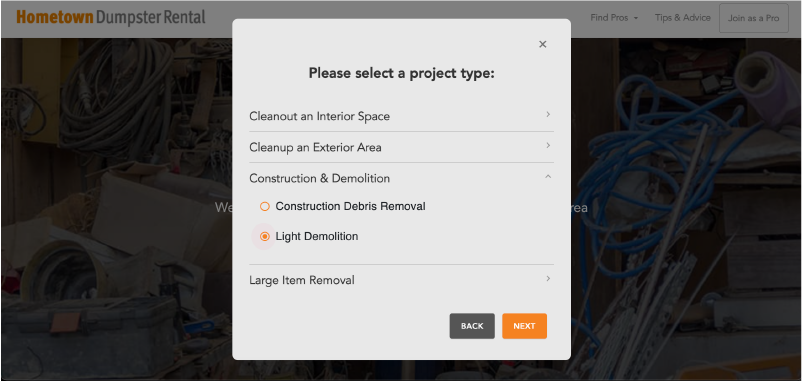 Select the type of project you have.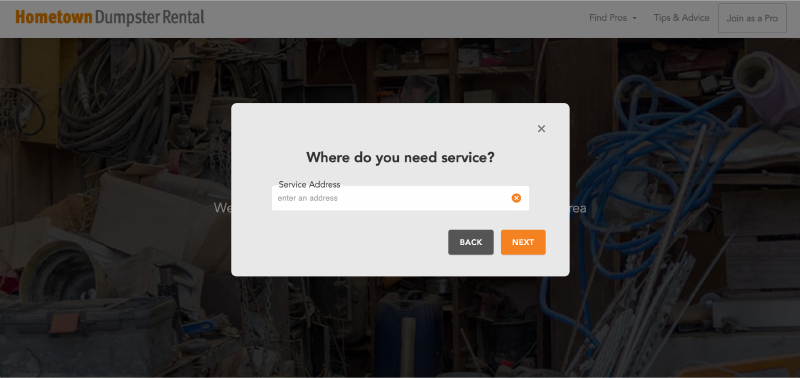 Enter the address where you will need service.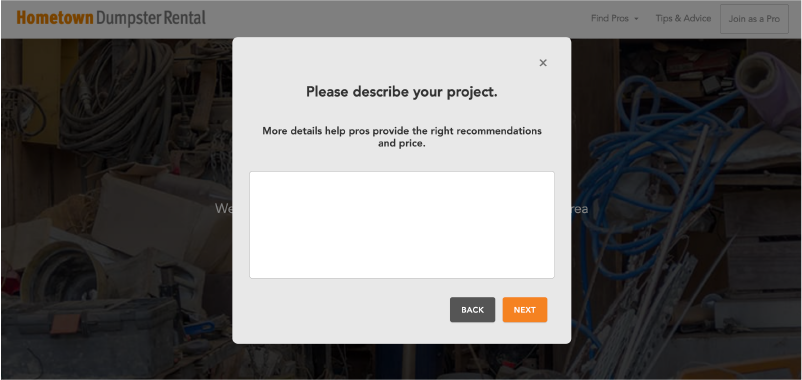 Describe your project as clearly as you can, including dimensions, materials, and other important details about your light demolition project that may affect how the job is done.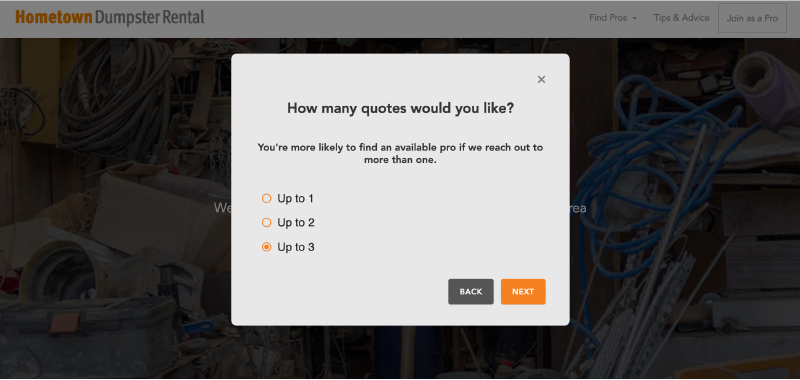 Select how many quotes you would like to request from local providers.
We recommend selecting "Up to 3" because the more quotes you get, the more information you'll be able to compare, like companies' availability, customer service, experience, and cost.
The more quotes you can compare, the higher your chances of hiring the best company for the job.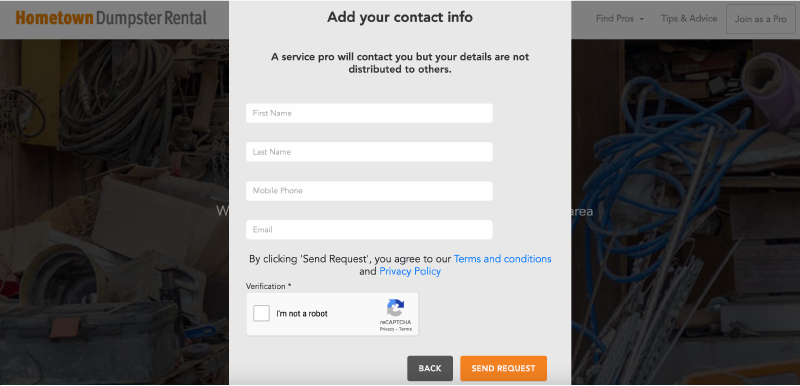 After describing your project, we'll get your contact details so companies can reach out to you to provide a quote.
We never share or sell your data. We only use your project details to help connect you to the right local experts and to follow up on your satisfaction level.
Once your request is submitted, you'll receive a text alerting you when a company accepts your request and agrees to provide a quote.
The junk removal companies will then follow up with you directly to schedule a time to come out to your property and provide an accurate quote for your light demolition project.
If you haven't requested quotes from junk removal companies yet, Hometown can help you find qualified local junk removal services, read customer reviews, and easily request quotes from them.
Average Cost of Common Light Demolition Projects
Knowing the average cost of the most common light demolition projects will make it easier for you to identify a good deal.
Above ground pool removal: $1,000-$3,000
Deck removal: $600-$1,000
Fence removal: $600-$800
Flooring removal: $325-$700
Hot tub removal: $300-$600
Shed demolition: $600-$2,000
Hire the Best Company for the Job
Remember: There's zero obligation to hire when getting quotes from junk removal companies, or any contractor for that matter.
Compare and contrast the quotes you receive and each company's customer service and availability.
If/when you're ready, hire the junk removal company you think is best for your light demolition project.
Learn more:
Demolition Takes Place
The exact demolition process will vary depending on your particular project.
For example, a fence removal will go differently than a hot tub or above ground pool removal.
However, the general light demolition process goes like this...
Step 1: A crew of typically two or more will arrive at your job site in a trailer truck to get started.
Step 2: The crew will confirm and finalize the exact work you need done.
Step 3: Before starting demolition, they will position the trailer/truck as close to the job site as possible for convenient disposal of debris.
Step 4: Any prep work that needs to be done takes place. For example, above ground pools and hot tubs are emptied, electricity gets turned off if interior demolition is taking place, etc.
Step 5: Using simple manpower and the necessary tools (e.g. electric drills, saws, pry bars, sledgehammers, and in some cases, heavy machinery, like backhoes or jackhammers), the crew will start the disassemby and demolition.
Step 6: As the demolition takes place, the debris is loaded onto the truck/trailer.
Step 7: Once the demolition is finished and all the debris is in the truck/trailer, the crew will typically sweep or rake the area clear of any remaining debris.
Pay Invoice
Once your light demolition project is completed, before leaving your home or business, the junk removal company will provide you with an invoice.
Oftentimes, they'll take a credit card or cash on the spot.
In some cases, you can call into the office to pay the invoice over the phone.
Debris Is Disposed of Properly
Once loaded onto their truck, the junk removal company will then transport the debris to the appropriate place for proper disposal.
For example, if you have items that can be donated, the service company will take it to a local charity. (Ask for a receipt of donation if they do not provide one to you.)
If the item(s) can't be donated but can be recycled, the company will take it to a local recycling facility.
If they are unable to donate or recycle the item(s), only then will they take the debris to a landfill.
---
---
Keep reading: