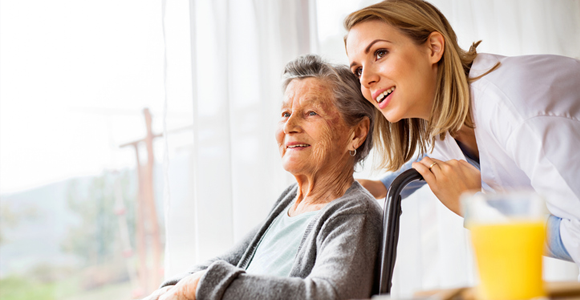 Updated November 30, 2022
Moving parents or other loved ones out of their home and into assisted living or another relative's home can be a physically and emotionally daunting task.
Sorting through a lifetime worth of memories and belongings on someone else's behalf and having to decide which items will move with your parents, which items to sell or give away, and which items to throw out can be challenging for anyone, no matter how prepared you are.
This can be a challenging time but can also be a time to revisit beautiful memories and give your parents an opportunity to have a say in how their valuable items should be dispersed and to whom, all while creating new memories with your parents and others who love them as much as you do.
There are different strategies to help make this transition go as smoothly as possible if you're in charge of this difficult task so that you can get back to the responsibilities of your own home and children, including professional services that help streamline the process, like junk removal and dumpster rental services.
Go over over our top 10 strategies to make moving your parents out of their home as easy as possible:
---
---

Plan Ahead
Mapping out a plan of attack before you begin the process of packing up your parents' home can save you significant time in the long run.
You'll want to have a general idea of what types of items to keep, which items to sell or donate, and what can be tossed in the trash.
Collect as much information about the assisted living center that your parent(s) will be transitioning into so that you don't overpack, like the dimensions of the space they'll be moving into as well as how much storage space (if any) is available.
Create a timeline that outlines how much time you will dedicate to this project with a clear end date established so that you stay on track.
Give Yourself Plenty of Time
With an end date in mind, give yourself a minimum of two weeks to pack up your parents belongings.
If you have a particularly busy schedule, give yourself a full month to make the time to slowly chip away at packing up your loved one's home.
Trying to pack up someone else's home full of a lifetime of memories can be time-consuming and emotionally and physically draining.
Give yourself plenty of time to complete the project by not forcing yourself to get it all done within a single weekend.
Recruit Help
If other family member or friends offer their help, be sure to take it.
Even if they can't necessarily help you sort through items, having extra hands on deck to help lift, move, box, and bag items will help cut down your project time significantly.
In circumstances where additional help isn't available, consider hiring professional help, like a junk removal company.
Read more:
Start By Packing Essentials
Downsizing will be a key component to moving your loved ones into assisted living and there will likely be more items to get rid of than there will be to keep.
We recommend packing the essentials that will move with your parents first so that you only pack what is most useful and important.
Only bringing essential items, like clothing, toiletries, small keepsakes, and photographs, will make it easier to determine which items need to be sold or given away.
Having these essential items packed away and out of sight will eliminate the chance that they'll be picked up and thrown out with the items you aren't keeping.
Work on One Room at a Time
Focus on completing one room at a time so that the entire home isn't in disarray.
Starting with the smallest rooms and working your way up to the largest rooms is a common strategy to see fast results and help get your momentum going.
Another strategy is to start with the rooms in the home that you know won't transfer into an assisted living home, like a garage or kitchen.
The majority of the items found in these types of rooms will be sold, donated, or thrown away.
---
---
Take Time to Reminisce and Bond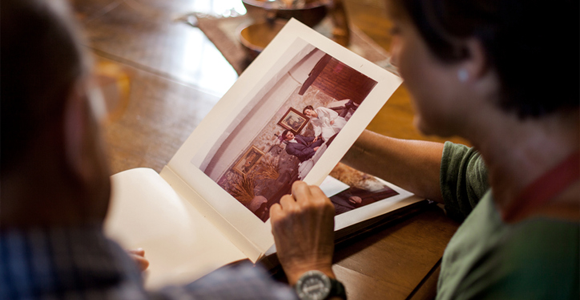 Downsizing someone else's home can be a lot of physical work for you and emotionally daunting for both you and your parents.
Find time here and there to sort through old, meaningful belongings that will bring back positive memories for everyone involved.
If you've stumbled across an old photo album or a box of childhood things, set aside some time to enjoy this part of the process with your loved one.
Not only will this lift everyone's spirits by reliving old memories, but it creates a priceless new memory, too.
Donate/Sell Items in Good Condition
There will likely be many items that won't be able to move with your parents into their new home.
For items that are still in good, working condition, giving them to family members or family friends, or selling or donating them, is the preferred method to downsizing.
If you have time, setting up a garage sale or living estate sale can help you get rid of items your family doesn't want or can't take, while also gaining a small profit for these items.
Larger or more expensive items can be listed for sale online on Facebook Marketplace or Craigslist.
Keep in mind that selling unwanted items requires more time, energy, and organization, so if you don't have time to do that, consider giving away these items or taking them to a local donation facility.
Rent a Dumpster
For homes that have a significant amount of old items that need to be thrown out, renting a dumpster is one of the most efficient disposal methods.
10 and 20 yard dumpsters will typically be large enough to accommodate and average home's worth of clutter and will cost around $250-$450 on average for a 5-7 day rental period.
The price you will pay for a dumpster rental will depend heavily on where you live, the size of the dumpster, the amount and type of junk you're throwing out, who you hire, and more.
It's best practice to get multiple quotes when hiring a dumpster rental company.
Hometown makes it easy to find locally-owned companies that service your area and request multiple free quotes with a single quote request form.
We ask a few simple questions about your disposal needs and once your quote request is submitted, you'll receive a text alerting you when a service provider accepts your request and agrees to provide a quote.
There is never an obligation to hire. You simply compare the customer service and quotes you receive so that you can make the most informed decision on who to rent a dumpster from.
Learn more:
Hire a Junk Removal Company
If you have a particularly busy schedule and your own home to keep up with, junk removal services are an even more efficient option.
Rather than having to sort through everything and load a dumpster yourself, you could hire a junk removal crew to do all the tedious work and heavy lifting for you, allowing you to focus on more important things.
When there is more than 7 cubic yards worth of material to throw out, junk removal services can be more expensive than renting a dumpster, but many find the all-inclusive nature of junk removal services to be invaluable and worth the added expense.
Just like with dumpster rental, Hometown can help you find local junk removal companies and help you get in contact with them to schedule a free project estimate.
More often than not, they will need to send a pro to your location to do a walk-through to give you the most accurate quote possible.
From there, you can either continue to reach out to different companies for quotes, or you can decide to hire them and schedule a time for them to complete their service.
Depending on the size and scope of your project, some companies will have the ability to get working on your removal project right away if you decide to hire them after their walk-through.
Finding reputable, locally-owned junk removal companies with Hometown is just as easy as finding a dumpster rental.
Answer a few quick questions about your parent's home and removal needs, and they'll get in contact with you as soon as possible to arrange your free estimate.
Keep reading:
Take Advantage of Senior Discounts
If you decide to rent a dumpster or hire a junk removal company on your parents' behalf, ask the companies you speak with if they offer any senior discounts.
It's common for local services to offer a small discount to those who qualify as a senior citizen, so be sure to mention that you're hiring these services on behalf of your parents when shopping around for quotes.
10-15% doesn't sound like a lot, but when you're spending $100 or more, it can certainly add up!
To find disposal companies in your area that offer senior discounts, use Hometown to search your zip code. You can look up dumpster rental companies, junk removal companies, or both!
---
---
Continue reading: