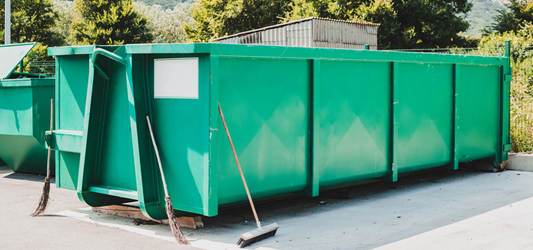 Updated February 23, 2023
Renting a dumpster is a cost-efficient way to get rid of large amounts of trash and debris, but it's not everyday that you have a huge piece of equipment placed on your property.
If you've never rented a dumpster before, this article will help prepare you for what to expect.
We'll go over:
---
---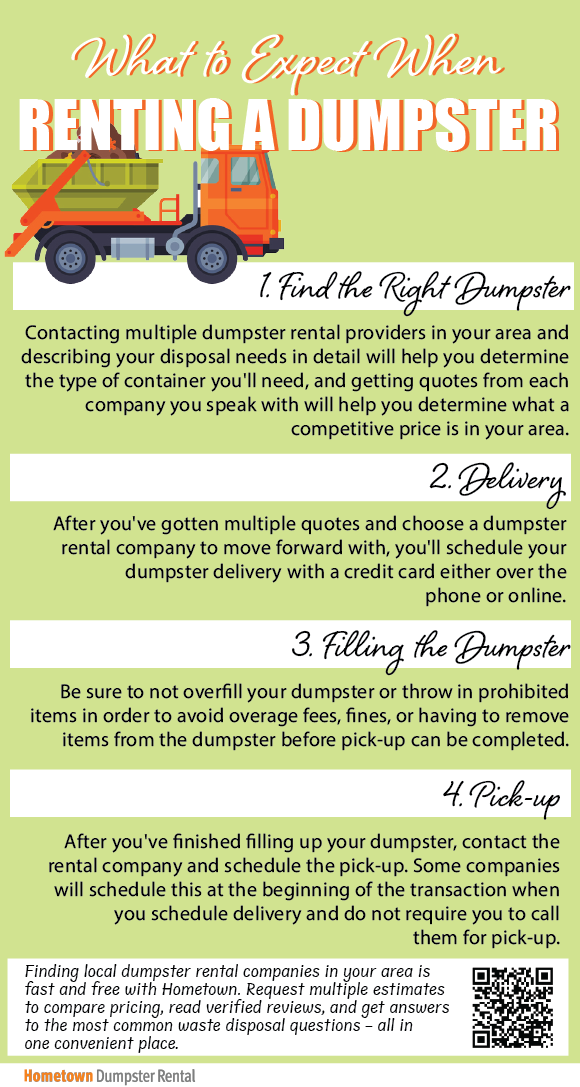 Finding the Right Dumpster
The first thing you'll need to do is decide which size and type of dumpster will work best for your project.
Our guide will help you determine the perfect dumpster size for your disposal project, but dumpster rental companies are experts at determining what will work best.
Contacting multiple dumpster rental providers in your area and describing your disposal needs in detail will help you figure out the size of container you'll need, and getting quotes from each company you speak with will help you know what a competitive price is in your area.
When it comes to renting a dumpster, locally-owned and operated companies tend to provide more affordable pricing than their nationwide competitors who specialize in weekly municipal trash services.
The quickest and most convenient way to find dumpster companies that service your zip code is by searching on Hometown.
By entering your zip code and answering a few questions about your dumpster needs, you'll be able to request free quotes from qualified locally-owned providers near you.
Hometown only publishes verified reviews from real customers to help you make an informed decision on who provides the best dumpster rental service in your area.
Learn more: Waste Management's Dumpster Rental Prices Are Costly Compared to Local Haulers
Delivery
After you've gotten multiple quotes and choose a dumpster rental company to move forward with, you'll schedule your delivery with a credit card either over the phone or online.
Be sure to specify where on your property you'd like the dumpster placed.
If you're renting a roll-off and having it placed in your driveway, we recommend confirming that they will use wood planks or another method to prevent the dumpster from cracking or damaging your driveway.
If you're renting a trailer dumpster, the rubber wheels attached to the bottom will be protection enough and no further precautions will be necessary.
Make sure that the area is clear of cars or any other obstructions blocking the dumpster truck's path.
Reach out to neighbors ahead of time if their parking situation will affect the dumpster company's ability to deliver the containers.
Filling the Dumpster
Once your rental is placed in your desired area, you can begin filling it.
If you have large, heavy, or oddly shaped items, a roll-off container can make walking in these items easy with their swinging back door.
Both roll-off containers and trailer dumpsters feature an open top, making it easy to throw your items in over the side walls.
Every dumpster has a fill line, so be sure to not overfill your dumpster so that you can avoid overage fees or having to remove items from the dumpster before pick-up can be completed.
Be sure you understand what is prohibited from the dumpster so you don't make the mistake of putting unapproved trash into your dumpster.
Items like paint cans, rubber tires, and pesticides are examples of common items banned in landfills (and therefore dumpsters) throughout the United States.
You will be subjected to additional fines and fees for not following the dumpster company's rules regarding approved disposal.
Keep reading: Why Roll-Off Containers Are Perfect for Heavy or Bulky Items
Pick-up
After you've finished filling up your dumpster, contact the rental company and schedule the pick-up.
Some companies will schedule this at the beginning of the transaction when you schedule delivery and do not require you to call them for pick-up.
Dumpster quotes and agreements include a specified amount of time that the dumpster will remain on your property.
If you're supposed to contact the dumpster company to arrange pick-up once you're done using the container and don't do so until after the predetermined rental period, you'll be charged a small fee per day in addition to your original amount.
Just like with delivery, be sure there is an unobstructed path for the dumpster truck to safely access the dumpster.
If you've overfilled the container, the dumpster company may ask you to remove items until the dumpster is safe to transport, or they may do so themselves and leave the remaining items for you to dispose of.
Making sure to follow all rules and guidelines provided to you by the company you hire will ensure a simple, fast, and smooth dumpster delivery and pick-up.
---
---
Learn more: