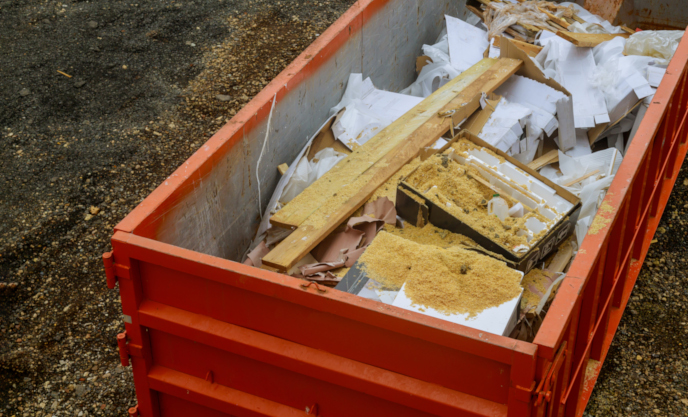 Open top dumpsters are the ideal solution for handling removal of bulk amounts of waste, such as construction debris, household junk, landscaping debris, and other types of nonhazardous waste.
Open top dumpsters can be purchased but are more commonly rented for a period of time, usually three to seven days.
Open top dumpsters, also referred to as roll-off containers, are called "open top" because there is no cover on the top.
The cost of renting an open top dumpster will vary based on several factors that we'll discuss more in depth below.
Keep reading to get all the details you need before renting a dumpster.
Jump to:
---
---
Overview of Open Top Dumpsters

Roll-off containers are the most common top of open top dumpster, though trailer dumpsters would also fall into this category since most do not have covers like you would find on a traditional commercial dumpster—the dumpsters found at stores, restaurants, or commercial businesses.
Dumpster rental costs will vary based on the following factors:
Location
Container size
Dumpster provider
Discounts (e.g., senior, military, etc.)
Type of debris
Common open top dumpster sizes include 10 yard, 20 yard, 30 yard, and 40 yard containers.
Some dumpster rental providers offer alternative sizing, as well.
As a general rule, expect to pay more for larger dumpsters, although you'll usually get a better per-cubic-yard value by choosing a larger dumpster (30 or 40 yarder).
We suggest getting several online quotes from local waste haulers before booking a dumpster. Don't base your decision on price alone, as the reputation of a company should be a key factor in finding a good dumpster rental company.
Open Top Dumpster Rental Costs
The average cost to rent an open top dumpster in the U.S. ranges from $250 to $750 for a seven-day rental, based on data collected by Hometown Dumpster Rental.
This is quite a big range, so let's break it down a bit.
Average rental rates based on container size:
10 yard: $250-$450
20 yard: $350-$550
30 yard: $450-$650
40 yard: $550-$750
Breaking it down even further, you can expect to pay on the higher end of the scale if you live in a high cost of living (HCOL) area, and the opposite is also true if you live in a low cost of living (LCOL) area.
How to ensure you're getting the best price on a dumpster:
Get multiple quotes: Dumpster pricing can vary by as much as 10-30% between dumpster rental companies in some cases. Get quotes from three or more companies to ensure you're getting the best deal.
Ask about discounts: Many dumpster rental companies offer discounts for certain people, like military veterans, seniors, teachers, or first responders. This is a great way to save 10% or more on an open top dumpster rental.
Open Top Dumpster Uses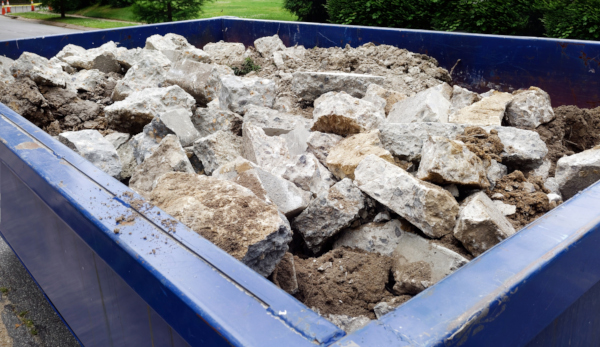 We touched on this earlier, but really the main point is that open top dumpsters are the ideal solution for disposal of bulk amounts of nonhazardous wastes.
Here is a quick list of waste and debris that can be disposed of in an open top dumpster:
Construction debris
Kids' toys
Outdoor play equipment
Tree and landscaping debris
Roofing materials
Concrete
Demolition debris
Trash
Renting a 10-40 yard dumpster is a cost-effective option for a wide range of projects, including construction, demolition, renovation, roofing, and estate cleanouts.
There are a few considerations to keep in mind to avoid any problems during an open top rental:
Weight allowance – Most dumpster rentals put a weight limit cap on dumpster loads. The rental company can help estimate the weight of your materials to ensure you stay below the weight limit.
HAZMATs – Avoid putting any hazardous materials in the dumpster, including fluids, wet paint (dry, empty paint cans are okay), oil/fuel (accelerants), *asbestos materials, *moldy material, tanks, chemicals, or explosives/fireworks. (*These materials may be allowed when properly bagged and sealed by a licensed remediation specialist. Ask your dumpster rental company for details.)
Dumpster rental rules – Abide by all the rules spelled out in the dumpster rental agreement, as well as the local laws regarding dumpster permits (if applicable) and rental duration limits.
Hometown makes it easy for customers to find dumpster rental companies in their area.

Browse dumpster rental companies based on your zip code, read customer reviews for each company, and request quotes from multiple dumpster rental providers to ensure you pay a fair price for great services.
---
---
Find out more: Hometown Dumpster Rental Blog