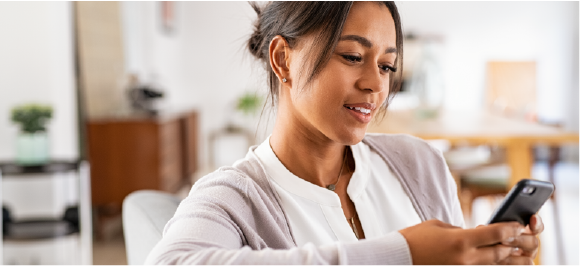 Updated February 17, 2022
There are risks involved when hiring a company for any type of service, including dumpster rental and junk removal.
Skipping some of the bases and crossing your fingers when hiring a company is not an ideal approach.
The importance of thoroughness when paying for dumpster rental or junk removal services cannot be overstressed, and there are a handful of red flags that make it obvious you should steer clear of a certain company.
While we would like to think that all contractors and service companies are honest and straightforward people, that unfortunately isn't always the case.
This is why it's so important to do your research rather than choosing a dumpster rental or junk removal company based on face value alone.
In this guide, we'll discuss the main red flags:
---
---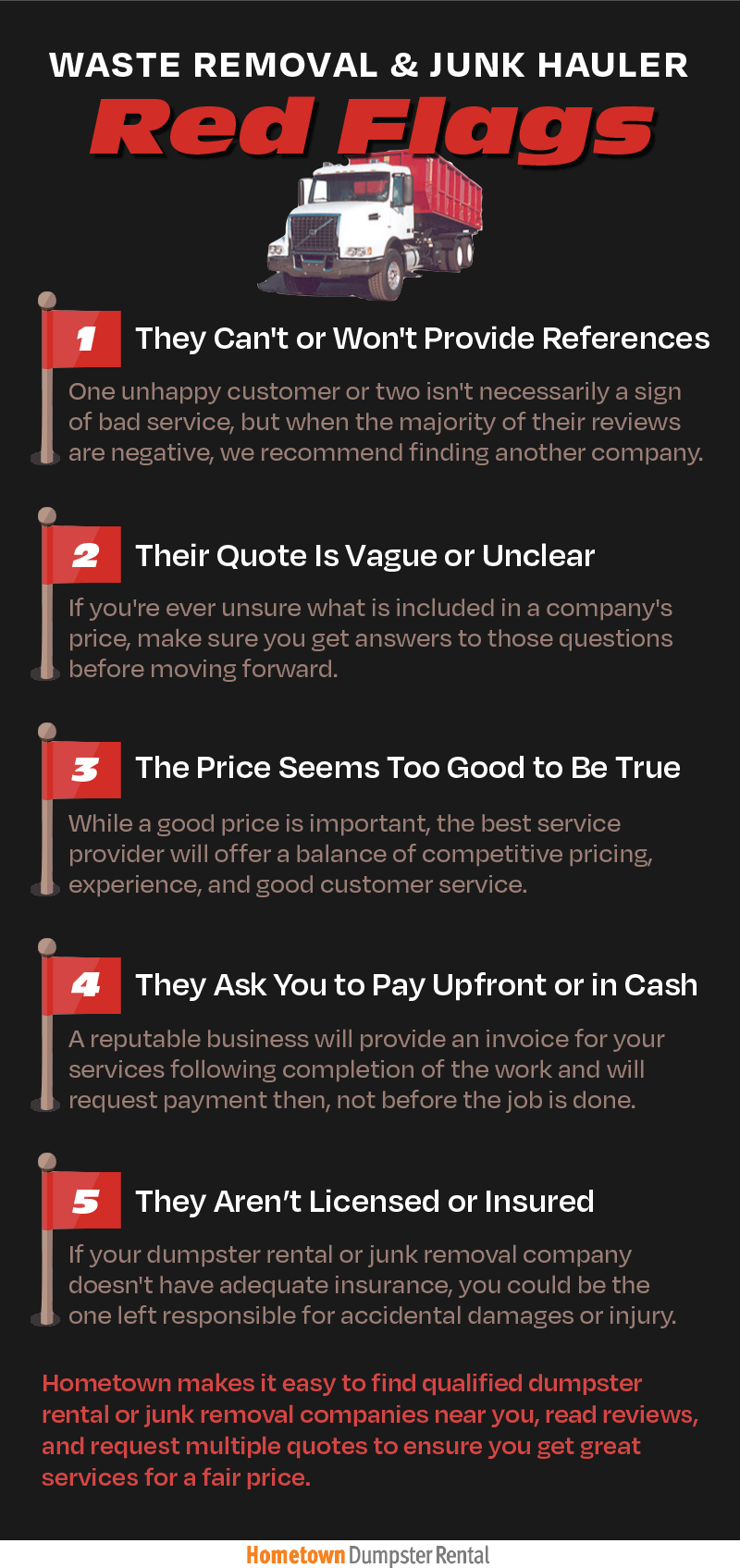 They Have Bad Customer Reviews
A single unhappy customer or two isn't necessarily a sign of bad service, but when the majority of a company's reviews are negative, we recommend finding another company.
If a company has zero reviews, they may be a brand new business or, worst case scenario, they don't allow customers to leave honest reviews because they provide suspect service and don't want other customers to catch on.
A brand new dumpster rental or junk removal business may be highly capable of providing great service for a great price, which is why we also recommend keeping an eye out for other red flags before you count them out.
Their Quote Is Vague or Unclear
A big mistake homeowners commonly make when renting a dumpster or hiring a junk removal company is not getting the pricing details in writing or moving forward with services before having a clear understanding of what the services do or don't include.
It can be easy to lose sight of all your questions (and follow-up questions) once you get on the phone or speak with the company in-person, so we recommend being prepared with your questions before reaching out to dumpster rental services just as we advise having certain questions you get answers to from junk removal companies.
At a minimum, a dumpster quote should include:
Dumpster size
Included weight allowance
Rental period length
Delivery or pick-up requirements
For junk removal quotes, most are provided in-person after the crew has a chance to assess the work. Because junk removal is relatively straightforward and involves hauling away the items you want removed, most quotes are simply invoices for the job done.
If you're unsure what is included in a company's price, make sure you get answers to those questions before moving forward.
Learn more:
The Price Seems Too Good to Be True
We all love a good price. However, unlicensed and unqualified companies may take advantage of unsuspecting homeowners under the guise of a great deal.
A little research may reveal that the company with the crazy good deal also has bad customer reviews or they're simply not qualified or licensed to do the work.
While a good price is important, it isn't the most important consideration when it comes to hiring a contractor.
Make sure you don't lose sight of the big picture when you see a low price. The best service provider will offer a balance of competitive pricing, experience, and good customer service.
Keep reading:
They Ask You to Pay Upfront or in Cash
If a dumpster rental or junk removal company asks you to pay them before your disposal project is done, this is a red flag.
With other contractor jobs, it's common to pay for a small percentage of the project before it begins, but this is not standard practice for disposal-related services.
A reputable business will provide an invoice for your services following completion of the work and will request payment at that point.
For the sake of proof of payment, we always recommend paying with a debit or credit card, check, or money order rather than cash.
They Aren't Licensed or Insured
The importance of insurance cannot be overstated. If your dumpster rental or junk removal company doesn't have adequate insurance, you could be the one left responsible should property be damaged or a worker is injured.
Along the same lines as insurance, a contractor should be properly licensed to perform the work in that state.
These licensing laws are designed to protect property owners from negligent or dishonest companies and contractors.
Each state's licensing requirements are different, but this is often a basic indication that said company is qualified to provide those services.
Hometown is a convenient source for finding dumpster rental or junk removal services in your area. You can read verified customer reviews, see what their customers have to say about their services, and request free quotes from as many providers as you'd like.
---
---
Find out more: