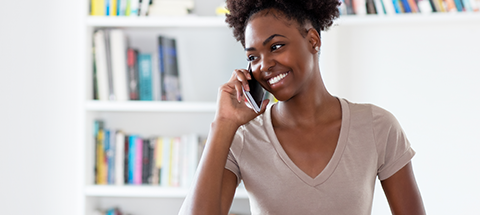 Updated August 1, 2022
Renting a dumpster doesn't have to be difficult, especially if you know the right questions to ask providers.
We've compiled a list of the best 10 questions to ask a dumpster company before renting from them.
Jump to:
---
---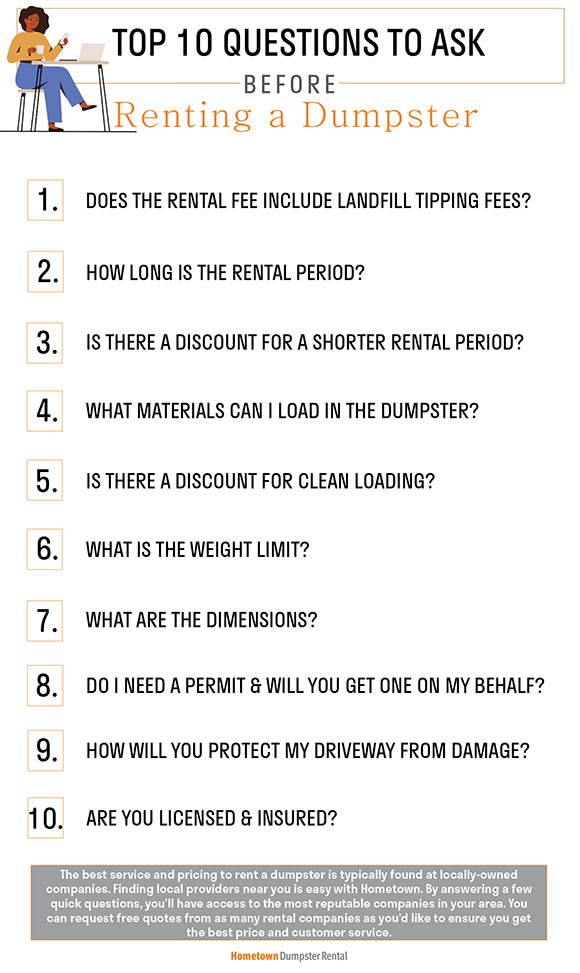 Does the Rental Fee Include Landfill Tipping Fees?
Landfill tipping fees are the fees that the dumpsite will charge the dumpster company to get rid of your trash.
They charge a fee per ton (2,000 lbs), which averages around $50 per ton throughout the U.S.
Most dumpster rental quotes include the cost of the landfill tipping fees, but in the rare instance that it does not, you could be unpleasantly surprised when receiving your final bill.
How Long Is the Rental Period?
The standard length for a dumpster rental is one week.
Most dumpster providers are able to adjust this period to give you more or less time as needed, but it's important to discuss these details ahead of time so that neither you nor the rental company has any surprises surrounding delivery and pick up.
If you don't realize until the end of your rental period that you need more time, most companies will charge you a small fee per additional day that you keep the dumpster.
The average price per additional day of a dumpster rental is a modest fee of $10-$20.
Is There a Discount for a Shorter Rental Period?
Most dumpster rental quotes are based on a per-week basis, but shortening your rental by a day or two won't likely give you a reduced final bill.
If you know before you even rent a dumpster that you'll only need the container for one day, it's worth finding a company that will give you a discounted rate for an immediate turnaround.
Learn more:
What Materials Can I Load in the Dumpster?
Every company is different, but there is a standard list of items that are widely unaccepted in landfills and therefore, dumpsters.
Some of these materials include paint, motor oil, car batteries, household hazardous waste, and more.
There are some materials that are accepted, but only if they are not mixed in with other trash, like yard waste or electronics.
Make sure to be as transparent as possible about the items you plan on dumping in your rental ahead of time so that your quote is as accurate as possible.
Keep reading:
Is There a Discount for Clean Loading?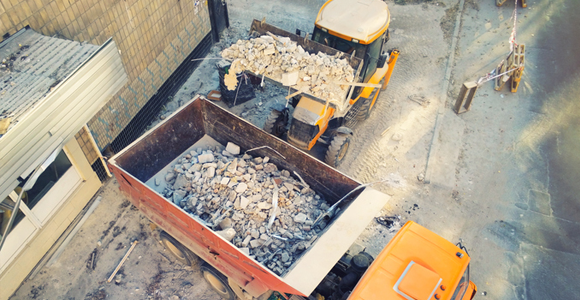 Dumpsters that are only loaded with one type of recyclable material are referred to as "clean loaded".
Because the fees associated with recycling centers tend to be cheaper than landfill fees, dumpster rental companies will oftentimes pass those savings on to you by offering you a discounted fee for clean loading the dumpster.
For example, loading a dumpster with only roofing shingles or only concrete could be cheaper than filling the same size container with mixed household trash.
Continue reading:
---
---
What Is the Weight Limit?
Most dumpsters have weight limits and going over these weight limits will result in overage fees.
Overage fees, like tipping fees, are typically charged per ton and range anywhere from $75-$100 per ton on average.
Understanding the weight of your debris is especially important when you're dealing with especially heavy waste.
The volume of space 3 tons of concrete takes up is significantly less than the volume of space 3 tons of household trash would take up.
Failing to take this into consideration might cause you to continue to fill your dumpster that has reached its' weight limit due to the additional space leftover in the dumpster.
The additional fees associated with overfilling your dumpster can add up quickly and could easily end up costing you twice as much as you anticipated if you aren't careful.
Learn more:
What Are the Dimensions?
There are typical dimensions associated with different dumpster sizes, but knowing exactly the amount of space your container will take up is crucial when you're planning your drop-off.
You'll want to make sure you have enough space on your driveway or property, including the additional space required to utilize the swinging door feature for easy loading.
Underestimating the amount of space your container will take up may require you to place the dumpster in a public right of way, causing you to require a permit.
Do I Need a Permit and Will You Get One on My Behalf?
If your job site requires you to place the dumpster in a public right of way, like the street or sidewalk, a permit from your local municipality will likely be required.
Most cities will not make you get a dumpster permit if placed on personal property, but every jurisdiction is different.
The local dumpster rental companies you speak to should know if your particular situation will require a permit or not.
In the event that you do need a permit, most rental companies will get one on your behalf.
Never assume that this is the case, and be sure to ask to make sure.
Some cities may require that permits be issued to the homeowner and not the dumpster rental company.
Speak with your local providers in detail to find out exactly what is required of you in your area.
How Will You Protect My Driveway From Damage?
If you are renting a trailer dumpster, the rubber wheels will be protection enough for your driveway.
If you're renting a roll-off dumpster, however, there is a slight chance that damage can occur if the proper precautions aren't taken during the drop-off.
Simply laying down plywood or boards before placing the dumpster is usually sufficient enough to eliminate the risk of damage.
Most companies will do this, but make sure to ask ahead of time so that you can provide your own if they do not take this precaution as part of their delivery service.
Are You Licensed and Insured?
Any legitimate dumpster rental company will have the necessary licensing and insurance to not only protect their workers and equipment but to protect you and your property as well.
Asking for proof of the company's insurance is the best way to protect yourself before any work is ever started.
Any company that fails to show proof of these two requirements is likely not a reliable source for a dumpster rental.
Hometown makes sure to verify licensing and insurance for the dumpster rental companies that we publish on our website.
How to Find the Best Dumpster Rental Provider
Your best bet in finding affordable dumpster rentals with exceptional customer service is to rent from a locally-owned company.
Hometown makes it easy to find locally-owned dumpster rental companies that service your area.
By answering a few quick questions, you can request free quotes from as many providers as you'd like.
We recommend getting at least 3 different quotes to ensure you get the best price, availability, and customer service.
Don't forget to reference our list of 10 questions to ask the dumpster rental companies you speak with before committing to one service.
---
---
Keep reading: