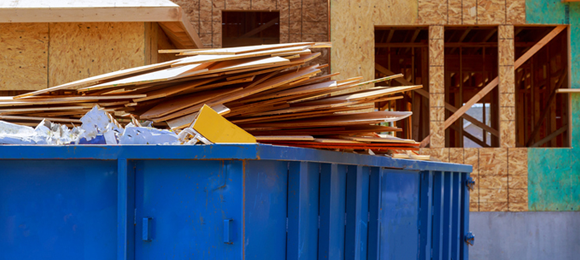 Updated September 13, 2023
As long as you understand and follow your dumpster rental agreement, your final bill should reflect the initial quote you were given.
If you aren't careful, however, unexpected overage fees can accrue.
These extra fees are completely avoidable if the proper care is taken before even calling the dumpster rental company for a quote.
It starts by knowing the type and amount of junk or debris in need of disposal.
Once you have the final details of your project nailed down, you're ready to call local dumpster rental providers to get quotes (we recommend at least 2-3).
These 6 tips will help you avoid paying more than you anticipated:
---
---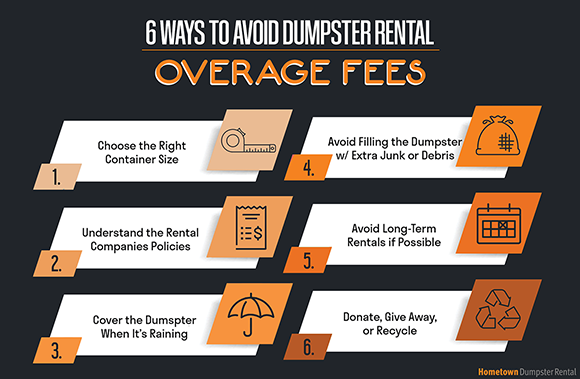 1. Choose the Right Container Size
This is the most important tip.
It can be especially costly to rent a dumpster that is too small.
The best rule of thumb is to rent a dumpster size slightly bigger than what you think will need to accommodate your project.
In most cases, this will only cost an additional $20 to $50 and will accommodate a significantly larger amount of disposal space.
Renting a dumpster that's too small can lead to needing a second dumpster to finish the cleanup.
In cases like this, it's much cheaper and more convenient to rent a larger container size.
If you need help figuring out which dumpster size will work best for your project, read this article to help you decide. Or, contact a dumpster rental company in your area and ask them. You can find local providers near you by searching our database; just click on this link.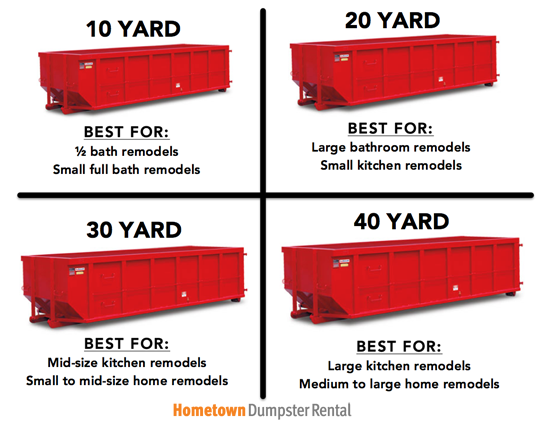 ---
Learn more about roll-off dumpster sizes below:
---
2. Understand the Rental Company's Policies
Every company has different policies regarding overage fees and what is considered an overage.
You can be charged extra fees for an overflowing or overweight dumpster, as well as for loading prohibited items.
Avoid surprises and hidden fees later by understanding the fine print up front.
The basics you should know before signing a contract:
Cost of each dumpster size
The weight allowance of each dumpster
Cost per ton for exceeding each dumpster's weight allowance
Types of debris/junk allowed in the dumpsters
3. Keep the Dumpster Covered when it's Raining
Debris weighs far more when wet, especially construction debris and other wastes that absorb water easily.
| | | |
| --- | --- | --- |
| Type of Debris/Waste | Weight per Yard (Dry) | Weight per Yard (Wet) |
| Garbage | 600 lbs | 1,240 lbs |
| Leaves | 150 lbs | 550 lbs |
| Gravel | 2,565 lbs | 3,375 lbs |
Data provided by the Environmental Protection Agency and NTEA
If significant amounts of precipitation are in the forecast, plan to have a large tarp on hand to cover the dumpster when it's not in use.
Some dumpster rental companies can supply this upon request.
A dumpster placed in a covered area of your property, such as a large garage, pole barn, or shelter would also keep the contents dry.
4. Avoid Filling the Container with Extra Junk or Debris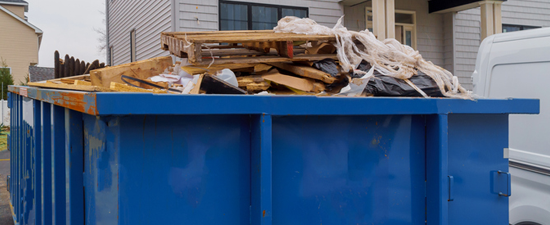 While it may be tempting to utilize the dumpster to dispose of things beyond what it was originally intended for, this could potentially lead to an overweight dumpster.
For example, when renting a dumpster for a shed demolition, avoid also filling it with household trash, yard waste, and old junk stashed away in the garage unless you planned ahead for it.
If you don't use the dumpster for only the waste or debris it was originally rented for, then the quote the professionals gave you has the potential to be different than what they end up actually charging you.
This isn't to say that it is their intention to mislead you - quite the opposite.
When offering a quote to a client, reputable dumpster rental companies will need to know what you'll be using it for.
These experts have likely been in the business for years and have become great estimators - but they don't know what they don't know and cannot account for any additional items you throw in last minute because there's extra space.
Different debris has different weights, and many companies charge based on the weight rather than the amount of space it takes up.
If there is additional junk or debris you want to get rid of, be prepared to rent a second dumpster.
Pro Tip: Most dumpster rental companies do not allow mixing construction debris with household wastes.
5. Avoid Long-term Rentals if Possible
Many dumpster rental companies will be accommodating and allow an extension of your rental for a small fee per day.
$10-20 doesn't sound like that much per day, but it all adds up.
If you're renting in the middle of the busy season (spring and summer), rental extensions may cost more due to demand or may not even be available at all.
In many cases, the longer you have the dumpster on-site the heavier the load will become.
Similar to tip #4, it's natural to toss extra junk or trash in a dumpster that is easily accessible and unfortunately, some strangers might agree.
It is not uncommon to catch other people trying to illegally dispose of their trash in your rental (the nerve!) and the longer it sits on your property tempting neighbors or passersby, the more likely you are to have to deal with this problem.
6. Donate, Give Away, or Recycle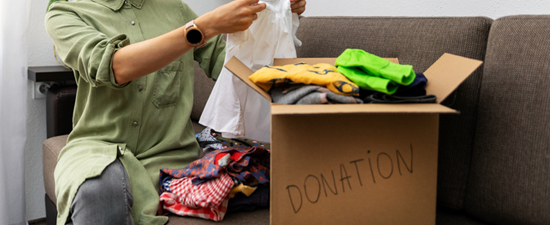 Dumpsters are the ideal solution for getting rid of bulk amounts of waste, junk, or debris in a timely fashion.
However, reusable items can be donated or recycled rather than landfilled.
Consider donating furniture, gently used clothing, reusable building materials, and housewares.
Drop off your unwanted items at a local Goodwill, Salvation Army, or charitable organization of your choice.
Offering items for free via Craigslist, Offer Up, Facebook Marketplace, or similar sites can also provide a convenient way to get rid of junk and debris as long as it holds value to someone else.
By doing a little bit of planning up front, it's easy to avoid paying extra fees on your dumpster rental bill.
It's also very helpful to work with an experienced, reputable dumpster rental company, especially if it's your first time renting.
Hometown's vetted database makes it easy to get connected to dumpster rental companies in your area.
We only publish reviews that we verify are made from real customers and all dumpster rental and junk removal quotes are free!
Get as many quotes as you need to feel confident with the services you need at no cost to you.
---
---
Keep reading: