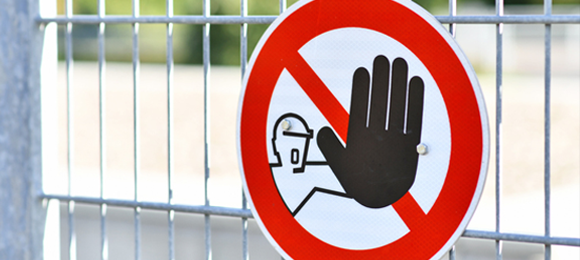 Updated March 2, 2023
It is illegal to dump trash in dumpsters placed on private property unless given explicit permission by the owner of the dumpster to do so.
This includes dumpsters that are placed on construction sites, commercial dumpsters at businesses, roll-off containers at homes, and other trash receptacles placed on private property.
Even though it is illegal to dump trash in someone else's dumpster without permission—doing so could result in $500+ fines and possible jail time—it is still common for passersby to try and sneak their own garbage or items into dumpsters that aren't theirs.
The exact laws regarding this issue vary by municipality, but most cities consider this type of illegal dumping a misdemeanor punishable by fines and possible jail time.
When people add trash to your rented roll-off dumpster without permission, it's not only illegal, it's also a headache for you.
Here's why:
It leaves less space for you to fill it up with your junk, waste, or debris.
In some cases, a second dumpster may be necessary to complete the job.
The extra weight could push the load past the weight allowance—that's extra fees for you!
The offender(s) may have loaded hazardous materials, like paint, motor oil, etc., and you could be responsible for the extra fees associated with hazardous waste disposal.
To say the least, it is beyond frustrating to spend several hundred dollars on renting a dumpster only to find that trespassers have unlawfully thrown their own waste, junk, and debris into your container.
Follow our tips to help minimize the chances of having others throw their items into your dumpster:
---
---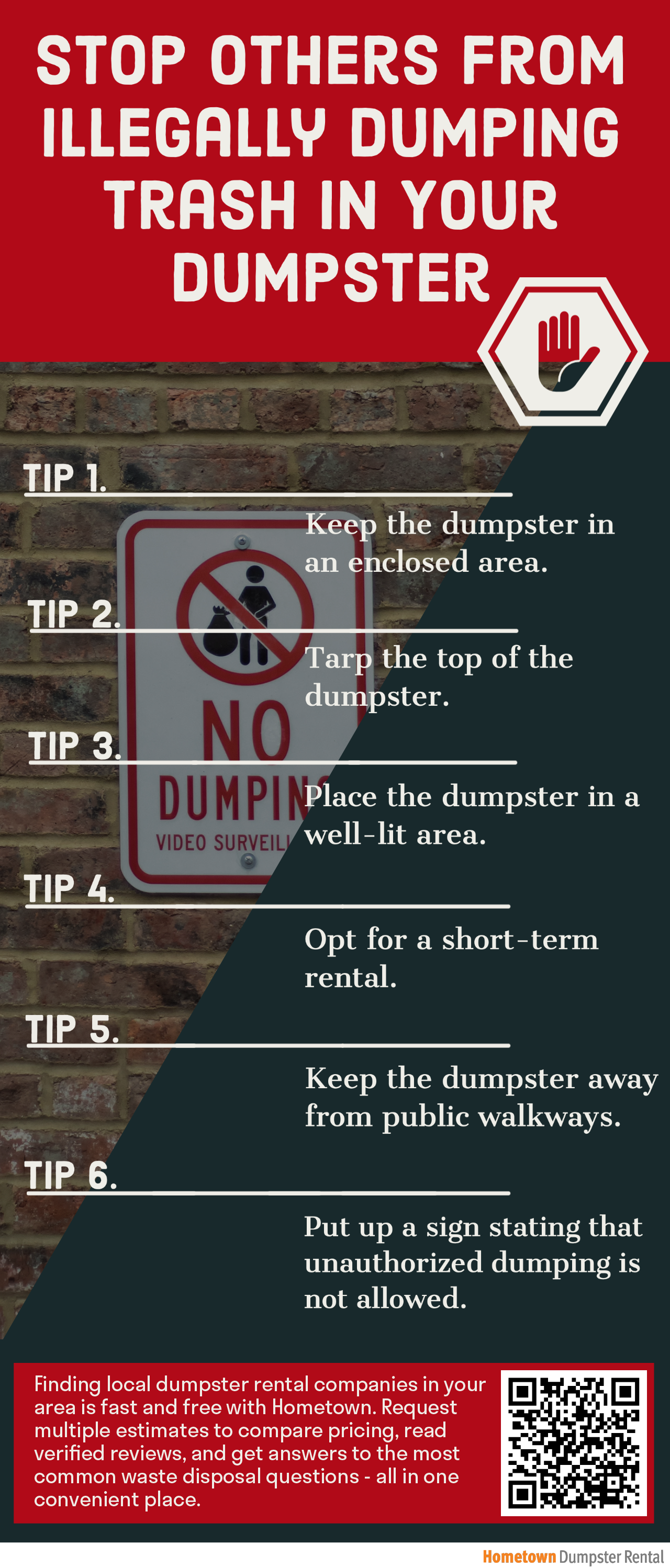 Keep the Dumpster in an Enclosed Area
If possible, the most foolproof way to keep others' items out of your dumpster is to have the dumpster placed inside a fenced-in area or inside a large garage, barn, or outbuilding.
Making it harder for others to access the container greatly reduces the chances of them being able to take advantage of your rental.
Tarp the Dumpster
Because many people who rent a dumpster don't have a fenced-in yard or a large structure to store the dumpster safely, a more convenient and inexpensive solution is to utilize a tarp when the dumpster is not in use.
All you need is an inexpensive tarp or two and bungee cords for securing them to the dumpster.
Most dumpsters have bars running along the sides of the container for easily hooking bungee cords.
Tarping off your dumpster is also useful for keeping the contents dry during rain or snowstorms.
If your dumpster includes fabrics or anything that can absorb water, rain can drastically increase the overall weight of your dumpster load, which can lead to incurring overage fees if you go over your included weight limit.
Even if your dumpster load only contains wood, metal, or other items that don't soak up water easily, snow can accumulate inside the dumpster if left open during a winter storm, which will increase the weight as well.
Learn more:
Place the Dumpster in a Well-Lit Area
The likelihood of someone doing something they shouldn't goes up significantly in an area that is dark and hard to get caught.
For this reason, leaving an outdoor light on when your dumpster is in your driveway or placing the dumpster under an exterior light at your business can reduce the chances of someone feeling comfortable tossing something inside.
Opt for a Short-Term Rental
Load the dumpster quickly. If at all possible, finish loading the dumpster within a day and have it picked up soon after.
The longer the dumpster sits on your property, the higher the risk of an illegal dumping situation.
Keep the Dumpster Away from Public Walkways
Similar to keeping your dumpster out of the dark, keeping your dumpster as far from public walkways, like streets, sidewalks, and alleyways, as possible will reduce the chances of someone feeling comfortable walking up to your dumpster and tossing something inside.
Place the dumpster near your home or building rather than on or near the street, especially if it's in an area with a lot of car or foot traffic.
Put Up a Sign
A "No Trespassing'" or "No Illegal Dumping" sign may be enough to keep people from tossing their trash in your roll-off.
The overall goal is to make it harder for people to feel comfortable treating your dumpster like it's theirs, and a simple warning sign can help.
Keep reading:
If Preventative Measures Don't Solve the Problem...
If you've noticed trash and junk in the dumpster that's not yours, look for any identifying labels or markings.
If you are able to get a name, you can contact local authorities and pursue that route.
Even if you don't find any identifying markings, it's not a bad idea to contact authorities to inform them of the issue, especially if you have the dumpster on-site for several more days.
Police would likely increase patrols in the neighborhood, which could be enough to give would-be "trash tossers" a reason to think twice about it.
Remember: Dumpster companies are generally not considered liable for other people dumping trash in your rented dumpster, that's your responsibility as the renter.
Even so, it's worth discussing the issue with your chosen dumpster rental company to see if they have any solutions that could work in your situation.
In extreme cases, the rental company may be willing to work out a deal to provide a second dumpster or offer a discount to rent another dumpster if it is necessary to complete the cleanup.
When you need help finding a reputable dumpster company to rent from, search your zip code on Hometown.
We publish locally-owned and operated dumpster operations throughout the U.S. to help connect consumers to licensed, insured, and professional disposal services.
Our quote request form is easy to use, quick to complete, and helps cut your research time in half!
---