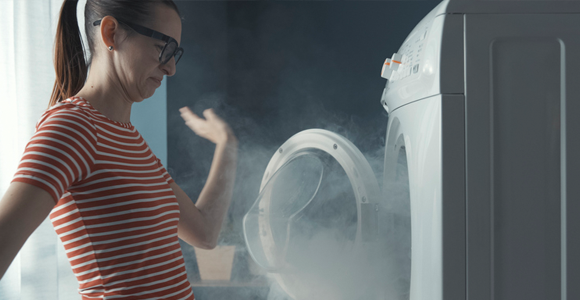 Updated June 12, 2023
Washers and dryers need to be replaced roughly every 10 years and figuring out how to get rid of your old appliances is an inconvenient project that no one looks forward to.
Appliances need to be properly disposed of, preferably recycled.
We've gathered everything you need to know if you have an old washer or dryer that you need to get rid of.
Jump to:
---
---

Hire a Junk Removal Company
The easiest way to get rid of an old, broken-down washer or dryer is to hire a junk removal service. Not all junk removal companies will recycle appliances, but the ones that do can usually be in and out of your house in under 30 minutes.
Hiring a junk removal company to get rid of your washer/dryer is affordable, fast, and requires zero labor on your end. Here's how it works...
Get in touch with at least 2-3 local junk removal providers in your area for quotes. You can search your zip code on Hometown to quickly request free quotes from multiple providers and easily compare pricing, availability, and customer service.
After comparing each service provider, hire the best junk removal company and schedule your washer and dryer pick-up.
As scheduled, the junk removal company will typically send a crew of 2 people to safely load up your bulky appliances. Using dollies/hand trucks and ratchet straps to secure your washer and dryer, the junk removal team will carefully haul your unwanted washer and dryer out of whatever room they're stored in and take them right to their truck or trailer.
From there, the washer and dryer will be loaded onto their hauling vehicle where they will be securely positioned for safe travel.
Once your washer/dryer is loaded onto their truck or trailer and is ready for transport, you'll be provided with an invoice that you can either pay on the spot or can call into their office and pay over the phone.
The junk removal company will then haul your washer and dryer to the appropriate donation center or recycling facility. In rural areas where these options are not available for washers and dryers, they may have to be taken to a landfill, but this is the least preferred method of washer and dryer disposal. When available, repurposing and recycling is always best practice.
The price that you'll be charged for a junk removal company to haul away your unwanted washer and dryer will depend on a variety of different factors, like the disposal methods available in your area, the cost of recycling/disposal in your area, how difficult it is for them to access your appliances (i.e. presence of steep stairs), the amount of space your appliances take up in their truck/trailer, where you're located, and who you hire.
With that being said, the national average cost to have a junk removal company remove an unwanted washer and dryer ranges from $150-$300.
The best strategy to getting the best price in your area is to find locally-owned and operated junk removal services and get multiple quotes to compare pricing and customer service. Hometown makes it easy with our single quote request form. By providing your zip code and answering a few short questions about your appliance removal needs, you'll be able to request quotes from up to 3 different qualified providers in your area, completely free of charge.
Continue reading:
---
---
Rent a Dumpster
If you're doing a large renovation or home cleanout project and have a lot of other items to get rid of in addition to your old washer and dryer, renting a temporary dumpster is a great option.
Roll-off dumpsters feature a swinging back door so that you can easily walk in bulky and heavy items, including appliances.
Not all disposal companies will accept appliances like washers or dryers in their containers and failing to follow their guidelines could result in additional fees and fines. Be sure to speak with several different companies to ensure you find one that accepts your intended items and to compare pricing.
Renting a dumpster is a simple process. Getting different quotes from local dumpster rental companies in your area to compare pricing and customer service will help you choose the best service for the job. Once you find a company you like who has the dumpster rental availability you require, you can hire them by signing a dumpster rental agreement and scheldieg a dumpster drop-off time.
As scheduled, a dumpster will be brought to your location and carefully placed in your driveway or parking lot. If you rent a roll-off dumpster, ask your rental company if they will provide wooden boards or plywood to place underneath the dumpster's steel feet to provide added protection to your driveway. If you rent a trailer dumpster, the rubber wheels attached will be protection enough and will make placing your dumpster a fast and easy process.
Once your rental is placed in the designated area, you'll be left to add your unwanted items to the container at your own pace. We highly recommend recruiting friends or family to help you load any heavy or bulky items to avoid injury.
After you're done with your rental, you can either contact the dumpster company to arrange for pick-up, or you simply wait for them to come pick-up the dumpster if pick-up arrangements were made when signing your rental agreement.
The dumpster company will come and securely load your dumpster rental back onto their transportation truck and haul it to the nearest recycling center (or landfill when appropriate). The dumpster will be weighed before and after it is emptied, and the dumpster company will be charged for whatever disposal method is chosen based on the weight of the items in the container.
After the dumpster has been emptied and the rental company has paid whatever fees they were charged to unload your items, you'll be sent a final bill and that can be paid online or over the phone.
The price that you'll be charged to rent a dumpster to dispose of your washer and dryer will depend on many different factors, like the size of the dumpster, the weight of the items placed inside the dumpster, the disposal method and cost of recycling or landfill fees in your area, where you're located, who you hire, and more.
With that being said, 10 yard dumpsters are the perfect size for appliance removal and cost anywhere from $250-$450 on average, but will be more or less based on your particular circumstance.
Just like with junk removal services, you can locate and request free quotes from dumpster providers in your area by searching for dumpster rentals on Hometown. Read verified reviews from real customers to help you find a reputable dumpster company near you.
Learn more:
---
---
Swap Out With New Washer/Dryer Delivery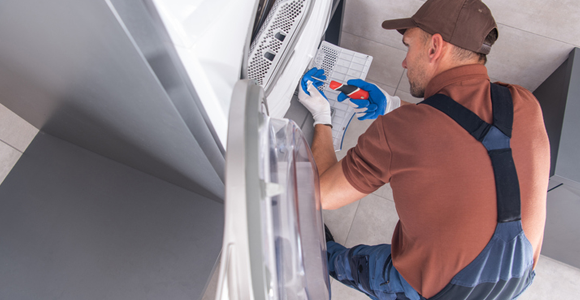 If you are replacing your old washer or dryer with a new one and are having it delivered and installed, ask the company if they will remove your unwanted washer/dryer while they are there.
Many will only do so if the old washer/dryer is still in working condition. This isn't always the case, but in the event that it is, you'll have to find another solution.
The cost to have your old washer/dryer removed when your new one is delivered will primarily depend on the company you hire and cost of living in your area, but typically costs between $25-$75 per appliance, or $50-$125 total.
Donate
If you aren't having a new washer or dryer delivered, another way to get rid of your old washer/dryer is to donate it or list it as a free item on Craigslist or Facebook Marketplace.
Like the option above, donation only works if your old washer/dryer is still in working condition unless you can find someone that wants to pick it up for scrap metal.
There are many different ways to donate appliances depending on where you live. For example, getting rid of a washer and dryer in Knoxville, IA can be as simple as contacting donation centers in the area and having them come load and transport your unwanted washer and dryer for you. Donationtown.org helps Iowa residents schedule appointments for donation pick-ups for free! Places like Habitat for Humanity or The Salvation Army will haul away your items for you if they're accepted as donations.
Not only is donating items is always free, but you can actually earn money back by getting a donation receipt and claiming it on your taxes for the year.
Schedule Bulk Trash Pick-up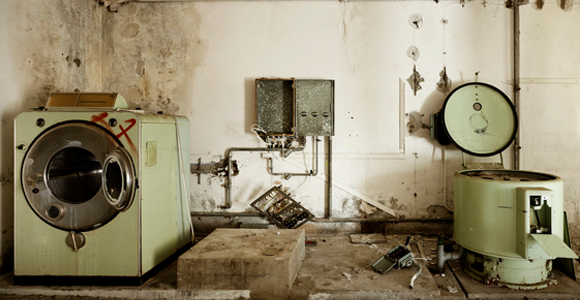 Some municipal weekly trash pick-up services offer bulk trash pick–up if it is scheduled ahead of time while others only offer it a few days out of the year. Not every company does, and even fewer offer this for appliances, but double-checking with your residential trash service is worth a call.
While the cost of your curbside appliance pick-up will vary based on where you live and who you hire, you can expect to pay somewhere between $35-$75 per item, so $70-$125 for both a washer and dryer.
If you're able to arrange this in a timeframe that accommodates your schedule, you'll need to make sure you have help moving your fridge out to the side of the road.
Washers and dryers are very heavy appliances, and not having the proper tools or manpower to do this type of heavy lifting can result in serious injuries.
If you aren't 100% confident in your ability to transfer your washer/dryer to the end of the driveway, hiring a junk removal company might be the best option. It's also important to note that getting rid of your washer/dryer with a bulk trash pick-up service could mean that it will end up in your local landfill.
If you're environmentally conscious, renting a dumpster or hiring a junk removal service that will recycle your old appliances is the best solution.
---