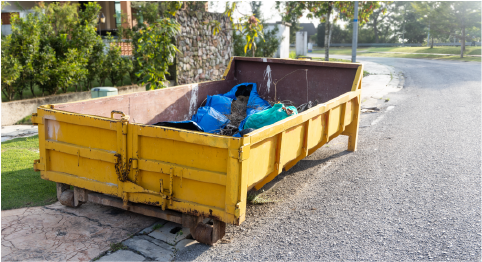 Updated July 21, 2022
At Hometown, we understand how important it is to homeowners (and business owners) to get rid of unwanted trash and junk for a fair price.
When you have trash, junk, or debris to dispose of, we at Hometown strongly recommend hiring a reputable trash removal company, whether you rent a dumpster or hire a junk removal company, to assist you. This will reduce the chances of overpaying and receiving poor customer service.
Hometown makes it easy to find qualified trash removal companies in your area.
In this guide, we'll discuss:
---
---
Step 1: Determine the Best Disposal Solution for Your Trash
Curbside Trash Collection
For your regular day-to-day trash, a weekly curbside trash collection service is the ideal solution.
Your town or city may offer local trash pick-up services, and Waste Management and Republic Services are two other very popular curbside pick-up companies that service the entire nation.
Don't toss just anything into your curbside trash, though; be sure you first check with your pick-up services' rules and regulations to ensure you only put acceptable items into your trash bin.
Junk Removal Services
For small cleanup projects that produce more than your weekly trash bin can accommodate, junk removal services are likely the best and most cost-effective option.
Junk removal companies offer a more all-inclusive service in which they load up your trash, junk, or debris for you, then haul it away to be separated and disposed of properly, i.e. donated, recycled, or taken to the landfill.
Because of the additional labor junk removal services involve, they tend to be more expensive for larger, more involved cleanups, but are often quite cost-competitive for minor cleanups.
For example, if you have a small pile of junk to get rid of, like an old toilet, broken chair, and a few bags of trash, a junk removal company will likely charge you somewhere around $100-$300 to dispose of it, depending on where you live.
This amount of trash is not quite enough to make it worth renting a dumpster—which would cost $250-$450 on average for a 10 yard dumpster—unless you have a neighbor or friends/family who also have items to get rid of and may be willing to share the cost of the dumpster with you.
Dumpster Rental Services
For larger trash removal projects, like spring cleanings or similar home or company office cleanup projects, dumpster rental is likely the most cost-effective option.
As previously mentioned, a 10 yard dumpster typically costs $250-$450 and is capable of accommodating a number of trash removal and cleanup projects.
However, if your project is very large or you have heavy debris or bulky items to dispose of, a 20 yard dumpster (or a larger 30 or 40 yard dumpster) may be the better option.
Dumpster companies are great at helping people choose the dumpster that's best for their project as long as they have adequate information to do so.
When reaching out to dumpster rental companies, be sure you give them as much information about your project as possible so they can recommend the best dumpster size for your specific project.
Bag Dumpsters
Another option for trash disposal when you have three yards of debris or less is buying a bag dumpster, like The Bagster by Waste Management.
These "dumpsters" are made using a strong yet lightweight tarp-like material and come with durable straps that enable the dumpster truck to pick it up and haul it away.
However, keep in mind that three yards is not a lot of space, especially if you have bulky or oddly shaped items, and it may not be enough to complete your disposal.
Learn more:
Step 2: Find and Compare Trash Removal Companies Near You
The good news is that Hometown makes it easy to browse local trash removal companies, including dumpster rental and junk removal companies.
Start by entering your zip code in the search bar and clicking the "Find Pros" button.
From there, view a complete list of junk removal and dumpster rental companies in your area.
Find out more about each company, see what dumpster sizes they offer or minimum junk removal fees, and contact them directly for a no-obligation quote.
Hometown also collects and publishes reviews from customers who have hired junk removal or dumpster rental services through our site.
Not only does this ensure that customer reviews on Hometown are verified and real, but it also confirms that customers are satisfied with the services they get from companies on our site.
Knowing what other customers have to say about trash removal companies near you can be very helpful during the hiring process.
Find local services:
Step 3: Request Quotes from Multiple Service Providers
With Hometown, requesting junk removal quotes or dumpster rental quotes from local service providers is simple.
We do all the work to find qualified local companies, gathering verified customer reviews, and making it easy to request estimates for service.
We recommend requesting quotes from multiple companies in order to choose the right company with the best customer service and competitive pricing.
---
---
Read more: Why You Should Get Multiple Quotes Before Hiring a Junk Removal Provider