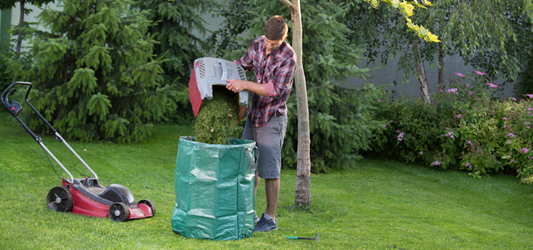 Updated February 23, 2023
In many states across the U.S., dumping yard waste in landfills is illegal.
There are, however, many other ways to recycle and dispose of yard waste in a way that is not only beneficial to the environment, but free for homeowners, too.
We'll go over the options for getting rid of yard waste for free, as well as convenient alternative services that will remove yard waste for a reasonable rate.
In this guide, we'll discuss:
---
---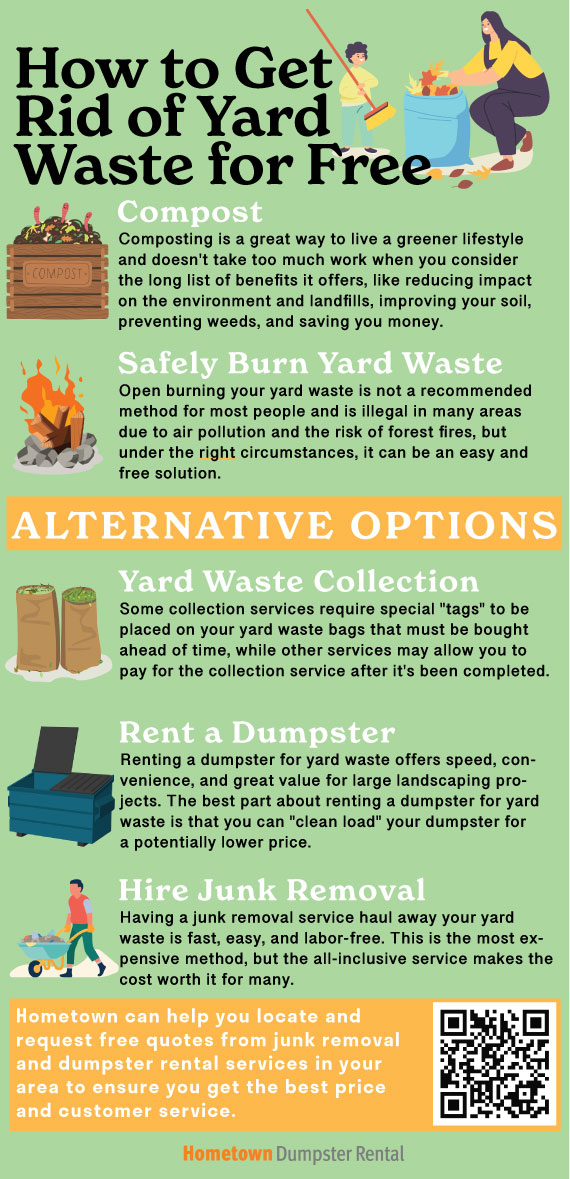 Composting
Composting is a great way to live a greener lifestyle and doesn't take too much work when you consider the long list of benefits it offers, like:
Reducing impact on the environment and landfills
Improving your soil
Saving you money on soil, fertilizers, and yard waste disposal
The main "ingredients" of a compost pile include water, oxygen, green material, and brown material.
Green materials include grass clippings, weeds, plant trimmings, flowers, food scraps, and more.
Brown materials include wood shavings, twigs, dead plants or leaves, coffee filters, cardboard, etc.
A compost mixture should have significantly more brown waste than green waste, with the ideal rate being 2-3 parts brown material to 1 part green material.
So when adding green yard waste to your compost pile, be sure to have plenty of brown material to add in with it.
Read more about composting:
Safe Yard Waste Burning
"Open burning" is the burning of unwanted yard material, like wood, brush, grass, leaves, dead plants, and other green and brown material.
Open burning your yard waste is not a recommended method for most people and is illegal in many areas due to air pollution and the risk of forest fires, but under the right circumstances, it can be an easy and free solution.
Most areas that allow open burning for yard waste require that a permit be issued by local governing bodies, fire departments, or the DNR.
The safest way to burn your yard waste is to do so during a windless day, and the colder the temperature is, the less risk typically involved.
Cities and towns with large populations usually do not allow yard waste to be burned on your property, but if you live in a rural area with a lot of acreage, an approved burning bin with continuous monitoring of the burn pile can be a reasonable method to get rid of yard waste.
It is imperative to do thorough research in your area regarding waste burning laws prior to attempting to do so. Failing to follow the law could result in fines, jail time, forest devastation, property damage, and serious bodily harm.
Yard Waste Collection
With more and more landfills across the country banning yard waste in landfills, many municipal weekly garbage collections are halting their yard waste pickup programs.
That's why it's important to check with your specific garbage pickup provider to see if yard waste collection is a service they offer.
If they do offer yard waste collection, there are several rules to follow, like:
Yard waste must be placed in approved biodegradable bags, or specific carts must be purchased or rented.
Yard waste must not be mixed in with other types of waste.
Yard waste must only be at the curb on specified yard waste collection days.
Only X amount of yard waste bags will be picked up per collection day, per household.
Some collection services require special "tags" to be placed on your yard waste bags that must be purchased ahead of time, while other services may allow you to pay for the collection service after it's been completed.
Getting the details from your specific waste collection service is important to avoid extra fines or fees, as well as ensuring that your bags of yard waste aren't left sitting at the end of your driveway.
Learn more:
Renting a Dumpster
While not a free option, renting a dumpster for yard waste offers speed, convenience, and great value for large landscaping projects.
The best part about renting a dumpster for yard waste is that you can "clean load" your dumpster for a potentially lower price.
Clean loading a dumpster is when you only load one specific type of debris into the dumpster, which in this case is yard waste.
Not mixing in any other type of trash allows the yard waste to be taken to a facility that will recycle it into compost which can then be used for soil.
We recommend renting a dumpster from a locally-owned company, as waste management dumpsters can cost quite a bit more in comparison to smaller operations.
Hometown makes finding local dumpster companies fast and easy, and we only publish licensed and insured dumpster companies for your safety and peace of mind.
You can request multiple dumpster quotes from local providers so you can compare pricing, customer service, and container availability - all free of charge!
Keep reading:
Hiring Junk Removal Services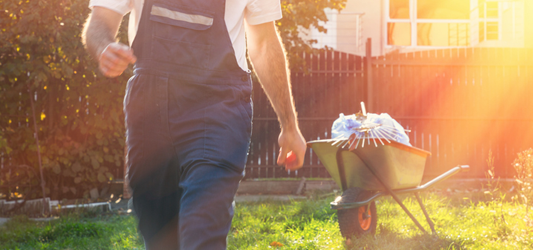 Depending on the size and scope of your project, junk removal services could be more costly than renting a yard waste dumpster.
That said, junk removal services are undoubtedly the fastest, easiest, and labor-free way to get rid of piles of yard waste, both large and small.
The vast majority of junk removal companies offer basic yard waste pick-up, and the process is simple:
Call the junk removal company and request an estimate. For larger jobs, they may need to show up in person to provide an on-site estimate.
Once you agree to a price, hire the junk removal company. In most cases, they get to work removing your yard waste immediately.
The junk removal crew loads up your yard waste into their hauling vehicle or trailer.
You pay them the agreed price.
They haul the yard waste to the appropriate facility.
Just like with dumpster rental, Hometown can help you find local junk removal companies that service your area.
By entering your zip code and answering a few quick questions about your yard waste removal project, you'll be shown a list of qualified junk removal companies near you.
Request free junk removal quotes, read verified reviews from real customers, and read more about each company - all in one convenience place!
---
---
Continue reading: