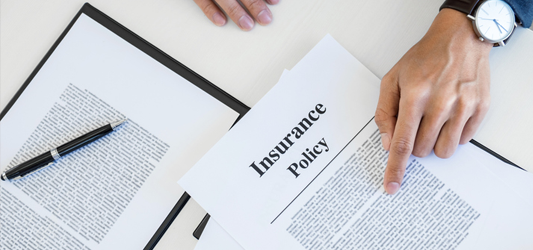 Updated May 24, 2022
Renting a dumpster is a cost and time efficient way to manage large amounts of trash, debris, and recyclables, but not ensuring that the company you rent from is licensed and insured can result in a world of headaches.
Learn about the importance of hiring a licensed, bonded, and insured dumpster rental company and the potential risks and dangers of hiring services that fail to meet this criteria.
We'll go over:
---
---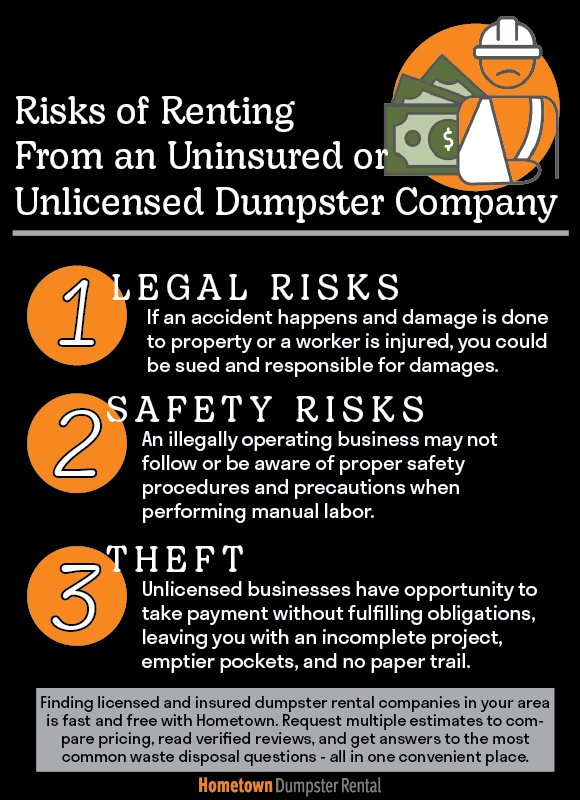 Risks of Renting a Dumpster From an Uninsured Company
One of the biggest risks involved with renting a roll-off container or trailer dumpster from an uninsured company is the lack of protection if an accident occurs.
Even the most experienced companies with the highest quality dumpsters can sometimes make mistakes, which is why it's so important to make sure that they have insurance to protect themselves and you.
Whether it be damage to the property or the injury of a hired professional, an insured dumpster company will have the coverage needed to pay for the cost of remediation.
An uninsured company, however, leaves you open to financial risk, as you would be responsible for paying damages. A person injured on your property could also have legal grounds to sue you for damages.
It may seem unfair, but this is why we always recommend hiring qualified and insured dumpster rental services.
A "company" or individual who is willing to operate a business illegally may not have the best intentions to begin with.
In addition to safety and legal risks, theft and other damage is a potential risk from people who aren't registered as a licensed company in the area they're offering services.
It's much easier for people to get away with theft and other damages if there is no paper trail that could lead the authorities to them, leaving you responsible to deal with the aftermath.
Don't fall for the lure of cheaper prices if it comes with the cost of these potentially very expensive risks.
Learn more:
How to Find Licensed and Insured Dumpster Rental Companies Near You
Hometown makes it easy to find dumpster rental companies in your area that are licensed and insured.
We personally verify every company and every review that is left on our site, so you never have to worry about inaccurate reviews or unlicensed companies when you explore our web pages.
Finding reputable dumpster rental companies is easy:
Click the "Find Pros" button at the top right of this page and select the service you need.
Enter your zip code in the search bar and click the "Find Pros" button.
From there, you can view a complete list of locally-owned dumpster rental or junk removal companies in your area.
Read about each company, see a list of container sizes and styles they offer, and access their phone number so you can contact them to get a quote whenever you're ready.
---
---
Keep reading: