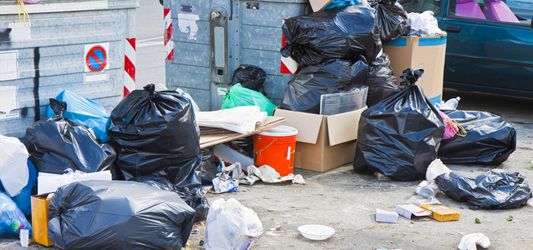 Updated June 3, 2022
When it comes to getting rid of unwanted junk and clutter lying around the house, there are several options available.
At Hometown, we understand the importance of fast and affordable junk hauling and waste disposal, so we've gathered the best and most affordable junk removal options available on the market today.
We'll go over:
---
---

Online Marketplaces
As the saying goes, one man's trash is another man's treasure.
One of the cheapest ways to get rid of unwanted junk is to list it online as a free item.
For example, Facebook Marketplace is a popular choice to list items for free or for sale.
Take a few photos of your unwanted items, give them an accurate and detailed listing description, and set their listing price as $0.
Including "FREE" at the beginning of your listing title and description will draw the attention of those looking for free items.
Many people also set the items at the curb with a sign that states it is free so that anyone driving by can pick them up as well.
While this is a great way to get rid of your unwanted junk at no monetary cost to you, it may require patience.
Depending on the area you live and the items you're trying to get rid of, it may take several days, perhaps even weeks, for the right person to see your items and take them off your hands.
Leaving items at your curb for too long can result in fines in some areas, so make sure you're aware of local laws and ordinances.
If you're in a pinch and need to get rid of items fast, this may not be your best solution.
Learn more: Who Will Pick Up Used Appliances or Furniture for Free?
Donation Centers
Another free option to get rid of unwanted items is to drop them off at a local donation center.
The only out-of-pocket cost for this solution is whatever fuel it takes for you to make the round trip.
It's important to understand what type of items are accepted at your local donation centers.
Many places like Goodwill or The Salvation Army will not take certain types of furniture or appliances, so do some research before you take the time to load and haul your items.
If your unwanted items are broken, dirty, or in overall poor condition, you should not attempt to donate them.
Old junk in poor condition should be properly disposed of or recycled.
Did you know that junk removal companies donate a vast majority of the junk they remove from people's homes? If you have large items to donate or a pile of things, simplify the process by hiring a junk removal company to haul the items to the donation center for you. They'll even provide you with a receipt of donation. (Be sure to ask.)
Bulk Waste Pick-up Services
Depending on where you live, your city or township may offer bulk waste pick-up services.
Most areas require you to schedule your pick-up and pay for it ahead of time, while some may have designated dates and times for bulk waste pick-ups.
Your weekly trash pick-up service likely offers this service as well, but when the service is available and what items are allowed will vary from one location to the next.
If you aren't on a time schedule and these services are available in your area, these curb pick-up service may be the most affordable option if online marketplaces or donation centers aren't an option for you.
Dumpster Rentals
If you have 7 cubic yards or more worth of junk to get rid of, renting a dumpster is a cost-efficient way to get rid of large amounts of junk and trash at once.
Temporary dumpster rentals come in different styles and sizes to accommodate disposal projects of all sizes, like garage cleanouts, whole home cleanouts, condo or apartment cleanouts, tenant cleanups, single room cleanouts, and everything in between.
Since most dumpster rentals last 5-7 days, renting a dumpster allows you to take your time and really go through all of your belongings to get rid of the most junk at once.
10 yard and 20 yard dumpsters are the most popular sizes for residential projects and cost $250-$550 on average.
If you don't think you have enough items to fill up a 10 yard container but like the flexibility that having a dumpster at your property provides, ask your neighbors if they would be interested in sharing one with you. This could split your dumpster rental costs by 50% or more!
Keep reading:
Junk Removal Services
If none of the above solutions fit your schedule or apply to your situation, hiring professional junk removal services to take care of everything for you is by far the fastest and most convenient way to get rid of unwanted items.
While not always the cheapest, junk removal services are affordable and the convenience it provides is invaluable to many.
Junk removal companies are known for their speed and are trained to perform the most thorough job in the shortest amount of time, all while being respectful and discrete.
Many junk removal companies take time to go through the belongings you're getting rid of and set aside any recyclables or items that are in condition to be donated before they haul the rest to a landfill, so you can feel confident knowing your items are being disposed of as responsibly as possible.
If you decide to bring in a professional to either rent a dumpster from or to haul away your items via junk removal services, getting multiple quotes is the best practice to ensure you're paying a competitive price and getting the quality customer service you deserve with the availability that you require.
Hometown can help you accomplish all that and more.
We publish locally-owned, licensed, and insured junk removal and dumpster rental companies throughout the U.S.
You can read all about each companies' services, read reviews from real customers, and request as many quotes as you would like - all for free!
By searching your zip code in our database, you'll be shown qualified businesses that service your area and are eager to help you reclaim your space, one truckload of unwanted junk at a time.
---
---
Continue reading: