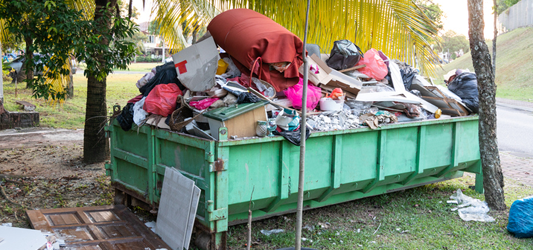 Updated February 23, 2023
It's important to understand all the terms and conditions of your dumpster rental agreement to ensure that you aren't charged more than the price you were originally quoted.
Not being aware of what you are putting in your dumpster, or how much, can result in overage fees that can quickly add up.
Hometown understands how important it is to keep disposal costs low, so we've put together this quick guide of things to be aware of so that you don't overpay.
Jump to:
---
---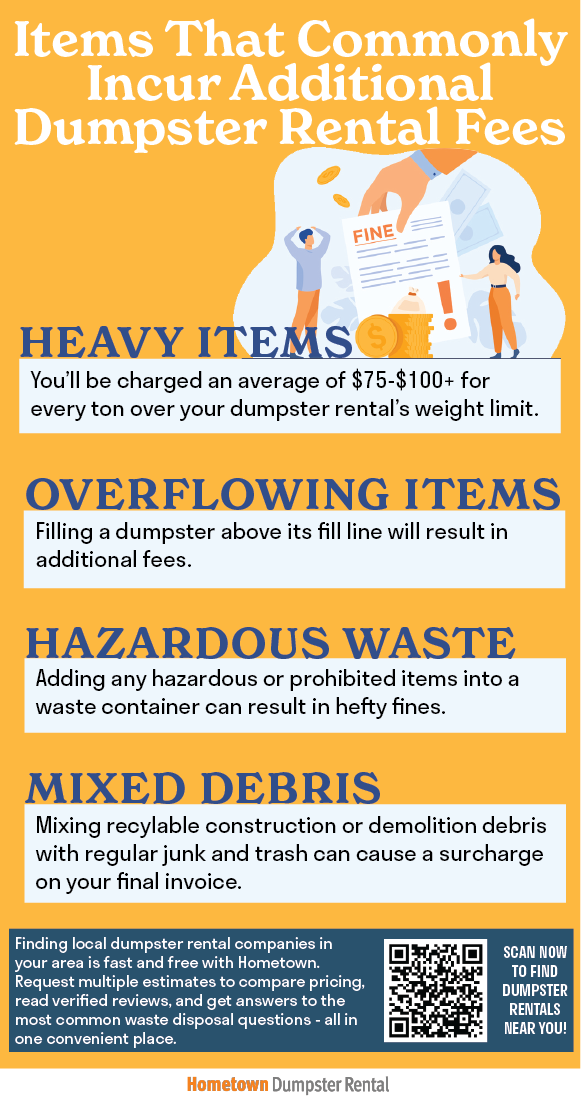 Heavy Items
While roll-off containers are great for heavy, bulky items, you'll have to make sure that they fall within your dumpster rental's weight allowance.
The trucks that deliver and pick up dumpster rentals can only safely lift and maneuver so much weight, which is why there are weight limitations in place.
It's rare for a dumpster rental to have a flat fee because the contents of the container that are dropped off at a landfill or recycling facility are priced by weight.
The average charge for overage fees fall around $75-$100+ per ton over the weight limit, which can add up fast.
Renting a larger dumpster than you think you'll need is the best option when in doubt.
Learn more:
Overflowing Items
Similar to adding too much weight to your dumpster rental, overfilling your container can also result in fines.
Most dumpsters have fill lines that indicate when you should stop adding items to the container.
If you fill your dumpster beyond the specified fill line, you will be responsible for unloading the material on top until the container is filled appropriately.
If you are unable or unwilling to do so yourself, the dumpster professional in charge of loading your rental onto their truck will have to do so and will certainly add an additional fee to your invoice as a result.
Or, they may refuse to pick up your rental until it meets their requirements, causing you to have your dumpster longer than intended and requiring a second trip for pick-up, resulting in additional fees.
Hazardous Items
Dumpster rental companies dump their containers at local landfills and must comply with their rules and regulations in order to avoid getting fined themselves.
Items that are banned from landfills can create hazardous byproducts that leak into the surrounding soil and find its way into local bodies of water, which is why there are federal, state, and local guidelines to follow when dumping at a landfill.
The most common types of household hazardous wastes that are banned in landfills include:
Automotive fluid
Bleach
Bug and pest spray/killers
Car batteries
Car tires
Freon containing appliances
Kitchen/bathroom cleaners
Lawn fertilizers
Medication
Motor oil
Paint cans
Pool chemicals
Varnish/stain
Throwing away items that are prohibited in your dumpster rental will result in additional fines and fees, so if you are unsure if your items are accepted or not, be sure to share these details with your dumpster rental provider.
Read more: What Goes in a Dumpster and What Doesn't [Infographic]
Mixed Debris
If you're renting a dumpster to dispose of recyclables, you'll likely be required to "clean load" your container.
Clean loading a dumpster means to only load one specific type of debris into the dumpster, which allows the material to be recycled or reused somehow.
This type of disposal actually often saves you money on your dumpster rental, but most importantly, it keeps valuable materials out of the landfill.
If you rent a recycling dumpster but mix it with other junk and trash, you can expect to be charged additional fees.
Here are some examples of common types of construction and demolition debris that are often clean loaded:
Aluminum
Asphalt/Concrete
Brick
Cardboard
Clay tile
Dirt
Drywall
Iron
Roofing shingles
Steel
Wood
Yard waste
---
---
Keep reading: