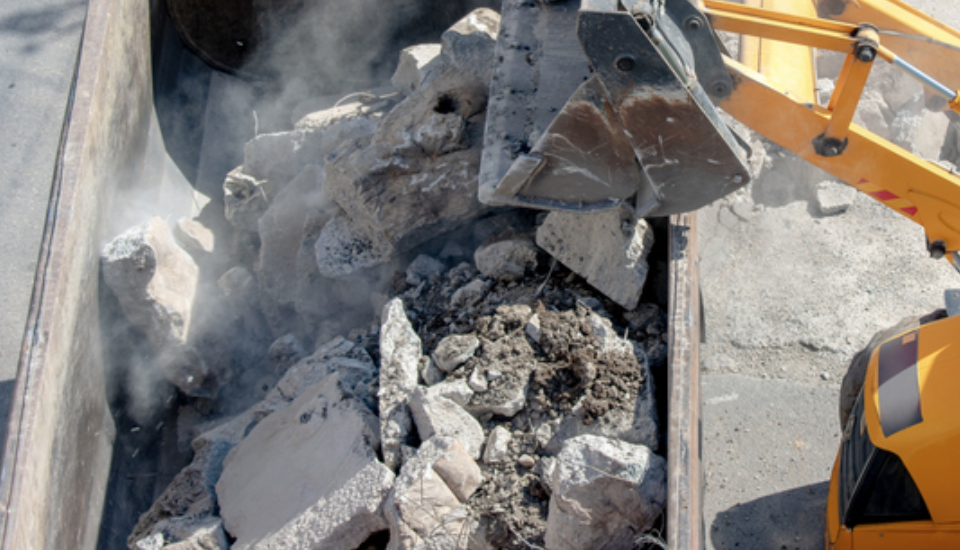 Updated January 19, 2023
Renting a temporary roll-off dumpster is arguably the fastest, most affordable way to dispose of concrete.
Typically, a 10 yard dumpster is big enough to dispose of concrete debris from a driveway, concrete paver patio, sidewalk, or foundation removal.
However, the weight limit of your dumpster rental must also be enough to accommodate the weight of your concrete debris, not just the volume.
Because concrete is so heavy, you'll need to be sure you rent a dumpster that can handle that weight.
With a thorough understanding of your project, dumpster rental companies are experts at estimating the weight of your project's debris and recommending the ideal dumpster size.
For reference: 1 cubic yard of concrete weighs approximately 4,000 lbs or 2 tons.
A majority of concrete is poured 4-6 inches thick, so you can get a rough estimate of your concrete's dimensions and overall weight that way, too.
Here are some examples of common concrete removal projects and the resulting debris...
| Project | Average Volume/Weight of Debris | Ideal Dumpster Size |
| --- | --- | --- |
| Single-car concrete driveway removal (40 ft L x 10 ft W x 4 in. D) | 5 cubic yards/10 tons | 20 yard or 30 yard |
| Double-car concrete driveway removal (40 ft L x 20 ft W x 4 in. D) | 10 cubic yards/20 tons | 40 yard |
| Concrete patio removal | 2 cubic yards/4 tons | 10 yard |
| Concrete pathway or sidewalk removal | 0.5 cubic yards/1 ton | 10 yard |
On average, a 10 yard dumpster costs $250-$450, a 20 yard dumpster costs $350-$550, 30 yard dumpsters cost $450-$650, and 40 yard dumpsters cost $550-$750 on average.
However, if you clean load the concrete—which is often required by law to be recycled—you may get a discounted price, as recycling fees are lower than landfill fees.
It's also worth noting that dumpster rental companies charge different fees for exceeding their weight allowance, so ensuring you choose the right dumpster size from the right company is imperative.
To ensure you rent the correct dumpster size from the best dumpster rental company, we recommend getting at least 2-3 quotes from local dumpster companies.
Hometown makes it easy to browse dumpster rental companies near you, read customer reviews, and request free quotes.
---
---
Learn more: