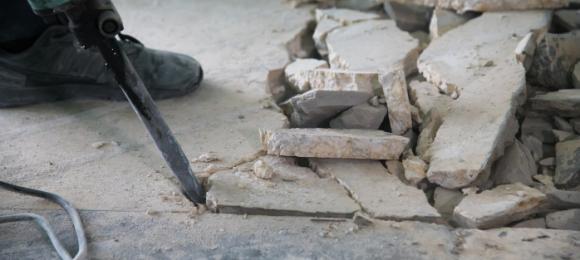 Updated January 19, 2023
Patios are ranked as one of the top most desirable outdoor additions to any home.
But if your patio looks worse for wear, it may be time to remove it and/or replace it.
Disposing of the old concrete or paver patio is easy when utilizing a rented dumpster or junk removal service.
The most popular methods for disposing of patio debris include:
DIY or Hire a Professional to Handle the Concrete Removal
Whether a brick paver or concrete patio demolition, the key to a safe and successful result is utilizing the proper tools and efficiently disposing of the debris.
A basic patio demolition project is relatively simple and can be done yourself if you have the strength, proper tools, and means to dispose of the resulting debris. (See how-to video below.)
However, with that said, we always recommend hiring a concrete removal professional to handle the job, as it's back-breaking work and can be dangerous.
Basic Tools Needed to Demolish and Remove Concrete:
Sledgehammer
Long pry bar
Shovels
4 mil plastic sheeting
Jackhammer
Safety equipment (leather gloves, eye/ear protection, steel-toe boots, etc.)
To get the best bang for your buck from a patio installation project, we generally recommend sticking to the basics.
This means keeping the patio design simple and choosing standard materials rather than high-end finishes and luxurious upgrades, like an outdoor kitchen or elaborate pergola.
These options are great for areas where these features are common, but otherwise do not tend to offer a large return on investment.
---
---
Handle Debris Disposal Properly
Once the patio removal is complete, it's time to dispose of the resulting debris.
When determining how to dispose of the debris from a patio demolition project, the weight of the debris is just as important as the volume of the debris.
For reference, the average-sized 15 ft x 10 ft concrete patio that's two inches deep will produce nearly one ton (2,000 lbs) of debris.
A 4-inch thick slab of the same size would equate to nearly two tons (4,000 lbs) of debris.
Average Weight of Concrete Patio Debris

| Concrete Thickness | Patio Size | Weight |
| --- | --- | --- |
| 2 inches | 100 sq. ft. (10 ft x 10 ft) | 1,200-1,300 lbs |
| 4 inches | 100 sq. ft. (10 ft x 10 ft) | 2,500-3,000 lbs |

To determine the best debris disposal method for your patio removal project, we recommend having a good load-weight estimate to ensure you choose the best option.
Top 3 Debris Disposal Methods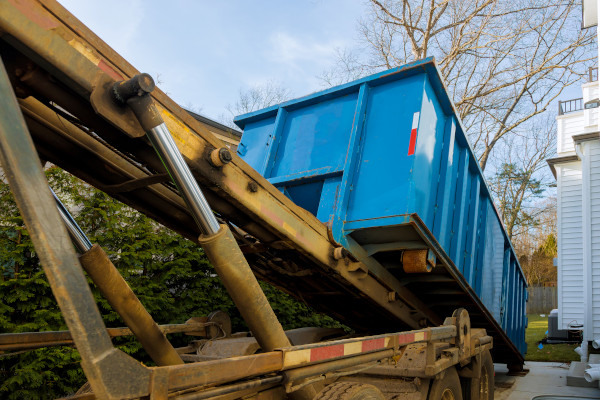 Renting a dumpster is a relatively inexpensive debris disposal option.
A 10 yard roll-off dumpster is usually a good choice for an average-size patio demolition project.
These dumpsters generally cost $200-$300 for a seven-day rental, but this price could vary depending on where you live and the exact weight of your debris.
Dumpster rental companies typically allow for 1-3 tons of debris in 10 yard dumpsters.
Be sure your debris weight estimate is less than the weight limit of the dumpster chosen for the job.
To ensure you get the best price for your dumpster rental, we recommend reaching out to multiple contractors for quotes.
This will ensure you get the best price and the best services.
---
---
Learn more about dumpster rental:
2. Hire a Junk Removal Service
Junk removal is an efficient and convenient method for debris removal.
This involves the junk removal company coming to the location of the patio removal and hauling away all the debris for you.
It's the fastest and most convenient debris disposal option, but generally costs more.
While junk removal pricing may be steeper than dumpster rental, the time and effort you save could be worth it.
Just like with dumpster rental services, we advise reaching out to multiple junk removal providers to ensure you get the best customer service without overpaying.
Keep reading about junk removal:
---
---
This may be a great option if you have the physical ability to load the concrete and the transportational means to haul away the debris yourself, like a large pick-up truck or trailer.
However, DIY hauling is rarely a good fit, as few people have the type of truck or trailer that can accommodate a ton or two of debris.
Likewise, if it takes multiple trips, the time and effort it takes to make those trips may not be worth it.
Learn more: