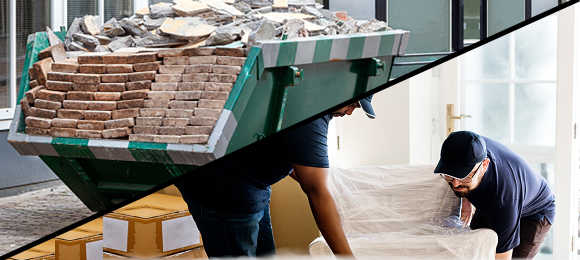 Updated September 1, 2022
When it comes to any sort of bulk waste or debris removal, your two best options are hiring a junk removal company or renting a dumpster.
But how do you know which is the most cost-effective disposal option for you?
Costs can vary greatly when renting a dumpster or hiring a junk hauler and are based on multiple factors.
We'll go over:
---
---

When Dumpster Rental Is the Best Option
A dumpster costs anywhere from $250-$750 on average to rent, but as we've mentioned, prices can vary.
Dumpster costs depend on the dumpster size you need to rent, where you live and the local disposal fees and gas prices, who you hire, and the
Dumpsters are typically the most cost-effective option for medium to large projects or when you need to manage debris during an ongoing project.
A kitchen remodel, bathroom renovation, house addition, demolition project, or large deck removal job are projects where a dumpster may be the more economical solution.
Having a dumpster on-site for bigger projects allows you to fill it up at your convenience while keeping a clean, safe site.
Below are a few real-world examples of dumpster rental costs around the country to help give you a general idea of what to expect.
Learn more about pricing:
When Junk Removal Is the Best Option
Junk removal companies charge a minimum amount for any junk removal, with the average around $75 to $100.
If you have one or two items you're getting rid of—like a TV, sofa, or mattress—you'll probably be charged the minimum amount.
For small cleanups, junk removal is typically the more cost-effective option.
A junk removal company may remove a small garage-worth of items for $200 when it may cost you $250 to rent a 10 yard bin to do the loading yourself.
In this case, junk removal is the cheaper (and less back-breaking) option.
Below are a few real-world examples of junk removal costs around the country to help give you a general idea of what to expect.
Remember: Every project is different, so calling at least two dumpster rental and two junk removal companies to compare pricing is the best way to determine the most economical debris removal solution.
Read more: When Is It a Good Idea to Hire a Junk Removal Company?
---
---
What Affects the Cost of Dumpster Rental and Junk Removal Services
Dumpster rental and junk removal costs vary based on a number of factors, including the type and amount of debris, where you're located, the accessibility of your property, and who you hire.
Your exact project cost will depend on these factors, and the best way to get an accurate estimate for your rental or project is to reach out to multiple service providers in your area for a quote.
This not only ensures you get the best price but also allows you to choose the best company for the job, not just the cheapest.
Location
Do you live out in the country or far off the beaten path?
If so, you can expect your dumpster rental or junk removal service to cost more due to the cost of travel incurred by the company.
Cost of living and local disposal fees also play a large role in cost.
For example, you'll pay significantly more in New York City to rent a dumpster than you would in Memphis, TN based on the difference in cost of living.
You'll also likely pay more for an apartment cleanout that requires hauling items up and down flights of stairs compared to the same size cleanout in the same zip code that is conveniently located on the first floor.
Type of Debris
Some service providers—dumpster and junk removal—charge differently for household wastes vs. construction and demolition (C&D) debris.
C&D debris is often heavier, so it may end up costing more to haul away than general household trash.
Amount of Debris
The heavier the load, the more you'll pay.
For junk removal, costs rise as the volume of junk increases.
A full truckload of junk, for example, costs more than a load taking up just half of the truck's total capacity.
Likewise, if you exceed the weight limit of your dumpster rental you'll likely be hit with overage fees.
---
---
Read more: