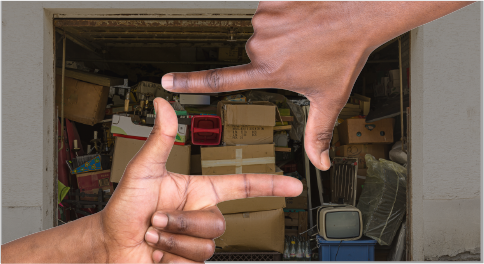 Updated August 16, 2022
Dumpster rentals come in a variety of sizes, and each size is measured in cubic yards.
Similarly, junk removal services are often priced based on the amount of space the junk takes up in the company's truck or trailer.
Knowing how to estimate the cubic yardage of your junk or debris will make it easier for you to choose the right service for your project and how much you can expect to pay.
To measure a cubic yard of waste, it helps to assemble the junk or debris you're trying to measure into a pile as much as you can so you can see what you're working with and adequately measure it.
A cubic yard measures 1 yard long x 1 yard wide x 1 yard high.
On average, 4-6 garbage bags can fit inside a cubic yard, but it's harder to estimate more oddly shaped items, like furniture.
One yard is three feet, so imagine how many 3 ft cubes it will take to hold the amount of junk or debris you have.
If your junk is able to be separated and piled, it will be easier to assess and accurately determine the dumpster size you'll need or if junk removal is perhaps the better option (which is often the case if you have less than 7 cubic yards of debris).
This cubic yard calculator is a helpful tool if you need help measuring how much debris or waste you need to dispose of.
---
---
Learn more: