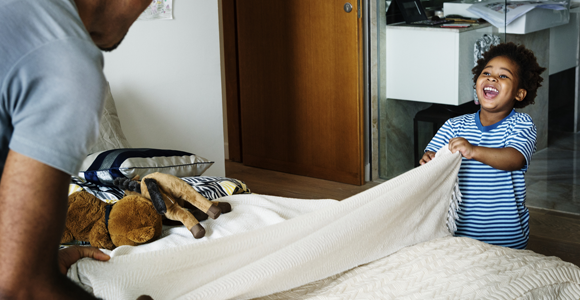 Updated December 27, 2022
Keeping a well-organized and orderly home when you have young children is an undeniably hard task.
It's so easy to accumulate more items than we get rid of, especially with kids, which can quickly lead to a storage shortage throughout the home.
When we have less storage, we tend or have less order and more chaos, which can have negative mental and physical impacts on everyone in the home.
Learn how to regain control of the items in your home (as well as your sanity) with our 4 simple tips.
Jump to:
---
---

Purge and Declutter
One of the most impactful steps to regaining control of an unorganized house is to go through all the items cluttering up your home and get rid of all the items you can easily live without.
The reasoning behind purging unnecessary items is simple: When we have less belongings in the home, daily organization and upkeep takes less time.
Organizing a house full of children's belongings can become overwhelming when we have more items than space for them, so solve this storage issue by letting go of items you and your children no longer need or use.
If you or your family members haven't used an item in 6 or more months, you can probably live without it.
Place the unwanted or unused items in separate piles for donation and/or to trash.
Go through every room in the home, working on one space at a time, and purge old, unused belongings.
You'll be amazed at how much "junk" you've been holding onto that takes up valuable storage space.
If it's been a while since you've done this or your family has a large quantity of junk to get rid of, consider hiring professional services to help make the disposal aspect of your project as fast and easy as possible.
Dumpster rentals are perfect when you have 7 or more cubic yards worth of items to toss.
If you have less than that, junk removal services may be a more cost-effective solution (Bonus: Junk removal crews will do all the heavy lifting and loading for you).
Junk removal services will typically donate your items if they're in good condition, so you can feel good knowing that your gently used items won't be sitting in a landfill.
When you need to find local disposal services to purge and declutter your home, find companies near you by searching on Hometown.
We make it easy to request free quotes from nearby dumpster rental and junk removal companies so that you can make sure you're getting the best service at the best price.
Learn more:
Simplify
It can be hard for anyone, especially children, to keep their closets and other storage spaces organized if they are stuffed to the brim with items.
Simplify what you keep in storage spaces so that only the items that will be used often are at an accessible height for your children, while other areas are used to store items that aren't a part of daily use.
Rather than having all of an individual's clothing hung up in their closet or folded away in drawers, only hang items that are in season, fit nicely, and are worn often.
During the winter, keep their summer clothing packed in boxes on a higher shelf or separate storage area that is out of sight, and vice versa.
Organize toys, crafts, and school supplies in their own designated areas, so that each item in your child's bedroom has an obvious, easy-to-remember "home" where it should be kept whenever it's not being used.
Making storage areas simple, predictable, and consistent for your kids will make it easier for them to help maintain their own belongings so that you aren't overwhelmed with the responsibility of handling it all.
Include them in your daily routine of putting away items where they belong. Help encourage this behavior until it becomes habit and they take pride in doing it on their own.
Wet towels in the bathroom, dirty dishes in the kitchen, and TV remotes in the living room, for example, should all have obvious "homes" that create clear expectations for everyone in the house to help maintain a form of order.
Use Labels
Take the simplifying process even further by creating labels for your children's storage areas to serve as a reminder if they often struggle to remember where their items should be neatly stored.
Some parents label their child's craft items and toys, like markers, pens, paper, legos, dolls, etc., while others find that it benefits them to continue this trend into their child's clothing storage by labeling socks, shirts, pajamas, etc.
If your child isn't able to read yet, simplify your labeling strategy by using images and symbols to notify them of where to put away the items that they use.
Every new system takes time, patience, and consistency to learn, so set an example for them by doing it with them daily until they're able to do so independently.
One In, One Out Rule
A great rule to implement for everyone in the house when you find that your house has become overwhelmed with "stuff" is the one in, one out rule.
Every time a new item is brought into the home, an old one is thrown out or donated.
If you're constantly tripping over your children's toys but someone has gifted them a new toy, require that they choose an old one to throw away or donate. This can be applied to clothing, decor, or any other types of items that you feel are taking over your house.
Not only does this help maintain a heathy amount of belongings that are stored in your home, but it also teaches perspective to your children who might otherwise take their excess of belongings for granted.
When you need to get rid of old bedroom furniture or boxes of toys and clothing your children have outgrown, contact a junk removal company to haul it away for you. Get free quotes using Hometown's easy-to-use quote request form to compare pricing, availability, and customer service from locally-owned and operated companies near you.
---