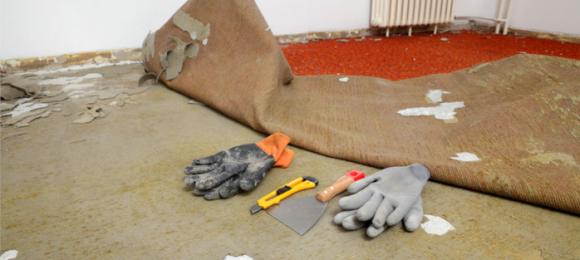 Updated March 2, 2023
New flooring is a major upgrade that can add function, good looks, and value to your home.
Your floors are one of the first things people see when they enter and move throughout your home, and they can immediately influence a buyer's opinion of the home.
With a return on investment (ROI) averaging 50-80% for new flooring installation, it's a great investment, especially when your current flooring is old, outdated, or damaged.
Read on to learn about how to get rid of the old flooring, which type of new flooring to choose, and more.
Jump to:
How to Remove Flooring
To get an idea of the floor removal process, we've outlined the most popular types of floor removal for you below.
This is not a comprehensive guide by any means, but it shows that floor removal isn't always as easy as it seems.
Carpeting Removal
Remove baseboards (if applicable) or other obstacles.
Cut carpeting into 2-3 ft strips.
Start at one end and pull up on the carpeting, rolling it up as you go.
Carefully remove tack strips using a prybar.
Remove or pound in staples remaining on the wood subfloor.
Clean floor thoroughly before installing new flooring.
Wood/Laminate Removal
Remove baseboards and any doors in the way.
Start at a corner or edge and use a prybar and hammer to lift up each plank. (Use care if planning to reuse the plank.) You can also saw the boards using a circular saw with the blade depth adjusted accordingly to remove wood floors.
Roll up and dispose of the underlayment, or reuse it if it's in good condition.
Remove any remaining staples or nails.
Clean floor thoroughly before installing new flooring.
Tile Floor Removal
Prep the site by removing baseboards and other fixtures (e.g., toilet, sink, etc.).
Use a hammer and chisel/prybar to remove tiles one by one.
Remove the underlayment (if applicable), or reuse if it's in good condition and new tile is to be installed.
Remove any stray staples or nails.
Clean floor thoroughly before installing new flooring.
As you can see, floor removal isn't a job for just anybody.
That's why we always recommend hiring a professional to handle your floor removal.
They'll be able to get the work done quickly, safely, and properly.
---
---
Learn more:
Flooring Debris Disposal Methods
Once the floor is torn up, it's time to manage the resulting debris.
If you hire a professional to handle your floor removal, it's likely the will handle the debris disposal for you.
Iif you chose to tear up your floors yourself, you're left responsible with figuring out what to do with the debris.
It's unlawful to dispose of construction debris in your curbside trash can, so avoid putting carpeting or other flooring scraps in with your regular trash.
It may be possible to schedule a special pick-up with your waste hauler, but you need to call ahead to set this up. (Additional fees likely apply.)
However, we recommend renting a dumpster or hiring a junk removal company to handle the mess for you.
Dumpster Rental
Renting a temporary dumpster is a super simple and convenient way to get rid of your flooring debris and potentially other junk you've got lying around your house.
Typically, a 10 yard or 20 yard dumpster is enough for a floor disposal project, and they cost anywhere from $250-$350 on average for a seven-day rental.
Costs vary by dumpster size, where you're located, the type and amount of debris you're disposing, and who you hire.
We recommend reaching out to three dumpster rental providers (or more) to ensure you get the right dumpster size for the job without overpaying.
This also will help to ensure you fnd a dumpster service that can have your dumpster delivered and picked up when you need it.
When reaching out to contractors for quotes, be sure you have a good understanding of how much debris you have.
This will allow them to more accurately estimate which dumpster size is right for you.
Reach out to dumpster providers a week or more in advance whenever possible to increase the chances of getting the dumpster you need when you need it.
---
---
Keep reading:
Junk Removal
If speed and convenience are a priority for you, hiring a junk removal company to load up, haul away, and dispose of your flooring debris is the way to go.
Because they do all the work for you, junk removal is almost always more expensive than dumpster rental.
However, many people find that the time and effort saved is well worth the cost.
Just like with dumpster rental (and any other service), we recommend reaching out to multiple companies for quotes to ensure you choose the right one for you and your project.
---
---
Learn more:
Top Flooring Material Options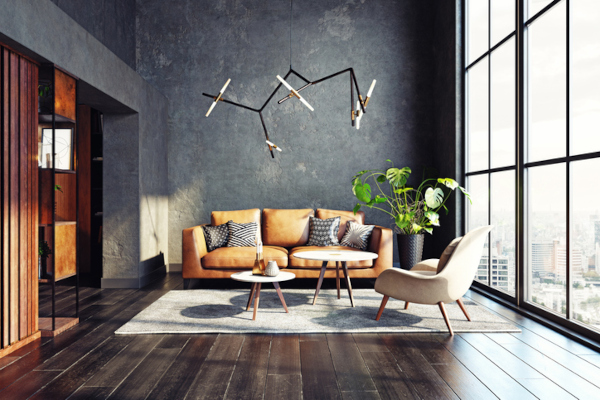 Wood Flooring
The top choice in flooring materials, based on ROI and overall desirability, is wood flooring.
You can expect to get back all or nearly all of the money put into wood flooring.
For example, investing $5,000 in new wood floors throughout the house will likely raise the value of the home by $5,000 or more.
Laminate Wood Flooring
It's a cost-effective alternative to wood flooring that can boost a home's value, just not quite as much as real wood flooring.
This is a great option for mid-tier homes where it's common to utilize laminate wood flooring, carpeting, or vinyl.
Tile
Ideal for bathrooms, kitchens, and other "wet" areas, tile offers varying ROI depending on the type of tile and the type of neighborhood.
High-end tile flooring makes sense in a high-end home, but will not offer a great ROI when installed in a low-to-mid level home.
Waterproof Vinyl
A great option for high-traffic or wet areas when on a budget.
This type of flooring doesn't necessarily offer a great ROI, but fresh flooring can always improve the aesthetic and functionality of a house, which never hurts.
Carpeting
An affordable option that works well in some areas of the home, such as living rooms, dens, or bedrooms, is carpeting.
However, carpeting is typically less favorable compared to wood and laminate wood flooring.
---