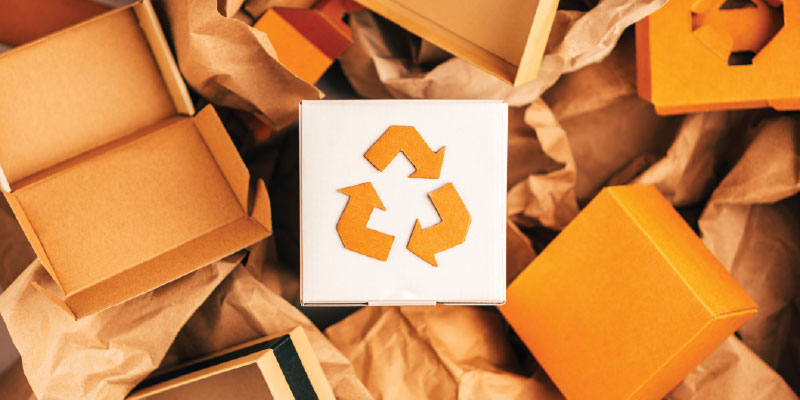 Updated March 17, 2023
With over 90% of all products shipped in the US being cardboard boxes, it's no wonder why consumers and businesses are being asked now more than ever to recycle cardboard as often as possible.
Landfill "real estate" is precious and limited, and we are all sitting on a huge opportunity to reduce our contributions with plenty of recycling options at our fingertips.
Recycling is the environmentally responsible thing to do, but there are rules you must follow in order to not contaminate a batch of recyclables.
Not following these rules can lead to recyclables having to be tossed into a landfill, producing the exact opposite results you were trying for.
We'll go over everything you need to know about cardboard recycling for homes and businesses so you can ensure your recycling efforts don't go to waste.
Jump to:
---
---
Benefits of Recycling Cardboard
As mentioned above, one of the more obvious benefits of recycling cardboard is conserving landfill space, but that is only the beginning of a long list of cardboard recycling benefits.
Many of us were taught in school that recycling cardboard and paper helps reduce the amount of trees that are cut down, but how many trees are we actually preserving?
For every ton of cardboard that is recycled, 17 trees are preserved, which can absorb around 250 pounds of carbon dioxide from the air each year!
For every ton (2,000 lbs) of cardboard that is recycled, we save roughly:
17 trees
380 gallons of oil
3 cubic yards of landfill space
4,000 kilowatts of energy
7,000 gallons of water
If you're someone who is less concerned with the environment than you are the economy, there are plenty of economical benefits to recycling cardboard and other materials as well.
A new study by Eco-Cycle indicates that if the United States could transition to a 75% recycling rate by the year 2030, we would create an estimate 1-2 million new jobs!
These job creations aren't your run-of-the-mill minimum wage jobs, either. The recycling industry offers their employees competitive wages and health benefits.
With so many benefits to recycling, it's a wonder why anyone would choose not to take advantage of free recycling programs.
Learn more:
How to Properly Recycle Cardboard
One of the most important things to keep in mind when recycling cardboard is that it is crucial to keep all paper and cardboard products clean.
In a mixed recycling bin where you throw aluminum, glass, plastic, paper, and cardboard, you're much more likely to get cross contamination from foods or liquids which can ruin an entire bale of recyclable cardboard.
The best recycling practice is to keep cardboard and paper separate from other types of recyclables so that they can remain clean and free of contaminants.
It's also important to understand the different types of cardboard products we use and what they can sometimes be lined or mixed with.
While most cardboard and paperboard products can be recycled, there are some products that are lined with plastic film or coated with wax, and these items should be thrown away rather than recycled.
It's not unusual for boxes that contain frozen items to be lined with wax or plastic to prevent them from getting soggy, so if you can't verify that your frozen boxes are recyclable, err on the side of caution and throw it away.
Another important note to remember is that cardboard that has embellishments like foil, glitter, or velvet should also be thrown away rather than recycled.
The best practices for recycling any type of material is to understand exactly what can and can't go in your bin, specifically in your area.
Some recycling facilities can handle certain products that others cannot.
For example, most recycling centers can't recycle cardboard lined with plastic.
There are, however, some recycling centers that have special machines that can separate this plastic from cardboard or paperboard.
As a general rule, cardboard boxes with mailing labels or packing tape are okay to be tossed into your recycling, but there are some exceptions to this rule at certain facilities.
That's why it's important to get a list of accepted material directly from your waste management company so that you aren't mistakingly contaminating the cardboard or other items you're trying to recycle because rules can vary from one community to the next.
Things to Avoid When Recycling Cardboard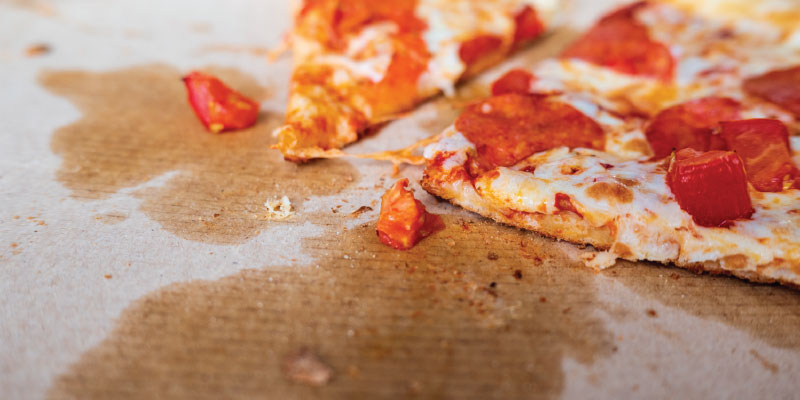 There are many common mistakes well-intentioned people make when recycling cardboard.
One of the most common is tossing in pizza boxes with grease stains.
While cardboard is a recyclable material, no paper products that are contaminated with food should be recycled.
If the top half of your pizza box does not have any grease on it, feel free to separate that from the bottom half of your pizza box and put it into your recycling as long as you're sure it's clean.
Another common mistake people make is not breaking down large cardboard boxes when placing them into their recycling bin.
Make sure to always break down cardboard boxes to preserve space not only in your personal bin, but in the recycling truck.
Depending on how large the box is, it may be necessary to cut your cardboard up into more manageable sized pieces.
Check with your local facility to learn more.
Where to Recycle Cardboard
If your curbside trash service also offers recycling, having your recycling picked up at the end of your driveway is certainly the most convenient option.
For those who live in areas where this isn't offered, however, there are plenty of other recycling options available.
It's becoming more and more common for communities to offer drop-off recycling programs or community dumpsters at different drop-off locations for recyclables.
Michigan, for example, has a cardboard and paper recycling program called PaperGator where residents can deposit their recyclable paper products into dumpster containers at several designated drop-off locations.
If you need help locating a community recycling program, visit Earth 911 to find recycling centers or programs near you. You can type in the specific type of material you'd like to recycle, as well as your zip code, and you'll be shown recycling solutions near you.
If you're a business or contractor that has large amounts of cardboard to recycle that won't fit in your curbside collection, consider renting a dumpster for your recycling efforts.
Or, if you have a lot of cardboard to recycle but not enough to justify renting a dumpster, consider hiring a junk removal company to haul away your cardboard for you.
A junk removal company will be able to recycle all your cardboard products on your behalf without you having to lift a finger.
Hometown makes it easy to find junk removal services and dumpster rentals for all types of disposals across the U.S., including cardboard recycling!
Search your zip code, answer a few quick questions about your project needs, and get free quotes from qualified companies in your area.
---