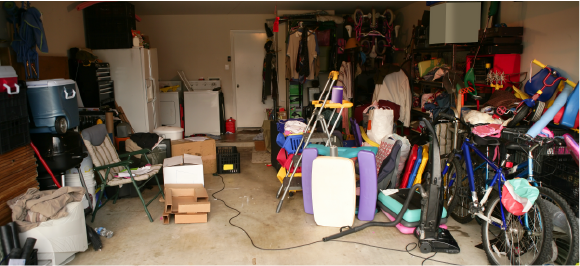 Updated February 23, 2023
Garages are one of those places in the home that tends to collect various clutter.
Disorganized clutter can build up quickly in your garage if you're not careful, making it impossible to park your car in the garage or find items in it when you need them.
Old paint cans, unorganized tools and lawn equipment, slightly-used holiday decorations, old athletic equipment—all of this can build up quickly and can cause your garage to be a cluttered, ugly mess.
When considering the process of decluttering and organizing your garage, it can feel like an overwhelming task.
If you're unsure where to start or how to get the job done quickly and stress-free, you're not alone.
Luckily, Hometown is here to help answer those questions, and we make it easy to get started.
In this guide, we'll go over...
---
---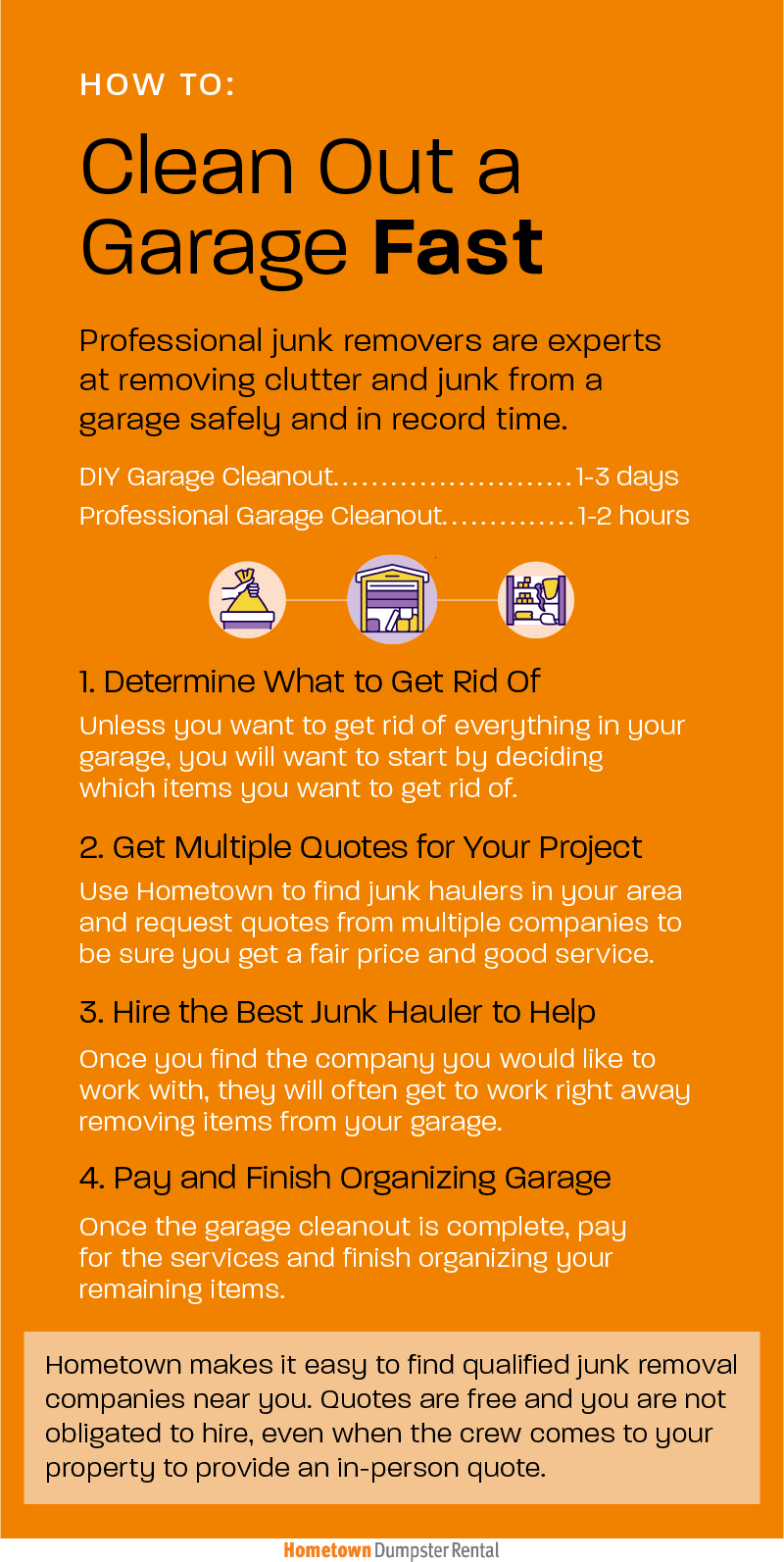 Clean Out Your Garage Quickly with Junk Removal Services
Arguably the most physically and mentally taxing part of getting your garage decluttered and organized is the labor involved.
Hauling heavy items out of your garage, lugging around trash and boxes, going through dusty items, and finding a way to get rid of everything you no longer want quickly and safely is exhausting and sometimes dangerous work.
Professional junk hauling services specialize in cleaning out garages, attic cleanups, basement cleanouts, whole-home cleanouts, heavy item removals, and property cleanups.
Junk removal companies are experts at safely cleaning out cluttered spaces, like garages, in record time.
Instead of wearing yourself out and spending your entire weekend cleaning out your garage, reach out to local junk removal companies for help and get it done quickly.
How to Get Started with Your Garage Cleanout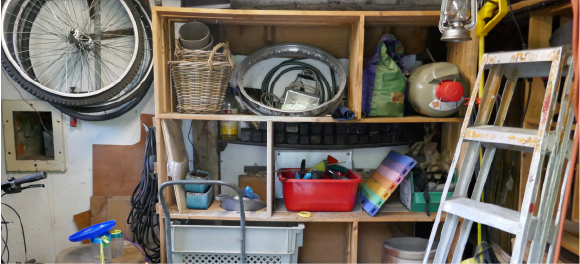 1. Determine What Items Need to Go
Unless you want to get rid of everything in your garage, you will want to start your garage cleanout by determining which items you want to keep and which items you want to get rid of.
Once you know what you want to toss, set those items aside and start a pile, ideally outside the garage.
If you have entire sections of your garage that you know contain items you want them to take, you can simply point those areas out to the junk removers.
Making it clear to junk removers which items you want them to take will help them determine the scope of your garage cleanout and the time and labor it will require.
Learn more about decluttering and organizing:
2. Get Quotes from Local Junk Haulers with Hometown
Hometown makes it simple for homeowners to request garage cleanout quotes from companies in their area.
Just enter your zip code and browse the junk removal service providers in your city or town.
From there, you can read more about their services, see what their customers have to say about them, and request free quotes from as many companies as you like.
We recommend getting three or more junk removal quotes whenever you can to help ensure you pay a fair price and get quality services from a professional and friendly junk removal company.
Tip: When you reach out to junk removal companies for a project quote, be as detailed as you can when describing what you need removed and where it's located. If you can provide pictures or video of your junk and where it's located/how accessible it is, this will help ensure you get an accurate estimate and good customer service with minimal contact.
Keep reading about junk removal services and costs:
---
---
3. Hire the Right Junk Removal Company
If you're able to provide adequate information, photos, or video of your garage cleanout needs, junk removal companies will likely be able to provide a quote over the phone, via text, or by email.
If you're unable to provide enough context for the junk removers to be able to provide an accurate and informed project estimate remotely, that's OK.
Junk removal companies will typically send two employees to your home or business to provide an in-person quote when the job involves more than just a few items.
These quotes are free and you are not obligated to hire them if you don't like the price they quote you.
If you agree to the price of their garage cleanout services, they get started right away.
Read more about hiring junk removal companies:
4. Pay for Your Services and Finish Organizing Your Garage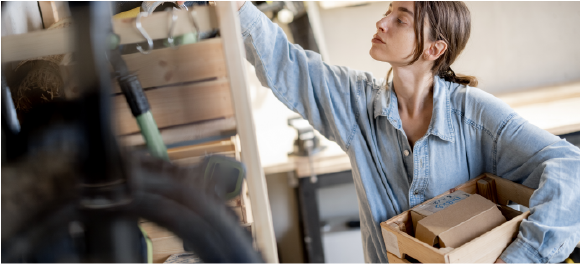 Payment is taken once the garage cleanout is complete.
Now that your unwanted junk is gone and out of the way, you can now finish organizing your items.
Utilize shelves to maximize storage space, label waterproof storage bins to keep items dust- and dirt-free and easy to find, and limit the items you store in the garage moving forward.
Everything in your garage should have a designated storage space. And when you bring new items into your garage, it's a great rule of thumb to take one out in exchange to minimize clutter from piling up again.
---
---
Find out how to improve your garage: