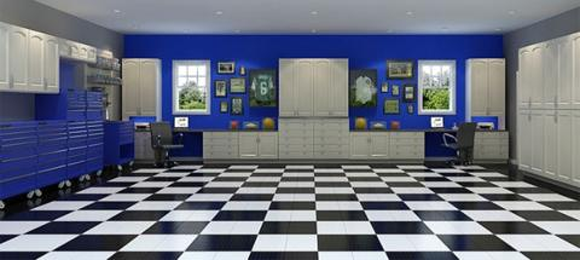 Updated February 14, 2023
It's a part of homeownership we all encounter at some point—cleaning and organizing the garage. We've got some tips to show you how to organize a messy garage as painlessly as possible.
Even the biggest garage cleanouts can be handled with relative ease if the proper plan of attack is put into place first. Read below to learn about some proven garage organization tips and tricks you can put to use.
We'll discuss:
---
---
Start With a Well-defined Plan
What do you want to accomplish with this cleanout?
Are you looking to completely gut out the garage, and start from scratch with a redesign and new storage systems?
Maybe you're just looking to remove excess junk and/or organize the stuff you already have.
Spring cleaning? No matter the scale of the job, start by sitting down and spending a few minutes creating a plan of attack.
Consider these things when creating your plan:
Decide how big the project will be. Don't start a project that you don't think you can't finish in a reasonable amount of time. For instance, don't plan to do a complete reorganization, disposal, and new storage installation unless you have several weekends to get the job done. A job left unfinished defeats the whole purpose of the cleanup.
Write down your plan and/or add it to your calendar to ensure you have a clear schedule to complete the project. Although it may seem inconsequential, this simple step helps hold you to the project and reduces the chance of putting it off another weekend, or two, or…
Be detailed in creating your organizational and disposal plans. This may include design sketches in cases where a complete redesign is the goal, and other details that can help keep the project on track and completed with efficiency.
Read the rest of the garage cleanout tips and tricks below before creating your garage organizational plan.
You can use the information below to help formulate your plan of action.
---
RELATED: 8 Simple Tips for Decluttering Your House
---
Disposal
This is obviously an essential part of organizing a garage.
Disposing of trash, old items, boxes, used oil, and other wastes can really free up space inside a garage.
When going through items, ask yourself, 'Do I really need or use this?'
If the answer is no, it may be time to part ways with this item.
Alternatively, put it in a long-term storage area (e.g., lease a storage unit).
Disposal Options
Best Overall Disposal Method
For cleanups involving more than 3 cubic yards of trash, junk, or debris, we recommend renting a roll-off dumpster.
A 10 yard bin would easily take care of the job. Some rental providers offer slightly smaller containers, as well.
The national average cost of a 10 yard dumpster is $250 for a one-week rental.
TIP: 1 cubic yard is about the same volume as a standard 3 ft. x 3 ft. x 3 ft. kitchen stove. Use this as a visual reference when estimating your disposal needs.
---
RELATED: Guide to renting 'mini' dumpsters
---
Fastest Disposal Method
A faster alternative to renting a dumpster is to hire a junk removal company to clean out the garage for you.
This is a convenient solution for people who don't mind spending a little more to get the job done quicker.
Expect to pay at least a couple hundred dollars (for a small garage) or more to have a junk removal company clean out the garage for you.
For Small Amounts of Junk
For garage cleanouts involving a smaller amount of junk and debris disposal, you can get by without renting a dumpster.
Other ways of getting rid of junk in the garage:
Put it in the 'Free' section of Craigslist.
Add a little to your curbside waste collection each week. (Note: Many waste haulers don't allow construction/demolition debris or hazardous materials/liquids.)
Sell it. Some materials may have some value, such as scrap metal. Usable items, machines, tools, or other items of value can be sold online, in a garage sale, or donated to a local charitable organization.
Next Steps...
First Option: Complete Renovation
If the goal of this cleanup is to completely reorganize, install new shelving/cabinetry, or in any way renovate the garage, the next step is to completely empty out the garage.
Remove all items not attached to the garage. You may even wish to remove some items that are attached if you plan to replace them.
It's often best to start with an empty canvas.
Alternative Option: Basic Cleanout / Organization
Generally speaking, there isn't usually a need to remove everything from the garage, although that's something you'll need to determine based on what you want to accomplish with this project.
---
Organization
Once the garage is cleaned out, it's time to put it back together—making sure it's in an organized fashion.
Keep functionality in mind when organizing a garage. For example, don't bury the air compressor behind bikes or underneath toys if it's something you use often.
Accessibility is key. Make it easier to get to things you use frequently. It makes more sense to put things you only use occasionally in the harder to reach areas.
You can really optimize the accessibility of items in your garage by strategically installing hooks, hangers, cabinets, overhead storage, and shelving.
These storage solutions can help create additional floor space for easier storage of larger items, such as lawnmowers, snow blowers, bikes, chest freezers, etc.
TIP: Utilize vertical space (hooks, pegboards, etc.) and overhead storage systems to maximize the square footage and storage capacity in your garage.
Proven Garage Organization Ideas
Gardening Tools
Most hand-operated gardening tools can be hung on the wall using inexpensive hooks, hangers, or durable plastic hanging systems.
Sports Equipment and Balls
Have a large bin dedicated to sports equipment and outdoor toys (or one bin for each).
Purchase a ball storage system that you can hang on the wall.
These are great for basketballs, footballs, dodge balls, etc. – smaller wall-hung ball storage systems are ideal for baseballs, hockey pucks, and tennis balls.
Bikes
If you use bikes frequently, position them on the garage floor near the opening for easy access without having to remove the car(s), lawn equipment, etc.
If bikes are rarely used, or it's during the winter months, hang the bikes using simple ceiling hangers you can get at any home improvement store.
Shoes/Boots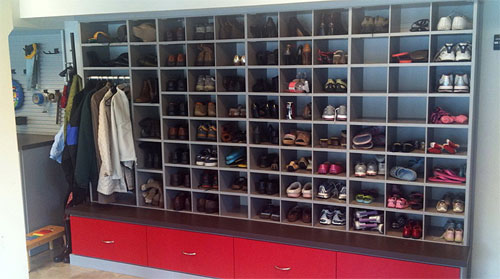 A shoe rack or wall-hung shoe holder is great to organize shoes and boots in the garage.
Shoe clutter is annoying and can become hazardous. (Ever walk into a dark garage only to twist your ankle on a stray shoe? Not fun.)
Tools
Keep tools together in a corner or dedicated work area in the garage.
If you don't have a workbench, consider installing one.
You can store larger tools beneath the workbench and smaller tools on the wall or atop the bench.
Hazmats
This includes chemicals, cleaners, automobile fluids, fuel, batteries, and other hazardous materials.
It's a very good idea to invest in a lockable hazardous materials storage cabinet.
While these flame-resistant metal cabinets can run several hundred to more than a thousand dollars, the price is well worth the investment.
These cabinets last forever and make your garage a much safer place.
Small Items

It's not ideal to use your garage as a long-term storage solution—attics, storage units, or outbuildings work better for this purpose—but if you must, be sure to keep everything contained.
Rather than using cardboard boxes, use large plastic stackable containers with tightly closing lids.
Cardboard will soak up water and other fluids in the event of a spill or flooding, while plastic containers stack easily and better protect the contents inside.
These bins are available at most home improvement stores, Costco, and Amazon.
---
Finishing Touches
When you have the garage gutted out or near-empty, it's a perfect time to add special touches that make it unique or increase functionality.
Below are some garage storage ideas and finishing touches to help make your garage one-of-a-kind.
Flooring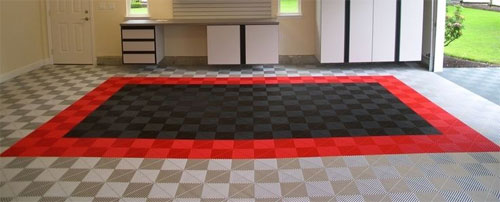 There are several garage flooring options available.
Durable garage floor tiles are great if you use your garage as an auto repair or workshop space.
These tiles are non-slip and easy to clean.
Another option is epoxy flooring.
It offers a great look similar to that in many auto repair shops, and it provides a more non-slip surface compared to bare concrete, plus it's easy to clean.
However, it must be reapplied about every two years to maintain a clean, new appearance.
It's an easy job, but it does require you empty out the garage again.
Garage paint is a cost-efficient option that provides increased durability and a cleaner appearance compared to bare concrete.
You can add a slip-resistant aggregate (similar to fine sand) to the paint to make the surface a bit more non-slip.
Painting the garage floor will need to be reapplied periodically to keep up its appearance.
Walls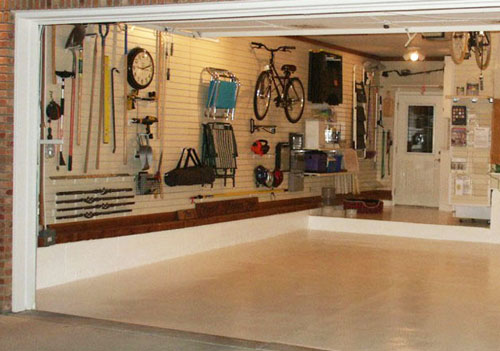 Garage wall panels are great because they allow for hooks to be installed just about anywhere.
You can customize the setup now and in the future as needed.
There are several different types and manufacturers on the market, so it's not difficult to find an option that suits most budgets.
Mount storage cabinets on the walls strategically to improve the functionality of the garage.
Plan carefully, and be sure to take the end result into consideration.
For example, don't mount a cabinet in an area where it would block a walkway when vehicles are parked inside.
Lighting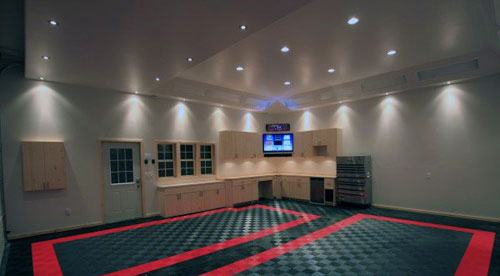 Improve the lighting of your garage using 4 ft. or 8 ft. energy-efficient fluorescent lights.
These are great for hot or cold climates, and it helps provide daylight color lighting ideal for any type of garage setup.
Alternative lighting solutions include LED rope lighting, recessed lighting, puck lights, under-cabinet lighting, and custom light installations.
Colored accent lighting is great for putting a unique spin on your garage, especially if you plan to trick it out as a bar or living space.
It can also be useful for adding a soft glow to accent steps and other tripping hazards when the main lights are off.
Lighting is an inexpensive garage upgrade that can significantly boost the functionality, safety, and appeal of garage interiors.
Overhead Storage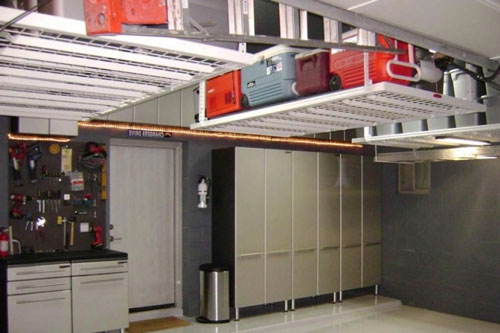 Adding overhead storage is an excellent way to boost the storage capacity of your garage without losing any square footage.
Find DIY plans online, purchase a kit at a home improvement store, or hire someone to do the work for you.
The cost of adding overhead storage in a garage is generally inexpensive. The cost of wood is the most expensive part of the project.
There are also slightly more expensive pre-fab units available made from aluminum or other durable materials.
With a simple bolt-on unit, you can easily add more than 100 square feet of usable storage in your garage.
The Ultimate Garage
Ever thought of converting your garage into a more livable space, such as a man cave, she shed, workshop, bar, or another fantasy garage setup?
I think we all have! If space and budget allow, consider a conversion. See some awesome examples of garage makeovers below.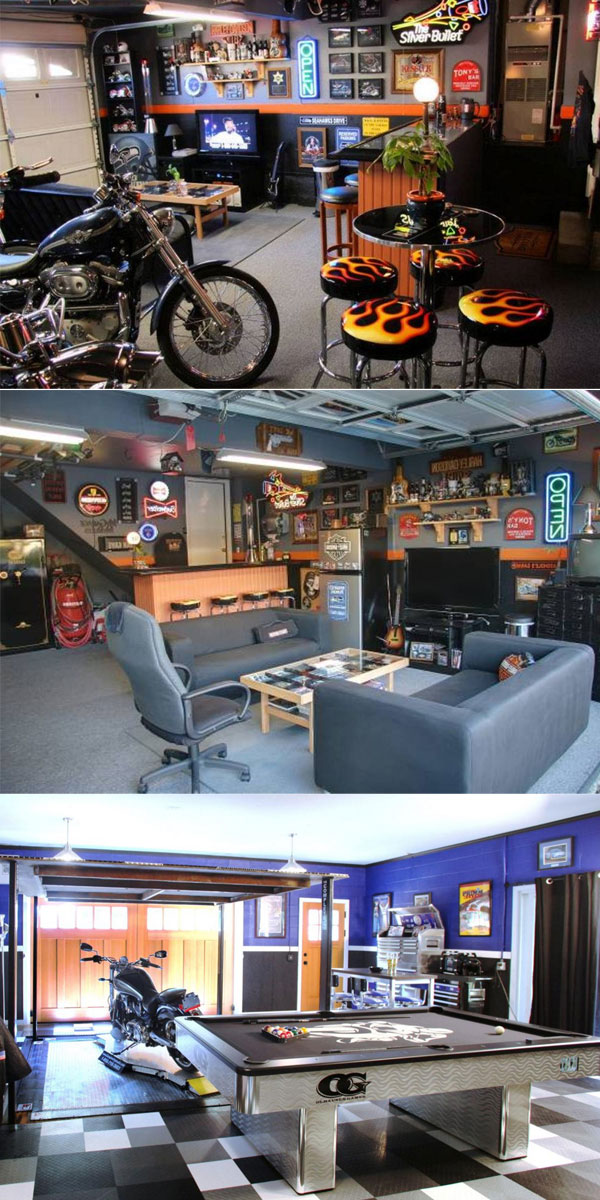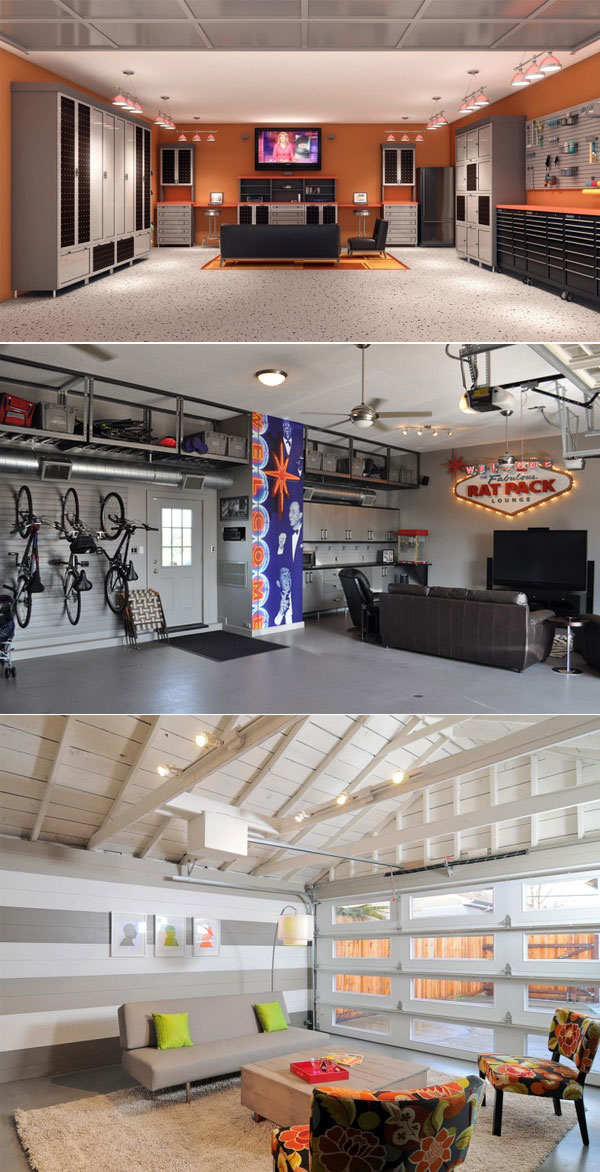 ---
Garage Storage Ideas
Many have already been mentioned, including overhead storage, wall-mount units, and cabinetry.
The storage solution ideal for your situation depends on your specific needs.
That's why the initial planning stage of garage cleanout and organization projects is so important.
Avoid adding storage just to add storage. If you don't need it, don't add it.
There is such thing as too much storage. It's common to have the tendency to fill storage areas with stuff—whether it's stuff we need or not. That can then lead to clutter in the future.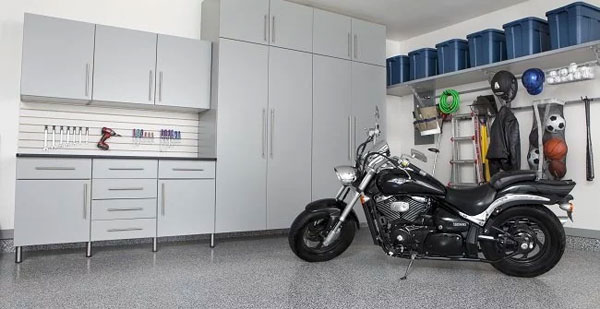 Today's trend in garage design is clean and minimalistic; less is more.
After the garage is cleaned out, you can get a better assessment as to what storage solutions are necessary to complete the garage reorganization.
Wall-mount cabinets are useful in just about any garage.
A combination of cabinetry, wall-mount hangers, ceiling-mount hooks, and overhead storage is an ideal setup for most garages.
Plan this out accordingly based on your budget and storage needs.
---
Inspired?
Stop putting it off and get started on planning your garage cleanout project.
Hometown can help in regards to disposal solutions.
We are the nation's #1 dumpster rental and junk removal service resource.
We prescreen, check licenses, and publish reviews of disposal companies in cities and towns across the United States.
---
---
Read more: