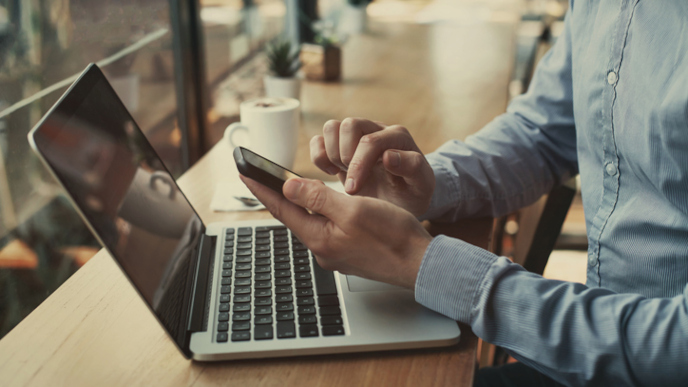 Updated February 23, 2023
Disposing of bulk amounts of waste, debris, or junk is simplified by renting a dumpster.
These large trash containers come in several different styles and capacities.
No matter the type of cleanup you're facing, there's sure to be a dumpster that will accommodate the project.
The dumpster rental process is relatively easy and can be completed over the phone or online. Many dumpster rental companies can drop off a container the same or next day.
This guide will cover the basic steps to take when renting a trash container for bulk waste removal.
Jump to:
---
---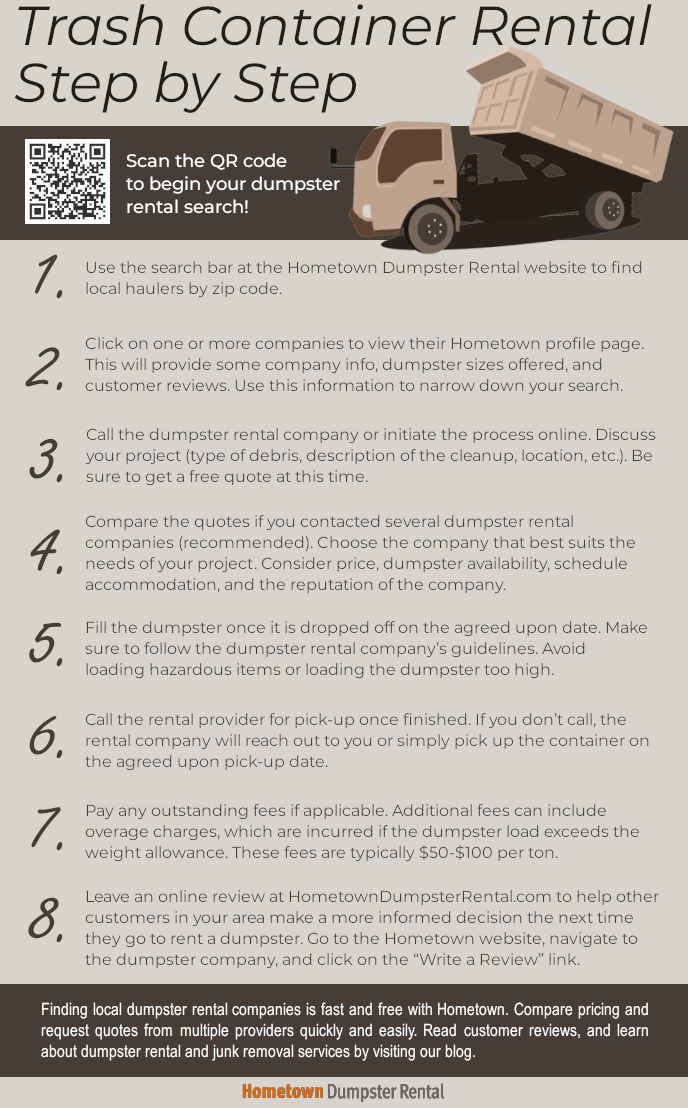 Trash Container Rental Process
The process is straightforward, but it takes a little digging to find the best price and service for your needs.
We recommend not simply calling your current residential waste hauler and requesting a dumpster.
This could be expensive, and they may not offer the dumpster size you need, if any at all.
Go through the simple steps below to rent a dumpster.
Start at HometownDumpsterRental.com and use the search bar to find dumpster rental providers in your area. You can search by zip code.
Click on one or more companies to view their Hometown profile page. This will provide some background information, dumpster sizes offered, and customer reviews. Use this information to narrow down your search.
Call the dumpster rental company or initiate the process online. Be sure to have some information about your project when calling (type of debris, description of the cleanup, location, etc.). Be sure to get a free quote at this time.
Compare the quotes you received if you contacted several dumpster rental companies (recommended). Choose the rental company that best suits the needs of your project. Be sure to consider price, dumpster availability, schedule accommodation, and the reputation of the company.
Fill the dumpster once it is dropped off on the agreed upon date. Make sure to follow the dumpster rental company's guidelines. Avoid loading hazardous items or loading the dumpster too high.
Call the rental provider for pick-up once finished. If you don't call, the rental company will reach out to you or simply pick up the container on the agreed upon pick-up date.
Pay any outstanding fees if applicable. Additional fees can include overage charges, which are incurred if the dumpster load exceeds the weight allowance. These fees are typically $50-$100 per ton.
Leave an online review at HometownDumpsterRental.com to help other customers in your area make a more informed decision the next time they go to rent a dumpster. One way to leave a review is to go to the Hometown website, navigate to the dumpster company used for your project, and click on the "Write a Review" link.
We recommend getting several online quotes before booking a dumpster. This allows you to get the best price and best service to accommodate your project..
Trash Container Types and Sizes

The primary types of dumpsters available to rent include roll-off containers, trailer dumpsters, and bag-style dumpsters.
Each option has advantages and potential drawbacks.
There are various sizes available for each type, as well.
Roll-off Containers
Roll-off dumpsters are the most common type of rentable dumpster.
These are the open-top dumpsters often seen at construction sites.
hey are widely available and come in a wide variety of sizes typically ranging from 10 cubic yards to 40 cubic yards.
Trailer Dumpsters
These are a rubber-wheeled alternative to roll-off containers that offer the benefit of being safe for use on driveways or lawns.
They are not as widely available as roll-off containers, although they're not hard to find nationwide.
Trailer dumpster capacities generally do not exceed 20 cubic yards, although there are exceptions.
Bag Dumpsters
Bag-style dumpsters are a relatively new option that were made popular by Waste Management's Bagster product.
These products, Bagster included, typically hold up to three cubic yards of debris.
Bagster has a small upfront cost, but there is a separate pick-up/disposal cost that can cost $125-$150+ depending upon where you live.
Dumpster Costs
Trash container rental prices vary based on location, size of the dumpster, and other factors. Typical costs can be found below, although prices may vary.
10 yard dumpster: $250-$450
20 yard dumpster: $350-$550
30 yard dumpster: $450-$650
40 yard dumpster: $550-$750
The three cubic yard dumpster bags typically cost $150-$250, including pick-up. In most cases, you get more bang for your buck by choosing a roll-off container or trailer dumpster over a bag-style dumpster.
---
---
Read more: Hometown Dumpster Rental Blog