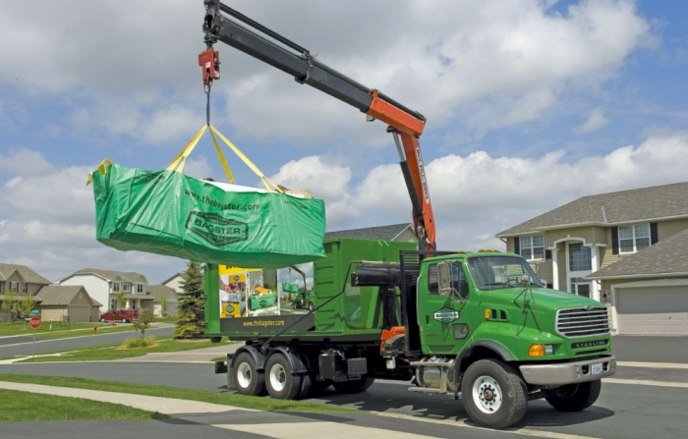 Updated May 25, 2022
Bagster is an innovative waste removal option brought to market by Waste Management.
Today, there are also similar bag-style dumpster on the market.
While bag dumpsters do have low initial costs, there is an additional fee to have it picked up; this fee can be several hundred dollars in some cases.
The fee to have the Bagster picked up and disposed of typically ranges from $120 to $300, depending on your location.
The total cost of a Bagster is comparable to that of a small roll-off dumpster or trailer dumpster rental.
In this guide, we'll compare and contrast these options and their average costs.
Jump to:
---
---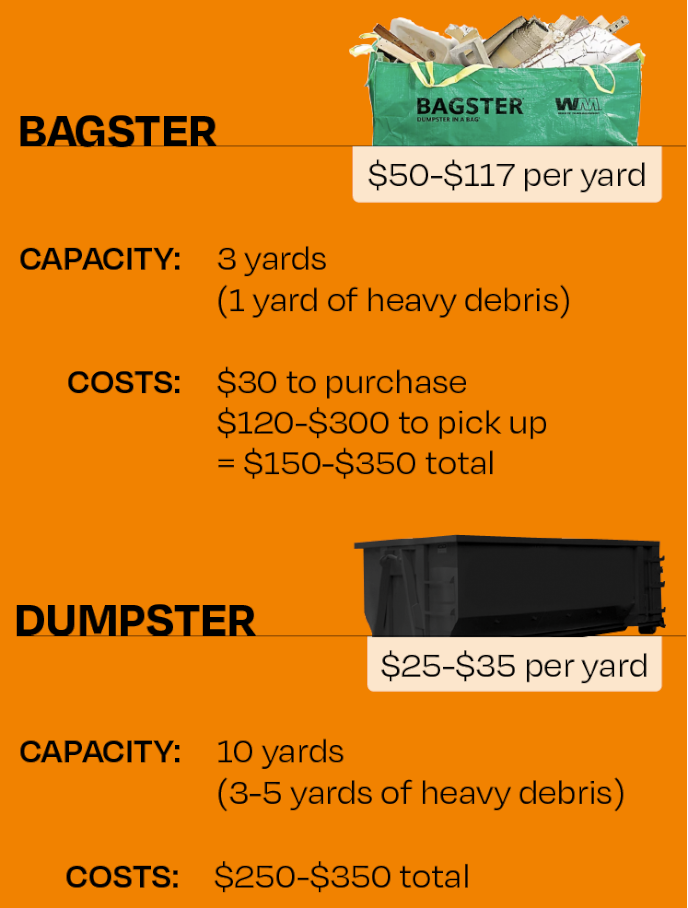 Bagster Pick-up Fees
Bagsters are purchased at various home improvement stores, such as Home Depot and others, at a price of around $20 to $30.
This can be a bit deceiving to some because it does not include the cost to have the filled Bagster picked up by Waste Management.
As previously mentioned, the cost to have the Bagster picked up by Waste Management typically ranges between $120 and $300 (based on 2022 pricing).
The difference in cost is based on location and not on the amount, weight, or type of junk or debris.
It's important to note that putting prohibited items in the Bagster or overfilling it may lead to additional charges.
The average total cost of Bagster service is $150-$350, including the cost of the bag, pick-up fee, and disposal.
Dumpster Rental vs Bagster Costs
Now that you know approximately how much it costs to utilize a Bagster, it's a good idea to compare it to other small dumpster options.
A widely available option is a 10 yard dumpster, though some dumpster rental companies offer other small container sizes, such as 8 yard or 12 yard dumpsters.
The average total cost of a Bagster is $150-$350 while a 10 yard dumpster costs $250-$450 on average.
As you can see, the average costs of both options are comparable, but the cost per yard of a 10 yard dumpster is quite a bit less than the cost per yard of the Bagster.
A 10 yard dumpster costs $25-$45 per yard on average, and a Bagster costs $50-$117 per yard on average.
Clearly, you get much more bang for your buck with a 10 yard dumpster.
Even if you don't believe the debris from your project will require anymore than a 3 yard dumpster, it's a smart idea to consider a larger dumpster.
It's not uncommon for customers to rent a dumpster that's too small for the project, which is why we suggest getting a larger dumpster than you think you need to complete the cleanup.
Because Bagsters and similar bag-style dumpsters only have about 3 cubic yards of loading capacity, it can be easy to exceed this limit.
By renting a dumpster instead, you can avoid potential overage fees or having to buy a second Bagster to finish the job.
Cost of Emptying Multiple Bagsters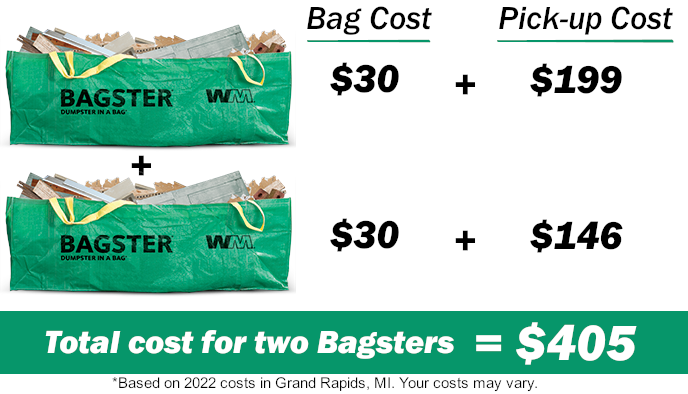 Each Bagster pick-up incurs a fee.
Waste Management offers a slight discount on the pick-up of additional Bagsters, but the Bagsters must be picked up at the same time in order to receive this discount, and not picked up in separate trips.
For example, if a customer uses two Bagsters in the Grand Rapids, MI area, they will pay $30 for each bag at their local home improvement store ($60 total). They then fill up their Bagsters and contact Waste Management to come pick them up. The pick-up fee in Grand Rapids is $199 for the first Bagster and $146 for the second Bagster, making this customer's pick-up cost $345 and the grand total cost $405 for 6 yards of loading capacity or less.
As you can see, the customer could've rented a small dumpster and saved money while also having more loading capacity.
This is a great example of why it's important to do your due diligence when preparing to rent a dumpster.
---
---
Find out more: