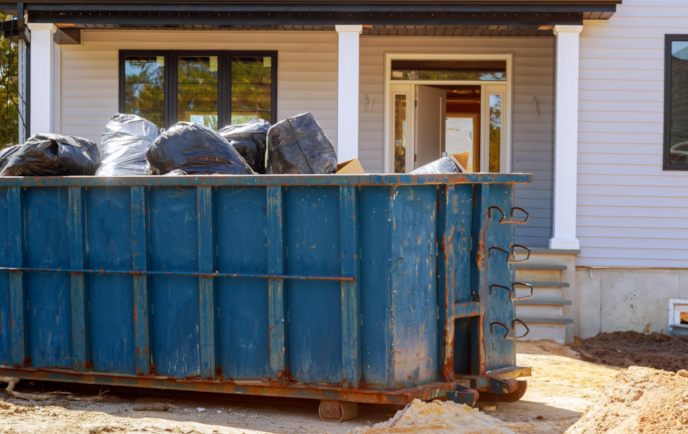 Updated August 1, 2022
A 12 yard dumpster offers a fair amount of loading capacity and a compact footprint. It's a good choice for a wide range of residential projects, such as a kitchen demolition, basement cleanout, deck demolition, and roofing disposal projects.
Rent a 12 yard dumpster for residential projects or for heavy materials (if the dumpster company allows), such as concrete, dirt, roofing debris, or asphalt.
We'll cover the various aspects of 12 yard dumpsters, including dimensions, typical costs, types, and alternatives.
Jump to:
---
---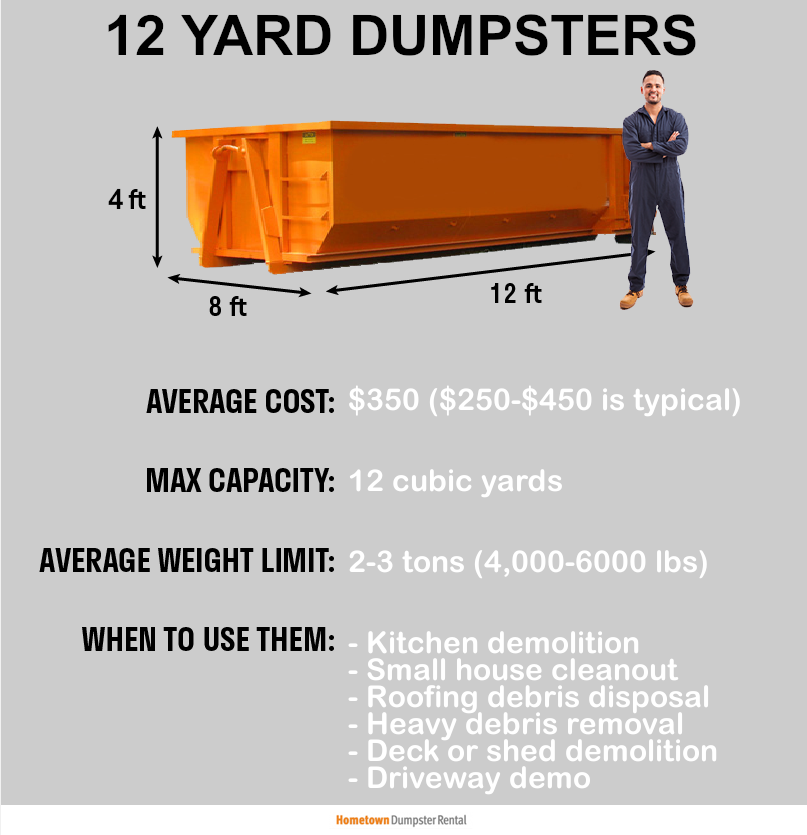 12 Yard Dumpster Dimensions
The footprint of a 12 yard dumpster is quite similar to that of a 10 yard dumpster but with the added benefit of about 20% more loading capacity.
12 yard dumpsters are a great option for residential use or when space is limited.
There is no standard 12 yard dumpster size, but most containers have similar dimensions (give or take a foot on any dimension) to 12 ft L x 8 ft W x 4 ft H.
12 Yard Dumpster Costs
12 yard dumpster rental prices are comparable to that of 10 yard dumpsters.
The average nationwide cost to rent a 12 yard dumpster is $350. Rental costs vary by location. The vast majority of locations will be plus or minus $100 from the average cost.
Type of 12 Yard Dumpsters

12 yard dumpsters also come in two different types: roll-off containers or trailer dumpsters.
Dumpster rental companies that do offer 12 yard dumpsters generally have one or the other, but not both.
Trailer dumpsters work well for various situations, including when roll-off containers are not allowed (HOA rules, for example).
Being on rubber tires, trailer dumpsters also tend to be easier on concrete or asphalt.
12 Yard Dumpster Alternatives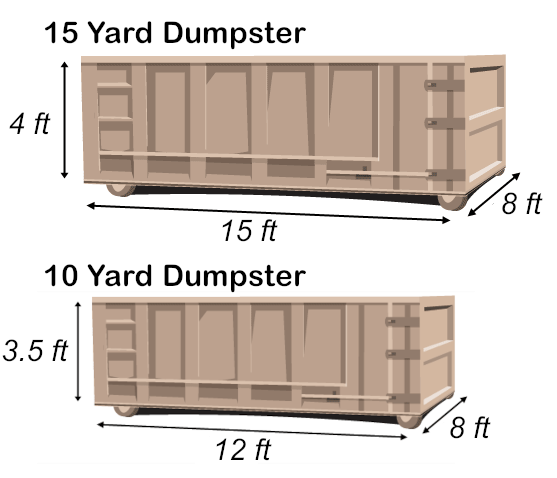 Not every dumpster rental company has 12 yard dumpsters available.
However, most rental providers will have either 10 yard or 15 yard dumpsters in stock.
10 and 15 yard containers are both great alternatives to 12 yard dumpsters, as they have relatively similar capacities and price.
10 yard dumpsters cost $250-$450 on average and typically have dimensions of 12 ft L x 8 ft W x 3.5 ft H.
15 yard dumpsters cost $300-$500 on average and typically have dimensions of 15 ft L x 8 ft W x 4 ft H.
---
---
Keep reading: