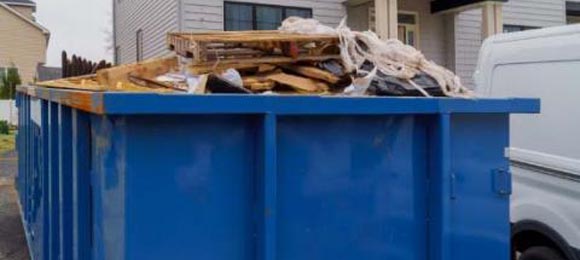 Updated January 19, 2023
Renting a dumpster is an ideal disposal solution for residential demolition—it's quick, it's convenient, and it's relatively inexpensive.
However, choosing the right dumpster size can be tricky.
We'll help you choose the right dumpster size for your small demolition project so you don't end up overpaying.

10 cubic yard Dumpsters
Dimensions: 12 ft L x 8 ft W x 4 ft H
Weight Capacity: 2-3 tons
Average Cost: $250-$450
20 cubic yard Dumpsters
Dimensions: 22 ft L x 8 ft W x 4 ft H
Weight Capacity: 2-4 tons
Average Cost: $350-$550
Note: The above dimensions, weight allowances, and costs are national averages based on data collected by Hometown. Your exact dumpster details may vary.
Understand Your Debris
The type of debris you're removing matters just as much as the amount of debris.
Whatever your project may be, try to have a good idea of what you'll need to throw in your dumpster before calling around to different rental companies, as this will affect the cost they quote you.
Amount of Debris
As you'd expect, the amount of debris you need to dispose of greatly affects the dumpster size you choose.
Measure the square footage of your demolition project and explain your project to your dumpster rental provider. They are experts at gauging debris and helping customers pick the right dumpster size for them.
If you already have piles of debris to dispose of, estimate how many cubic yards of debris you have.
For the average person, visualizing "1 cubic yard" may be difficult, so instead try to visualize how many kitchen stoves' worth of debris you have, as kitchen stoves are a great reference for what a cubic yard looks like.

If you have less than 10 kitchen stoves worth of debris, then a 10 yard dumpster is likely the best option.
If you have more than 10 kitchen stoves worth of debris, a 20 yard is likely ideal for your project.
We always recommend overestimating the amount of debris you have to be sure you don't overfill your dumpster.
Type of Debris
Just as demolition projects have varying amounts of debris, they have varying types of debris as well, and each type has a different weight and disposal cost.
Heavy construction and demolition (C&D) debris, like concrete and brick, takes up minimal space in a dumpster but weighs a great deal.
For this reason, 10 yard dumpsters are generally the best option, but the dumpster should have a relatively high weight limit to accommodate all the heavy debris.
Lightweight materials, like wood and carpeting, tend to take up more space than heavy materials, so you may need a 20 yard dumpster for the space alone.
However, lightweight debris is generally cheaper to dispose of than heavy debris, unless you clean load the dumpster and the material is recyclable, as is often the case with concrete.
If you anticipate that your project will produce mixed materials, like concrete, wood, and metal debris, for example, be sure to disclose this to your dumpster rental provider.
You may need to separate debris types.
---
---
Disposal Options Comparison
Bag-Style Dumpsters
Instead of renting a temporary dumpster, you may be tempted to buy the popular Bagster option available at Home Depot and other retailers, but these are generally not a good option for disposing of demolition debris.
Bag-style dumpsters can generally hold 3 cubic yards and up to 3,300 lbs of debris and material.
However, when disposing of heavy construction and demolition (C&D) debris and materials, only 1 cubic yard, or roughly 2,025 lbs, is allowed in the Bagster.
Conversely, other C&D materials, like flooring, trim work, and cabinets, may not weigh much, but they tend to take up space quickly, and 3 cubic yards won't get you very far.
Self-Hauling
Many people utilize their truck beds and trailers and simply haul their debris to the nearest recycling facility or landfill.
This is a great option in some cases, but it's not always the most efficient or cost-effective disposal solution.
If it takes multiple round trips to dispose of the debris properly, that time could be better spent working on the next phase of your project.
Not to mention, costs add up quickly, even when doing the work yourself, e.g., fuel costs, landfill fees, wear and tear on your vehicle and/or body, trailer or truck rental (if applicable).
Keep reading: How to Dispose of Demolition Debris Properly
Choose the Right Dumpster Provider
We recommend getting quotes from three or more dumpster rental providers.
Doing so helps to ensure you get the best price and the best service.
We recommend reaching out to dumpster providers a week or more in advance to be sure you have the dumpster you need when you need it without slowing down your project.
When speaking to providers and obtaining service quotes, make sure you understand all the details:
Total out-the-door price
Other possible fees, such as overages
Weight limit/allowance
Restrictions on materials
Rental period length
Drop-off and pick-up procedures
Hometown Dumpster Rental makes it easy to get quotes from reputable dumpster rental companies.
You can browse providers in your area, read verified customer reviews of their services, and see what dumpster sizes they offer all in one convenient location.
---