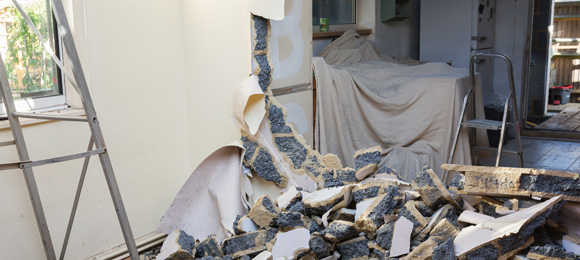 A significant amount of debris can result from a kitchen renovation project.
Renting a dumpster offers the most efficient way to dispose of this debris, and we'll discuss some tips that go along with this process.
---
RELATED:
---
Volume of Kitchen Debris
The amount of debris your kitchen demolition generates can vary widely based on the size of the kitchen and the scale of the renovation project.
A full kitchen demolition can generate quite a bit of debris, from the cabinets to countertops, sink, flooring, appliances, and more.
The debris generated from most kitchen renovation projects can be handled by a 10 yard dumpster.
Larger kitchens, or projects that involve taking down walls and removing flooring, may require a 20 yard dumpster.
To visualize the capacity of a 10 yard dumpster, keep in mind that 1 cubic yard is about the size of a standard kitchen stove (3 ft x 3 ft x 3 ft).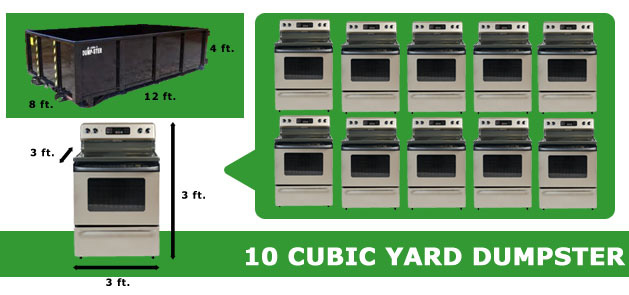 Keep in mind that bulky items take up more space in a dumpster.
Maximize your dumpster's space by breaking down cabinetry to remove as much 'empty space' as possible when loaded in the dumpster.
One more key point to consider is that some dumpster rental companies may not allow for certain appliances, or they may charge an additional fee for disposal. This is often true for refrigerators.
Be sure to check with the rental company to ensure you comply with all regulations.
Dumpster Rental vs Other Disposal Options
For projects like a kitchen renovation or demolition, a roll-off dumpster or trailer dumpster is an ideal disposal option.
Here are some reasons why:
10 or 20 yard dumpsters provide ample capacity to accommodate the debris from just about any kitchen demo. It makes the cleanup quicker than other disposal methods.
Hauling the appliances and debris to the landfill yourself may require multiple trips, costing you more in terms of time, work, landfill dump fees, and wear-and-tear on your vehicle and/or equipment.
Piecing out debris and disposing of it in the weekly trash cart or a commercial dumpster is illegal in most cities and states. Construction & demolition (C&D) debris should not be mixed with general wastes.
Bagster and other bag-style dumpsters generally have approximately 3 cubic yards of loading capacity. That's not enough capacity to accommodate a kitchen demolition project. It would likely take three or more of these bags to complete the job, and that would cost far more than simply renting a 10 or 20 yard roll-off container.
RELATED: Beginner's Guide to Renting a Dumpster
Dumpster Rental Costs
Prices vary by company and location, so it's a good idea to contact 2-3 dumpster rental providers to ensure you're getting the best price and service.
Another key point to consider is availability, especially when dumpster companies tend to be the busiest (summer, construction/renovation season). Call and book your dumpster early (1-2 weeks in advance) to ensure the right size roll-off container or trailer is available.
On average, expect to pay $300-$400 for a 10 or 20 yard dumpster rental. This usually includes a 7-day rental period and drop off and pickup. Additional fees may apply.
---
RELATED:
---
Call around to get the best deal.
We recommend considering smaller, local dumpster rental providers rather than focusing on large waste companies like Waste Management. You can oftentimes get better, more personalized service with a smaller company, and a better price, too.
---