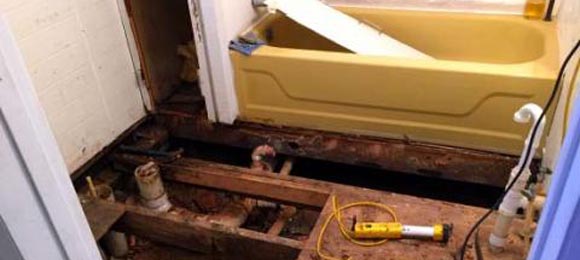 If you're planning on doing some interior demolition, you're likely curious about debris removal.
One of the best ways to get rid of the debris is by renting a roll-off container.
Read on to learn the tips and tricks to having a successful, stress-free dumpster rental experience.
---
Choose the Right Size Dumpster for the Job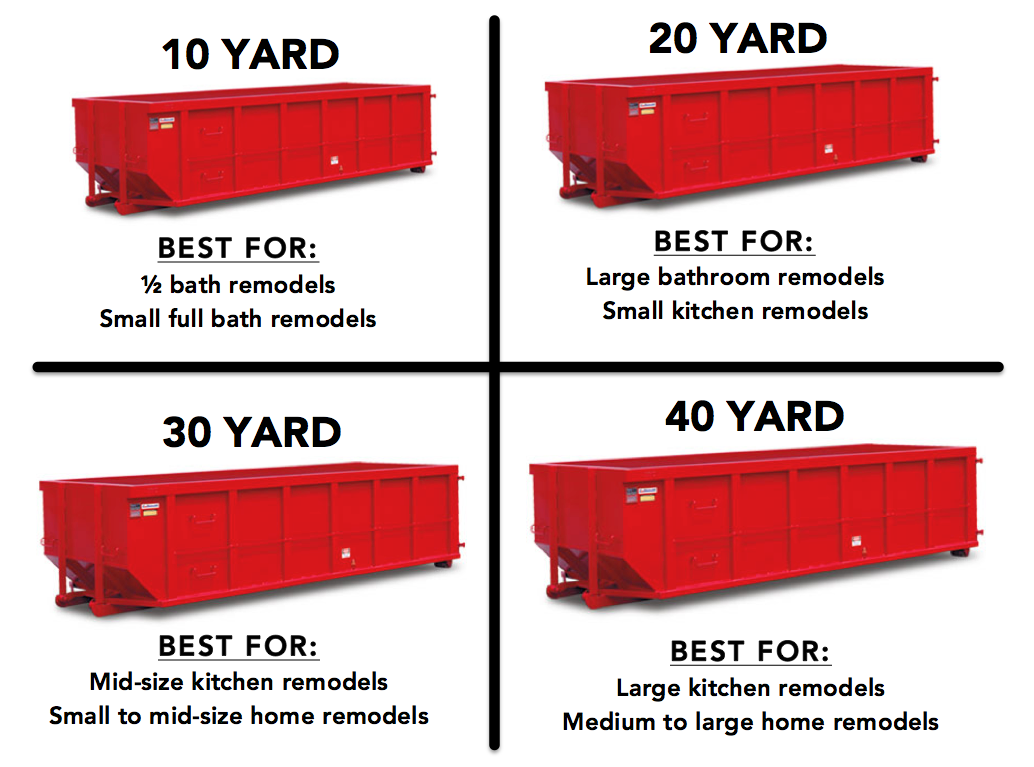 There are several dumpster sizes to choose from, and each size has a specific weight limit—or weight that is included in the price—that varies from company-to-company.
The dumpster you rent must be big enough to hold the debris from your demo project, and it must also include a weight limit high enough to accommodate your debris in the smallest number of trips possible.
Let's look at a few of the most common interior demolition projects to determine which dumpster size is typically the best choice…
Bathroom Remodels
If you're doing a small ½-bath remodel, you can get away with using a 10 yard container for the debris.
However, for larger bathroom remodels, a 20 yard container is the smarter option.
When to use a 10-yarder:
½ baths
Small full baths (5 ft x 5 ft or smaller)
When to use a 20-yarder:
Medium to large full baths (10 ft x 10 ft or smaller)
Keep reading:
Kitchen Remodels
For a small kitchen remodel, you will likely be able to use a 20 yard dumpster without going over the weight limit, but for a large kitchen remodel, you will certainly need a 30 yard container or larger.
When to use a 20-yarder: Small kitchens with minimal appliances
When to use a 30-yarder: Medium kitchens with some appliances
When to use a 40-yarder: Large kitchens with several appliances
Learn more:
Medium to Large Home Remodels
For general home remodels that involve demolishing medium to large amounts of the home's interior, you will likely want to go with a 30 or 40 yard dumpster.
When to use a 30-yarder: Small to mid-size home remodels
When to use a 40-yarder:
Major home renovations
When a lot of heavy materials are involved, such as concrete or plaster
8 or 10 yard trailers are common among small, local demolition companies, and they can come in handy for small debris removal jobs.
But for projects that produce more than 8 yards of debris—as most interior demolition projects do—renting a dumpster is almost always the more cost-efficient and convenient option.
Here's why...
It's quite common to underestimate the amount of debris a particular project will generate, but this mistake can rack up the cost of debris disposal quite quickly.
When you hire a company to perform the debris removal with a trailer (let's say they quote you $200), you are signing up to pay $200 per haul, which means if it takes multiple hauls to the landfill to complete the debris removal, you're paying $200 for each trip.
This is not how dumpster rental works.
You can opt for the larger container—say a 20 or 30 yard container—rather than the 10 yard trailer, and probably get the disposal finished in one trip.
You pay one price, and it includes the cost of the dumpster, mileage, and disposal.
The key is always over-estimating the amount of debris you think will be generated during a renovation or demolition project. It will ensure you don't incur overage charges or require multiple trips to the landfill.

Keep reading:
---
Know How Dumpster Rental Works
The #1 way to ensure your dumpster rental goes smoothly is to simply familiarize yourself with the dumpster rental process works and how dumpster rental providers typically price their services.
Here's what the disposal process looks like...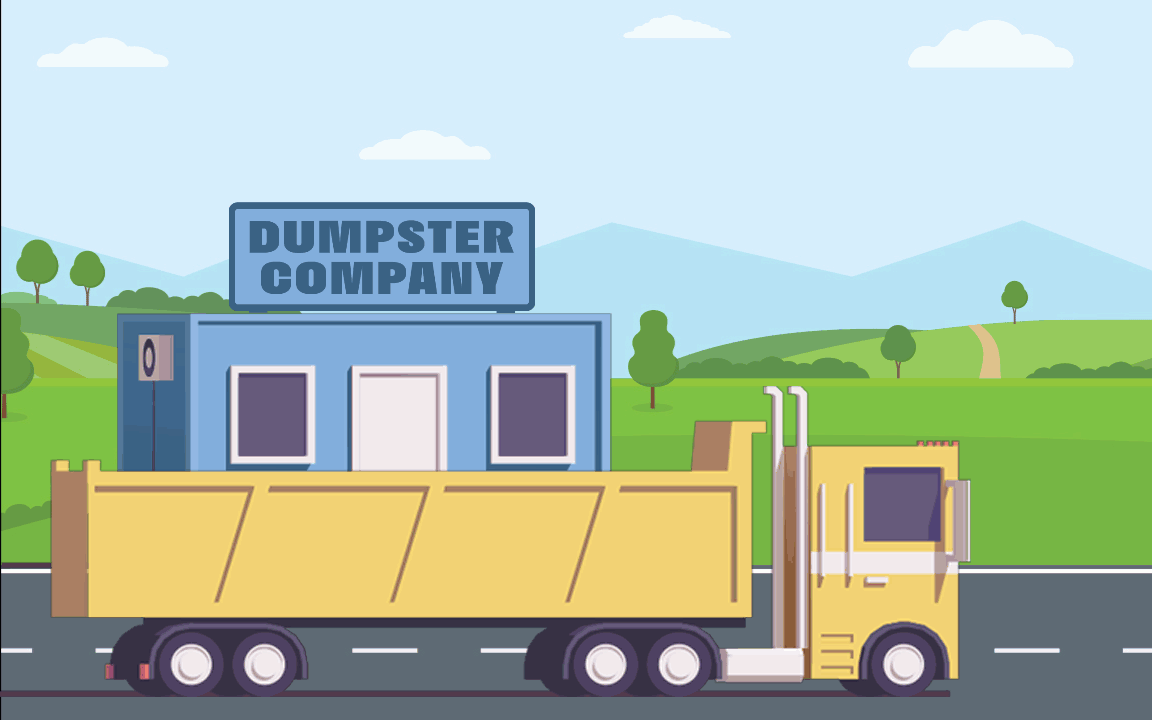 Step 1: Schedule to have a dumpster delivered.
Step 2: The dumpster company drops off a container at your home or work site.
Step 3: You load the debris into the dumpster (making sure to abide by the dumpster's weight limits).
Step 4: When the debris is gone or the dumpster is at capacity, call the company to come pick up the dumpster.
Step 5: The rental company loads the dumpster onto their truck.
Step 6: The dumpster is driven to the landfill or appropriate recycling facility.
Step 7: The truck and dumpster drive onto a scale, and the total weight of the dumpster, truck, and debris is measured.
Step 8: The truck then empties the dumpster, and as it goes to leave the drop-off site, drives over another scale and measures how much the truck and dumpster weigh without the debris.
Step 9: The difference between the first weight and the second weight reveals how much the debris weighed and the weight you will be billed for. Be aware that if the weight of your debris is more than the "weight limit" included in your quote, you will be responsible for overage fees (if applicable). These typically range from $50 to $100 per ton over the weight allowance.
Step 10: If you still have debris at the demo site, the company drives the dumpster back to your home, repeating this process until all the debris is gone.
Learn more:
---
Understand the Various Cost Factors
Dumpster rental prices vary based on:
Size of the container
How far the roll-off truck has to drive
Disposal fees in your area
Company you rent from
When it comes to demolition debris disposal, oftentimes the bigger dumpster is the better choice.
As mentioned earlier, when in doubt, it is always wise to rent a dumpster one size bigger than you think you'll need.
Not only does that debris add up fast, but dumpsters also have a way of making you want to throw out other junk that you've been meaning to toss over the years.
Of course a 40 yard dumpster will cost more to rent than a 20 yard dumpster, but it may save you money in the long run.
That way you'll be able to get rid of all the debris in a single trip to the landfill.
The cost of fueling a roll-off truck is steep, so minimizing the amount of trips to the landfill can save the dumpster company money, and those savings are passed on to you.
Find the right local dumpster rental provider for you and your project with the help of
HometownDumpsterRental.com
. It's always a good idea to speak with at least 2 - 3 different companies about their pricing and availability to ensure you find the perfect company for
your
interior demolition project.
---
Learn more about getting the best price for your dumpster rental: