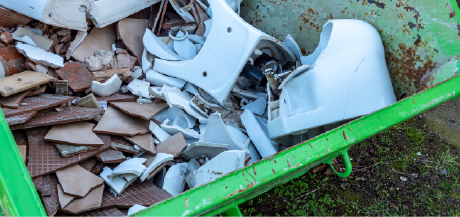 Updated February 22, 2023
Managing the debris from a DIY demolition or remodeling project can be a challenge, but planning ahead to ensure a streamlined debris removal process is key to a project's overall success.
There are multiple debris disposal solutions available for most areas, and we recommend considering all your options to ensure you make the best choice for your project without overpaying.
In this guide, we'll outline the most common debris removal methods and what to consider in order to make the best choice for your DIY project cleanup.
Jump to:
---
---

Rent a Dumpster to Dispose of the Debris
Roll-off dumpster rentals are a cost-effective way to manage the debris from large or semi-ongoing demolition or construction projects.
For example, if you are remodeling your bathroom or kitchen, a dumpster is a convenient way to keep your work site—aka your home—clear of dangerous debris, like splintered wood, nails, and general debris and dust.
If you have a convenient place to park a dumpster for a week (or less in many situations), like in your driveway, renting a dumpster is typically the most suitable and affordable debris disposal solution.
Dumpster rentals typically include 5-7 days in the rental agreement, though single-day dumpster rentals may be an option with some dumpster rental companies.
Dumpsters typically come in sizes ranging from 10 yard containers to 40 yard containers.
The most popular small-size roll-off container is a 10 yarder, and this dumpster size can accommodate a wide range of DIY projects, like a bathroom renovation, deck removal, flooring removal, small kitchen renovation, and other relatively small interior demolition projects.
20 yard dumpsters are a great option for slightly larger or heavier projects. Rarely is a 30 yard or 40 yard container necessary for a DIY project cleanup.
The cost to rent a dumpster varies from $250-$450 on average, but may be more or less in some cases.
There are a number of factors that affect dumpster rental costs, including:
Size of the dumpster you need
Type of debris you're throwing away
Weight of the debris you're throwing away
Your area's disposal fees and permit fees
Overage fees or other potential surcharges
Where you live and the cost of living
The dumpster company you rent from
---
---
Learn more:
Hire a Junk Removal Company to Haul Away the Debris
Another option for debris disposal is hiring a junk removal company to come haul it away for you.
Junk removal is a great option for debris removal if...
You have less than seven cubic yards of debris or so.
Your debris is mostly wood, fixtures, and other non-toxic, relatively lightweight debris.
You don't have the time or physical ability to handle the debris removal yourself.
Hiring a junk removal service to remove the debris for you is a fast and easy solution, but it typically costs more due to the convenience and all-inclusive nature of the services.
Junk removal minimum fees generally start at around $100 for small pick-ups and increase from there.
The cost of junk removal services ranges from $300-$1,000 on average but can be more or less depending on your specific debris removal project.
There are several factors that affect junk removal costs, like:
How much debris you have
What kind of debris you have
Where you're located
Who you hire
---
---
Keep reading: