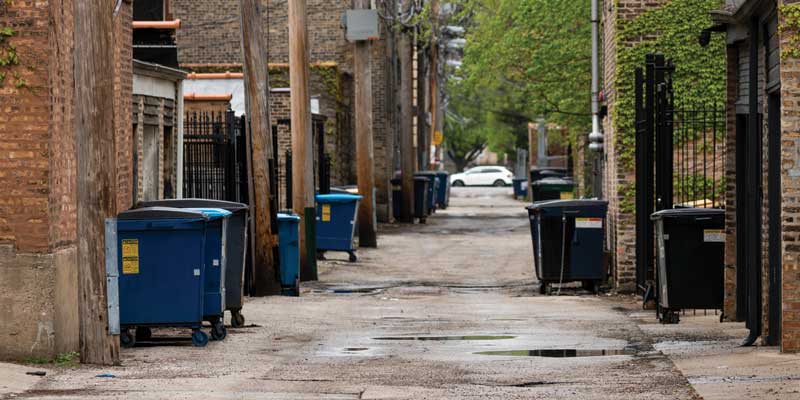 Updated May 10, 2023
Choosing the appropriate size dumpster for your business is a vital step to making sure your company has the best regular disposal solution for the best price.
Choosing a dumpster that's too small could result in you paying more in the long run, as more pick-ups will likely be required. On the other hand, opting for a business dumpster that's too big means you're paying for more disposal power than is necessary to run your business, and downsizing could save you money.
In this guide, we'll go over the main factors to consider when picking the best size commercial dumpster for your business.
Jump to:
---
---

Understand Commercial Dumpster Sizes
There are many different dumpster sizes available for long-term use for all different types of businesses.
Because the disposal needs of businesses can vary a great deal, commercial dumpsters come in a range of sizes. The most common commercial dumpster sizes include 2, 4, 6, and 8 cubic yard containers, but some dumpster rental companies offer even larger sizes.
| | | | |
| --- | --- | --- | --- |
| Commercial Dumpster Sizes | Common Dimensions | Average # of Trash Bags That Will Fit | Best for These Businesses |
| 2 cubic yards | 6 ft L x 3 ft W x 3 ft H | 10-20 | Small retail shops |
| 4 cubic yards | 6 ft L x 3 ft W x 4 ft H | 20-30 | Gas stations |
| 6 cubic yards | 6 ft L x 5 ft W x 6 ft H | 30-40 | Restaurants |
| 8 cubic yards | 6 ft L x 6 ft W x 7 ft H | 40-50 | Apartment complexes |
Dumpster dimensions and total loading capacity may vary.
2-4 cubic yard dumpsters are ideal to manage the waste produced by smaller businesses, like small retail shops or diners. Businesses that produce more debris, like large restaurants, gas stations, and apartment complexes, will be better suited with a 6-8 yard commercial dumpster.
If these size options are too small for the amount of waste your businesses produces, a commercial trash compactor is likely a better option. Like commercial dumpsters, commercial compactors come in a wide range of sizes, from 4-40 yards. 40 yard trash compactors are ideal for large facilities or warehouses, like Lowe's, Home Depot, etc. Businesses that process many tons of recyclable material, like cardboard, are perfect candidates for large commercial compactors.
---
---
Average Commercial Dumpster Costs
The cost of commercial dumpster rental services vary based on a variety of factors, like the size of the container, how frequently the dumpster is emptied, where the container is located, the type and amount of waste that's being disposed of, and who you hire to handle your commercial waste management.
As expected, larger dumpsters tend to cost more than their smaller counterparts and weekly pick-ups will cost more than bi-weekly pick-ups. If your business is located in an area with a high cost of living, you'll pay more than a comparable business located in an area with a lower cost of living.
With all of that being said, the average cost for commercial dumpster services is $100-$200 per month for weekly pick-ups. Here is a closer look at average commercial dumpster rental costs:
| | |
| --- | --- |
| Commercial Dumpster Size | Average Monthly Cost |
| 2 yard dumpster | $100-$125 |
| 4 yard dumpster | $120-$145 |
| 6 yard dumpster | $135-$160 |
| 8 yard dumpster | $175-$200 |
Prices in your market may vary.
There are other fees that may apply in addition to your dumpster's monty service charge, so we recommend inquiring about possible additional fees and charges with the different commercial dumpster companies you speak with. Contracts will be required but contract lengths will vary. Some companies may offer a better deal for a contract that lasts several years, but you may require a month-to-month agreement. Be sure to check with several services providers in your area to ensure that you find a contract that suites your needs at a price that your business can afford.
Getting multiple commercial dumpster quotes is easy with Hometown. Our single quote request form allows you to answer questions about your business's disposal needs once and then receive up to 3 different quotes from commercial dumpster rental companies in your area. Getting multiple quotes not only allows you to shop around for the best price, but it helps you compare service agreements and customer service which are equally as important.
---
---
Estimate Your Company's Disposal Needs
The most important steps to choosing the right size commercial dumpster for your business is determining the type and amount of waste you produce on a regular basis.
Volume
Estimating the volume of trash you produce is pretty straight forward when the trash is consistently tied up in garbage bags. However, that isn't always the case. If you can't estimate your trash by number of trash bags, we recommend estimating roughly how many cubic yards (3 ft x 3 ft x 3 ft) of waste your business produces each week. Measuring the cubic yardage of trash you produce is especially helpful when choosing the right dumpster size for your business because dumpsters are measured in cubic yards.
Weight
Estimating the weight of your company's trash or debris can be particularly difficult if there are many different types of waste being tossed in the dumpster. For example, wet debris weighs significantly more than dry debris, which is why it's important to keep your company dumpster closed when not in use to avoid water pooling in the container.
You can use this formula to help you estimate the weight of the waste being tossed into your company's dumpster on a daily basis:
(Weight of 1 yard of a particular waste) x (Number of square yards) = Total weight
Calculate the weight for each type of waste that gets added to your dumpster and then add them all together to get an idea of how much weight is added to your company dumpster on a regular basis. Knowing the type and amount of waste that is added to your company dumpster, as well as using the chart above, can help you determine which dumpster size will most appropriately contain your company's weekly waste.
Frequency
It's most common to measure your commercial waste management needs from a weekly perspective, as weekly pick-ups are the most popular schedule for commercial dumpster services.
For example, if your business is a restaurant, your dumpster should be picked up—at a minimum—on a weekly basis to minimize odors and rodents. So you should select a dumpster that can adequately handle a week's worth of your business' waste.
If your business primarily produces a small to moderate amount paper and plastic waste with only the occasional food waste, a weekly dumpster pick-up would likely be more frequent than you need, and it might be worth considering a bi-weekly pick-up. So you should select a dumpster that can adequately handle two weeks' worth of your business' waste.
Dumpster rental companies are experts at helping you choose the right container size for your business, so be sure to give them as many details as you can about the type and amount of waste your company produces on a typical day. Use the information you've gathered and their professional opinion to rent the best container size for your business.
Read more:
---