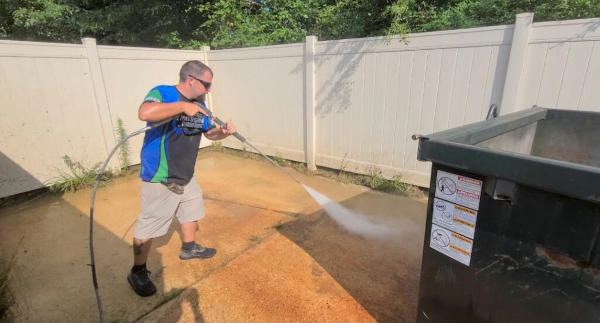 Updated January 19, 2023
Maintaining the cleanliness of a commercial dumpster and the area around it is an important part of commercial waste management.
In fact, it's the law in most cities to keep commercial dumpsters sanitized, as well as keep the dumpster pad cleaned and free of litter, hazardous materials, or other obstructions. Costs to maintain compliance are relatively affordable and well worth the investment.
Commercial businesses could be liable for fines or other penalties for not maintaining a clean and sanitary environment in and around commercial dumpsters and other trash containers.
This quick guide will cover the general commercial dumpster container and pad cleaning procedure and the costs associated with this service.
Jump to:
---
---
Commercial Dumpster Cleaning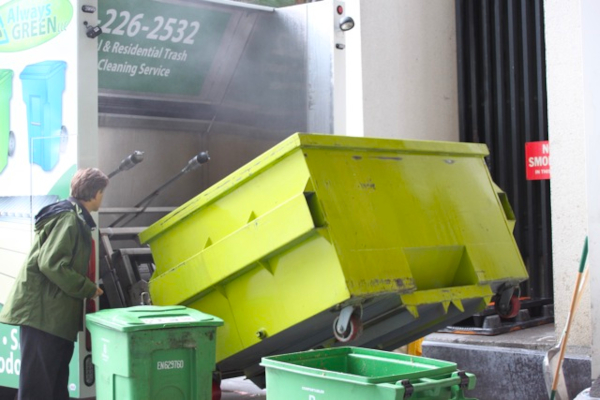 Commercial dumpsters should be cleaned at least once per month. The process is pretty quick and easy for a professional cleaning company.
Specialized trucks fitted with steam and power washer jets blast the interior of the dumpster with up to 200-degree F steam to sanitize, clean, and deodorize the bin.
The process takes just minutes, and steam is very effective at disinfecting and sanitizing.
The dumpster pad area must also be kept clean of debris and spills.
It should be cleared of trash that didn't make it into the dumpster and power washed as needed to remove spills and odors.
Most state and/or local laws mandate dumpster pads maintain cleanliness just as the dumpster itself must.
Your commercial waste hauler may offer this service either as an add-on or as part of regular commercial dumpster service.
If not offered, you can utilize a local commercial dumpster cleaning company to handle the job. The costs are surprisingly affordable for such a useful and necessary service.
Commercial Dumpster and Pad Cleaning Costs
Costs will vary based on location, complexity of the cleanup, and services offered.
For example, a single dumpster pad cleaning at a cardboard-only dumpster site would cost less than a job involving a double dumpster pad cleaning at a restaurant with a grease bin.
Dumpster pad cleaning costs typically range between $50 to $200. Dumpster container cleaning costs generally range from $15 to $100.
Some dumpster cleaning companies offer container cleaning and dumpster pad cleaning as a service.
You can expect to get a better deal by having both services combined.
For example, the dumpster cleaning may cost $75 and the dumpster pad cleaning costs $25 for a total of $100. These services may cost more if charged separately.
Where to Find Commercial Dumpster Cleaning Companies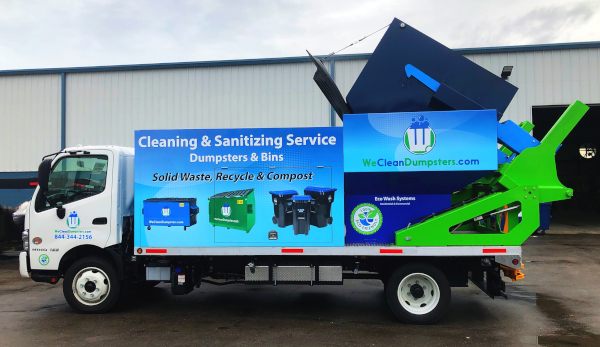 The first place to look for commercial dumpster cleaning companies is with your current commercial waste hauler.
Many will offer container cleaning services that are either included in the monthly service cost or as an add-on feature for an additional fee.
You can also find commercial dumpster and pad cleaning companies by searching online.
There are companies that offer these services specifically, as well as related services, like general power washing.
If you can't find a reputable company to handle the cleaning, it is possible to do it yourself with the proper tools.
A power washer works best if you have access to one.
A local equipment rental company or home improvement store, like Home Depot, Lowe's, or Menard's, may offer power washer rentals.
The biggest difference between power washers and pressure washers is that power washers use heated water and pressure washers do not. Both use pressurized water, but the heated water works better to deep clean the dumpster and pad.
DIY Costs Compared to Hiring a Professional Cleaning Company
The upfront costs of obtaining a power washer, fuel, eco-friendly detergents, and other cleaning tools can be steep.
A commercial-grade power washer (heated water) can easily range from $2,000-$3,000 if purchased new.
Cold water pressure washers can be bought for less, but a commercial-grade pressure washer ranges from $500 for a heavy-duty residential model up to several thousand dollars for a tow-behind commercial pressure washer.
To reduce DIY costs, you can rent a power washer and purchase the necessary cleaning agents to complete the job.
Be sure to use eco-friendly options that abide by local and state laws.
Also, check on the regulations regarding collection of the run-off water; it may or may not be allowed to empty into the storm drain.
A commercial dumpster cleaning service, as described previously, can be had for as little as $15 to $50 per month or as high as $200 to $300 per month. The total cost will depend on the number of cans, your location, and services offered.
We strongly suggest using a commercial dumpster cleaning service to handle the container and pad cleaning on a periodic basis. It's not only a cost-effective option, but it's also an eco-friendlier option and is completely hands-off for you.
---
---
Find out more: