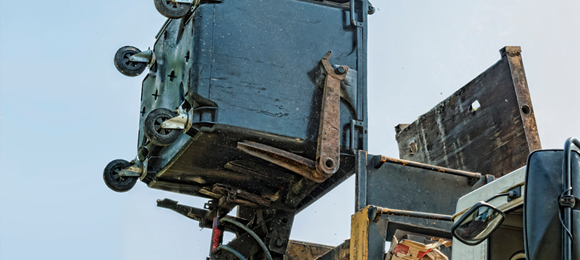 Updated September 11, 2023
Commercial dumpsters are front-load dumpsters, like those you commonly see behind gas stations, restaurants, schools, retail stores, apartment complexes, etc. When business owners or managers search for local commercial dumpster waste haulers, most are looking for the company with the lowest prices, the best service, and the container size that can handle their waste needs.
At Hometown, we're here to make finding a dumpster easy, but not just any dumpster—the right dumpster. In this guide, we'll go over the most popular commercial dumpster sizes, how to choose the right trash pick-up schedule for your business' needs, and how to find the best commercial waste management service provider.
Table of Contents:
---
---
Commercial Dumpster Sizes
Because the disposal needs of businesses can vary a great deal, commercial dumpsters come in a range of sizes. The most common commercial front-load dumpster sizes include 2, 4, 6, and 8 cubic yard containers. (Some dumpster rental companies may have other sizes available.)
Dumpster dimensions may vary
Smaller businesses, like local retail shops or quaint diners, will likely only need a 2 yard or 4 yard dumpster to manage their waste. Businesses that produce slightly more debris, like busy restaurants, apartment complexes, gas stations, and larger retail stores, will likely need a larger dumpster, like a 6 yard or 8 yard container.
If your business produces a lot of trash or recyclable debris, a commercial trash compactor may be a better option for your company. Just like commercial dumpsters, commercial compactors come in a wide range of sizes, too, from 4 yards to as big as 40 yards. A 40 yard trash compactor, for example, is ideal for large facilities or warehouses, like Lowe's, Walmart, etc. If a business has to process many tons of recyclable materials, like cardboard, large commercial compactors are the most efficient way to handle it.
Commercial Dumpster Rental Prices
Commercial dumpster rental service costs are directly related to a number of factors, including the size of the container, how frequently the dumpster is emptied, where the container is located, and who you hire to handle your commercial waste management.
The larger the dumpster, the higher the cost. Similarly, weekly pick-ups will cost more than bi-weekly pick-ups. And if your business is located in an area with a high cost of living, like a busy metropolitan area, then you can expect your dumpster service fees to be more than it would be for the same dumpster size and the same pick-up frequency in an area with a lower cost of living.
The average cost for commercial dumpster services is $100-$200 per month for weekly pick-ups.
Here's a closer look at commercial dumpster rental costs by dumpster size...
| | |
| --- | --- |
| Commercial Dumpster Size | Average Monthly Cost |
| 2 yard dumpster | $100-$125 |
| 4 yard dumpster | $120-$145 |
| 6 yard dumpster | $135-$160 |
| 8 yard dumpster | $175-$200 |
Prices in your market may vary
Be aware that other fees may apply in addition to your dumpster's monthly service charge, so always inquire about possible additional fees and charges with the commercial dumpster companies you speak to.
Because contracts may be required in many instances. Sometimes contracts that last for several years. If a shorter contract, such as a month-to-month agreement, suits your situation better, check with several commercial waste haulers until you find one that meets your needs.
---
---
Commercial Dumpster Pick-Up Schedules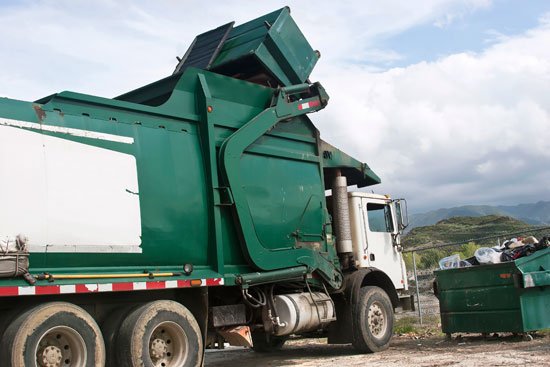 Commercial waste management involves the regularly scheduled emptying of a commercial dumpster. That pick-up schedule can be as frequently as multiple times a week to bi-weekly. Most commercial trash companies are willing to work with you to meet your company's needs, no matter how frequently or infrequently you need you dumpster emptied.
In most cases, business trash pick-up services occur once per week, with the option for additional pick-ups available by request.
Oftentimes, businesses have a busy season and a slow season. The company you choose to work with for your commercial waste needs should be willing and able to provide pick-ups that satisfy your trash management needs regardless of the time of year. If it's not uncommon that your waste removal needs vary throughout the year, be sure to discuss this with each company you reach out to for service estimates.
The most common commercial dumpster pick-up schedules are:
Weekly — A weekly pick-up schedule is ideal for restaurants and gas stations that dispose of food waste or produce more than 2-8 cubic yards of debris every week.
Bi-weekly — A bi-weekly pick-up schedule is most common for small retail stores and other local businesses that do not deal with food waste on a regular basis and do not produce more than 2-8 cubic yards of debris every two weeks.
Monthly — A monthly pick-up schedule is most common for companies or organizations that don't utilize their dumpsters often or consistently throughout the year. With monthly pick-ups, you're able to schedule additional pick-ups as needed, granting you maximum flexibility.
How to Choose the Right Dumpster for Your Business
The first step to determining the right commercial dumpster size and schedule for your business is figuring out roughly how much waste your business produces on a weekly basis and what types.
Here are some examples of which dumpster size is right for different types of companies...
| | | |
| --- | --- | --- |
| Dumpster Size | Average Number of Trash Bags Dumpster Holds | Best for |
| 2 yard dumpster | 10-20 | Small retail shops |
| 4 yard dumpster | 20-30 | Gas stations |
| 6 yard dumpster | 30-40 | Restaurants |
| 8 yard dumpster | 40-50 | Apartment Complexes |
Total loading capacity may vary.
As previously stated, the amount of waste and the type of waste your business produces are the two biggest factors when choosing the right dumpster size for your business' waste needs. For example, if you own a restaurant that tosses out more than 5 bags of trash each day, a 4 yard dumpster that's picked up once a week or twice a week may be your best option. On the other hand, if you own a retail store that rarely throws out food waste but produces a lot of paper waste and cardboard boxes to recycle, you may want to consider a small compactor that's emptied once or twice a month and large curbside trash bins emptied weekly for non-recyclable waste.
If you're still unsure which dumpster size and pick-up schedule is right for your business, reach out to local commercial waste management companies for assistance. Their experience and knowledge of the industry makes them experts at estimating a business' pick-up needs.
How to Find the Best Commercial Waste Hauler
In most cities, you have choices when it comes to choosing a commercial trash removal service. While some business owners think hiring the big-name companies, like Waste Management or Republic Services, will save them time and money, there may be better options available.
We recommend reaching out to multiple commercial dumpster providers, including local companies, to ensure you find the service that best fits your budget and disposal needs. A smaller local company may be a better fit, as costs are generally more competitive and the personalized customer service they offer can't be matched by a national waste company.
At Hometown, we make this process of requesting commercial waste service estimates and scheduling services easy. Start by searching your area for commercial waste management services. Then, fill out our quote request form to answer some questions about your waste removal needs. From there, we'll send your request to up to three local service providers so you don't have to waste any of your valuable time searching for companies, playing phone tag, and chasing down estimates. serving your area.
---