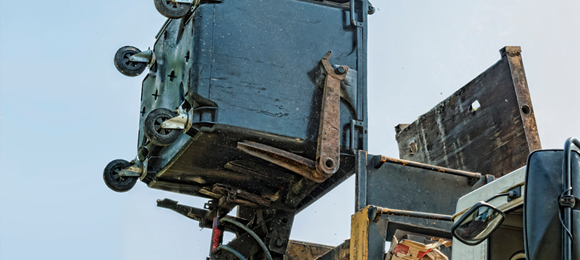 When searching for local commercial dumpster waste haulers, a simple Google search for "commercial dumpster service near me" can help but generally doesn't provide a comprehensive look at commercial dumpster costs, sizes, and other considerations.
This is where Hometown Dumpster Rental can be a great asset.
Hometown Dumpster Rental is your complete source for roll-off dumpster and commercial dumpster information, guides, and local company comparisons. Keep reading to learn more about business dumpsters and which size and budget may work best for your retail or commercial building.
Commercial Trash Removal Solutions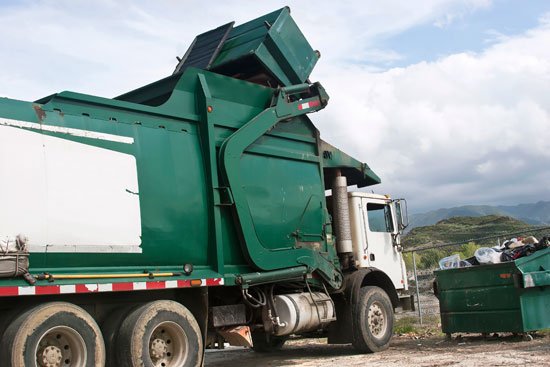 Waste hauling companies offering commercial or industrial dumpsters generally carry several dumpster sizes, generally ranging from 1 yard to 8 yards. These are front-load dumpsters, like the ones seen outside gas stations, restaurants, schools, retail stores, apartment complexes, etc.
---
Learn more: Dumpster types and usage guide
---
Larger commercial and industrial buildings may need a larger disposal solution, such as a commercial trash compactor. 40 yard compactors can handle trash or recyclables at the largest of facilities.
Commercial dumpster service pricing is directly related to the size of the container and the frequency of pick-ups. These are things that should be discussed with the waste hauler when first getting quotes.
Choosing the right dumpster for your business
Determine the disposal needs of your building(s) before shopping for a waste hauler. If you're unsure, a reputable waste hauler can help you out.
The type of business, type of wastes (e.g., cardboard vs. food waste), and the size of the business all play a role in determining the right commercial trash hauling solution for your needs.
Here's a quick reference chart, although your business' needs may vary:
| | | |
| --- | --- | --- |
| Dumpster Size | Example of business | Standard trash bag size equivalent |
| 2 yard dumpster | Small retail shops | 24 bags |
| 4 yard dumpster | Gas stations | 48 bags |
| 6 yard dumpster | Multi-family housing | 72 bags |
| 8 yard dumpster | Apartment complexes | 96 bags |
| 10+ yard dumpsters or compactors | Large manufacturers and warehouses | 5+ tons of total waste |
Total loading capacity may vary.
Commercial dumpster sizes
The most common commercial front-load dumpster sizes include 2, 4, 6, and 8 cubic yard containers. (Some dumpster rental companies may have other sizes available.) Most brick-and-mortar small businesses will need a 2 yard dumpster or larger.
Dimensions of a typical 2 cubic yard dumpster: 6 ft. W x 3 ft. L x 3 ft. H
A small commercial dumpster, like a 2 or 4 yard bin, works well for a small retail shop, restaurant, or other small commercial establishments.
Larger businesses will likely need a larger container, like 6, 8, or even larger dumpsters. Large apartment complexes, busy restaurants, highly-trafficked gas stations, and large retail stores are businesses that could benefit from larger dumpster sizes.
The largest of commercial buildings, retail stores, and industrial buildings utilize commercial compactors. These 40 yard (sometimes larger) disposal containers are designed to compact the contents of the bin, eliminating any air gaps. Big retailers, like Wal-Mart, and major manufacturers and warehouses, like Amazon, process many tons of recyclable materials, like cardboard, and utilize these large compactors to handle it.
| | |
| --- | --- |
| Commercial dumpster size | Dimensions (W x L x H) |
| 2 yard | 6 ft. x 3 ft. x 3 ft. |
| 4 yard | 6 ft. x 3 ft. x 4 ft. |
| 6 yard | 6 ft. x 5 ft. x 6 ft. |
| 8 yard | 6 ft. x 6 ft. x 7 ft. |
| Compactors | 22 ft. x 8 ft. x 8 ft. (40 yarder) |
Dimensions may vary.
Commercial dumpster prices
Business dumpster service varies in price and is based on location, type of business, size of business, and frequency of pick-up.
Businesses customers in an average U.S. city can expect to pay $100 to $200 per month for commercial front-load dumpster service. This pricing includes weekly pick-up. Costs would rise if more frequent pick-ups are necessary.
Other fees may apply in addition to the monthly service charge. Always inquire about possible additional fees and charges.
Contracts may be required in many instances. Sometimes contracts that last for several years. If a shorter contract, such as a month-to-month agreement, suits your situation better, check with several commercial waste haulers until you find one that meets your needs.
| | |
| --- | --- |
| Commercial dumpster size | Estimated monthly cost (national averages) |
| 2 yard | $100 |
| 4 yard | $120 |
| 6 yard | $135 |
| 8 yard | $175 |
Prices in your market may vary.
How to choose a waste hauler
In most cities, you have choices when it comes to commercial trash removal services. While some business owners limit their search to big-name companies, like Waste Management or Republic Services, there may be better options available.
Check with several local commercial dumpster providers to find the one that fits your budget and disposal needs. A smaller company may be a better fit, as costs are generally more negotiable and you'll likely get more personalized customer service than you would from a nationwide waste company.
Don't forget to research local rules and regulations…
Some municipalities require commercial dumpsters to be placed in certain locations on a property, like the back of the building. Others may require that the dumpster be surrounded by fencing for safety purposes.
Check your local government site to learn more about commercial dumpster laws.
By doing a little due diligence, it's easier to find the ideal commercial dumpster service that works for your business.
Start your research now by searching your location at HometownDumpsterRental.com and getting free quotes from waste haulers serving your area.
Learn more: