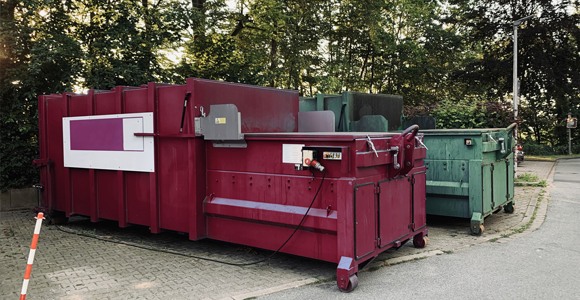 Updated February 16, 2023
There are so many different aspects to running a business that it can be hard to keep track of it all.
Waste management is in an important aspect of running a business that can affect a company's efficiency, safety, productivity, profits, and more.
Renting a commercial dumpster is the most obvious solution that comes to mind when thinking of how to best manage the waste your company produces, but commercial trash compactors are often a much better option for those who produce large quantities of garbage daily.
We'll go over everything you need to know about commercial trash compactors and the different varieties they come in to help you choose the best product for your particular company.
Jump to:
---
---

Benefits of Utilizing Trash Compactors
Companies that generate 30 or more yards of waste weekly can see significant savings by utilizing commercial trash compactors.
Commercial trash compactors can reduce trash volume by 75% and save your company hundreds, if not thousands, of dollars on disposal costs each quarter.
Even for companies that don't produce waste in these large volumes, having a trash compactor on site will significantly reduce the amount of times your container will need to be "tipped" or emptied, which can also cut down your disposal costs long-term.
Another overlooked benefit of having a commercial trash compactor onsite is the reduced risk of fire damage, foul smelling odors, and opportunity for pests or dumpster divers from infiltrating your waste bin.
Don't forget that your monthly commercial trash compactor payments are
tax deductible
, too!
Types of Commercial Trash Compactors
The two most popular types of commercial trash compactors are self-contained compactors and stationary compactors.
Self-contained compactors are leak-proof and best used for businesses who produce large volumes of wet waste, like restaurants, hotels, medical offices, etc.
These types of containers are also mobile, meaning they simply sit on the ground and aren't anchored or attached to anything.
Stationary compactors are better suited for companies who produce large amounts of dry waste, like cardboard, paper, plastic, etc.
Unlike self-contained compactors, stationary compactors are bolted or otherwise attached to the ground and have a removable container for convenient emptying.
There are more options when choosing which type of trash compactor will work best for your business, though.
How you prefer to deposit the waste is an important factor, as some compactors can be filled by hand while others use carts or chutes as a means to dump waste into the container.
There are also different waste removal options available among different commercial trash compactors.
Roll-off trash compactors are best suited for businesses that produce large amounts of waste, as they maximize the dumpster truck's hauling capacity.
Rear and front loading trash compactors are better suited for companies that produce lower volumes of waste.
While these types of compactors are smaller than roll-offs, they provide significant waste compression to minimize the frequency of trips needed to and from the landfill.
Learn more:
Different Size Trash Compactors
Self-contained compactors often come in 4-40 yard sizes, which can compact and contain roughly 20-200 cubic yards worth of trash respectively.
Stationary compactors often come in 2-12 yard sizes, which can compact and contain roughly 10-60 cubic yards worth of trash.
Naturally, the more amount of waste your business produces, the larger you'll want your trash compactor to be.
That being said, it can still be tricky to accurately choose the right size trash compactor for your business to make the most of your container and available space.
Luckily, commercial waste companies are experts at asking the right questions to help determine which size container will best suite your company's disposal needs.
The key is to get several quotes from different providers and to be as specific as possible about the type and amount of waste your company produces when speaking with the different waste management companies.
Finding locally-owned and operated companies that offer commercial trash compactors is fast and easy with Hometown.
Our single quote request form allows you to answer questions a company would need to ask in order to provide you with a quote, but you can send it out to 3 different companies near you rather than contacting each business one by one and answering the same questions regarding your disposal needs multiple times.
Enter your zip code, answer a few short questions, and receive free commercial trash compactor quotes so that you can compare and contrast pricing, availability, and the type of customer service you can expect from each company.
Average Monthly Cost of Renting a Commercial Trash Compactor
The national average monthly cost of renting a commercial trash compactor runs around $250-$700.
These mostly averages are based on the cost of one standard sized compactor that are emptied weekly.
The price your company will pay for the trash compactor(s) you rent may be more or less depending on many different factors.
Factors that affect the cost of commercial trash compactors include:
Type of compactor
Size of compactor
Frequency of service
Type/amount of waste
Where you live
Who you hire
Speaking with several commercial trash compactor providers near you will help give you a better idea of what a competitive price is in your company's particular area.
Get in touch with different local providers by searching for commercial waste management services on Hometown!
---