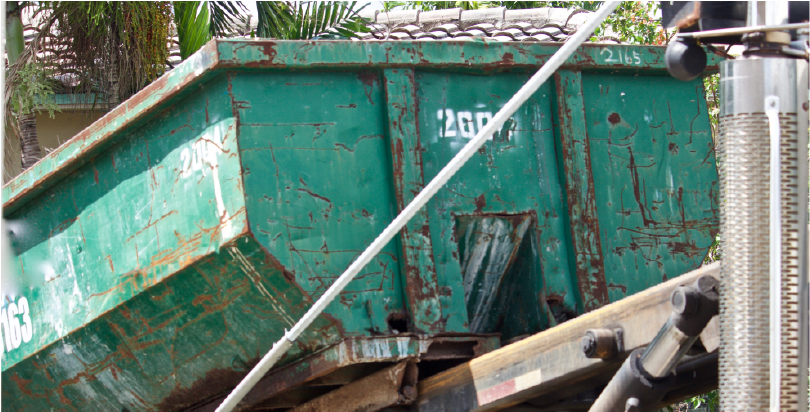 Updated June 1, 2023
Waste Management's bag-style dumpster, the Bagster, is a popular option for homeowners looking to dispose of junk or debris that won't fit in their weekly trash bin.
Bagster dimensions measure 8 feet long x 4 feet wide x 2.5 feet high and can hold a maximum of 3 cubic yards of material and up to 3,300 lbs—or 1 cubic yard of heavy debris, like concrete, brick, or dirt—and costs $150-$350 on average, including purchasing the bag and bag pickup/disposal.
However, it's not the only disposal option out there. Small dumpster rentals are a more cost-effective method by far in most regions, and equally convenient. There are a number of other options available to you that can save you money.
In this guide, we'll discuss the best alternatives to the Bagster:
---
---

Rent a Roll-Off Container
Roll-off dumpsters are widely available and priced competitively, making them a great option for most people, even when you live in rural areas.
Roll-off dumpsters offer the best cost-per-yard value in this list, which means you get the most bang for your buck.
An important consideration in choosing a disposal option for any small project is to always over-estimate the amount of debris you'll need to toss.
For example, if you estimate 3 cubic yards of junk for your garage cleanout project, don't get a 3 cubic yard dumpster. Instead, get a 5+ yard dumpster to ensure it will accommodate the job without any hassle in the end.
Most dumpster rental companies offer 10 yard dumpsters, or something close to that (ex. 8 yard, 12 yard, or 15 yard).
Using the previous example, it's not a bad idea to rent a 10 yard dumpster for 3 cubic yard projects.
This provides ample capacity to handle the job, and you can use the extra room to dispose of other junk, trash or debris lying around.
The cost difference between Bagsters and 10 yard dumpsters is typically negligible, but the cost per yard is much lower and you get much more disposal capacity for your money.
Find out more:
---
---
Rent a Trailer Dumpster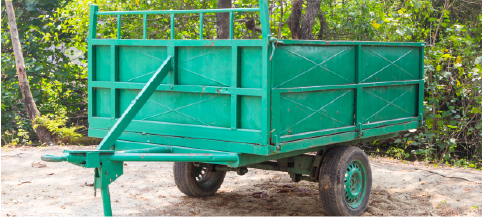 This is a similar option to roll-off dumpsters, only these dumpsters are on rubber tires rather than steel feet/wheels.
Trailer dumpsters are a great option when you need to place the dumpster on a semi-soft surface or residential driveway.
Trailer dumpster costs are similar to that of roll-off containers.
Dump trailers aren't as widely available as roll-off containers, so this may not be an option in your area.
Read on:
---
---
Hire a Junk Removal Company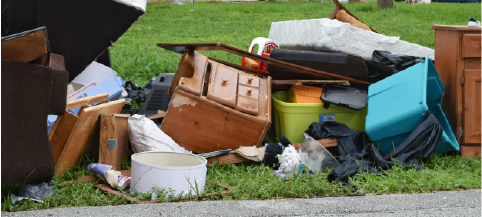 Junk removal services are an ideal alternative for smaller projects, like the 3 yards or less that a Bagster could handle.
A junk removal company does the cleanup for you, so it saves you time and effort.
Junk removal pricing typically starts at $75-$125 for small pick-ups, so costs rival that of Bagsters and small roll-off dumpster rental.
One of the key benefits of hiring a junk removal company is the convenience it offers. They handle all the loading, hauling, and disposal for you.
This is a quick and efficient, hands-off solution. We recommend checking with three or more local junk removal companies to get the best price and service to meet your needs.
Learn more:
---
---
Use Another Bag-Style Dumpster
There are also other bag-style dumpsters on the market that may be a better option for your project.
While the look and material are similar to Bagster, other bag dumpster companies provide additional sizing options, such as 5.5 yard or 6 yard bags.
Pricing and restrictions vary by company.
Some examples of these bag dumpster options include:
Gorilla Dumpster Bags
Yellow Sack
Bull Bag
Gator Dumpster Bags
As with Bagster, availability is limited and may not be an option in your area.
Keep reading: What Items Can and Can't Go in a Bagster?
---