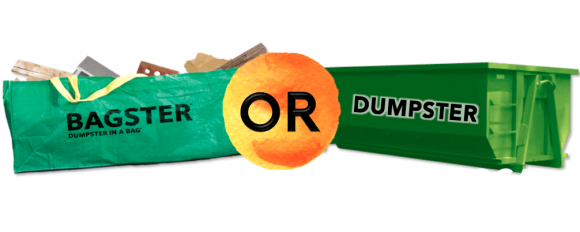 Updated June 19, 2023
Your remodeling project or household cleanup has left you with a small to moderate amount of debris to get rid of, but more than can be reasonably put in your weekly trash.
Should you buy a dumpster bag and have Waste Management pick it up or rent a small dumpster from a local dumpster service?
To answer this question, we compare buying a 3 cubic yard Bagster from Waste Management with renting a 10 cubic yard dumpster from a local dumpster service.
We'll compare...
This is not an apples-to-apples comparison, because a 10 yard roll-off dumpster holds 3x more debris than the Bagster.

However, for many parts of the country, a 10 yard roll-off dumpster is the smallest temporary dumpster available to rent, so this comparison represents the real life options available to most people with smaller disposal needs.
---
---
How the Process Works
How Bagster Works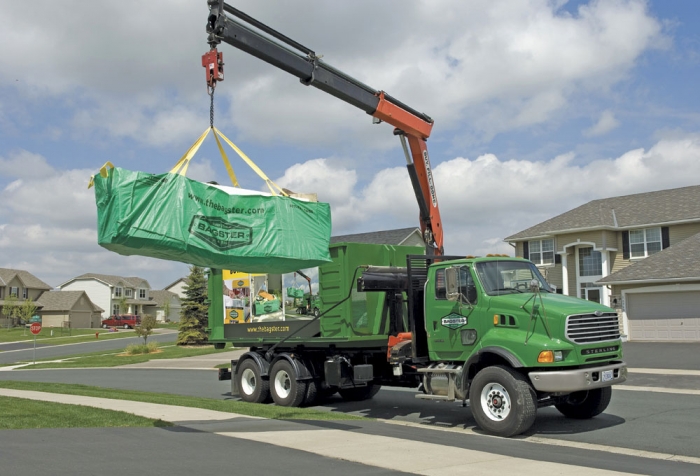 The Bagster from Waste Management is a small, portable 3 cubic yard bag made of tough, woven material. It's for single use, and you must first purchase the bag.
The Bagster is available at home improvement stores and online. After you fill it up, you schedule to have it picked up by Waste Management (WM).
Here's exactly how the Bagster process works:
Determine if Bagster pick-up is available in your area.
Purchase the Bagster from Home Depot, Lowe's, or Amazon.
Set up and fill your dumpster bag following the instructions.
Schedule your Bagster pick-up with WM.
How Renting a Dumpster Works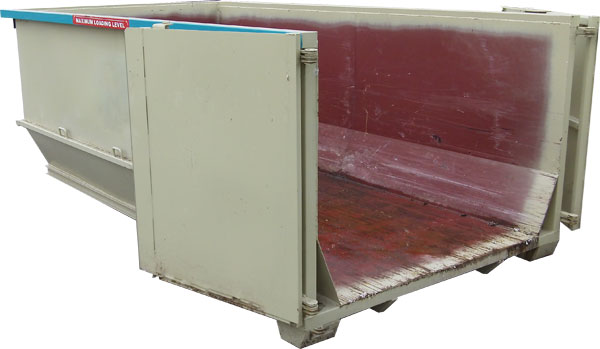 Temporary dumpster rental is available nationwide from local dumpster services.
Simply contact a company serving your area and learn their rental policies and prices. Set up delivery to your location, and call the dumpster company back when you're done filling it to schedule pick-up.
Here's how dumpster rental works exactly:
Get quotes from three or more local companies to find the right dumpster service for you.
Schedule your dumpster delivery when it's convenient for you.
Load the dumpster with your junk, debris, etc.
Contact the company to have it picked up when you're done.
---
---
Average Costs
3 Cubic Yard Bagster
The Bagster bag itself costs roughly $30, and the purchase price is relatively constant throughout the country. The larger cost, however, is the cost of pick-up.
Including pick-up, Bagster costs range from $140-$340 in total.
For most areas, the cost of Bagster pick-up ranges from $119-$199 per pick-up, but costs vary significantly. New York City is arguably the most expensive, where it costs $307 to pick up your first Bagster ($285.25/bag for each additional bag).
10 Cubic Yard Dumpster
A 10 yard dumpster costs more than the smaller dumpster bag, but it holds 3x more debris.
On average, 10 yard dumpsters cost $250-$350.
Like the prices for Bagster pick-up, dumpster rental prices fluctuate from one town to the next. Get educated on how dumpster prices work to get the best deal.
The rental period included with the price varies by hauler, but 7-14 days is common. If more days are needed than the hauler's standard period, the dumpster service generally charges a per-day or per-week fee on top of the normal cost.
With such a wide price range across the country, you should get prices specific to your local area. Calling a couple local haulers is the best way to get an accurate price for your location and debris.
For a general idea, we've surveyed hundreds of dumpster rental costs throughout the United States to give you an idea of what you can expect to pay in your area.
---
---
Common Sizes and Dimensions
Bagster
The small size of the Bagster is its biggest limitation. The Bagster is only a good choice if you have 3 cubic yards or less of debris.
WM's bag is 8 feet long, 4 feet wide, and 2.5 feet tall. It can hold up to 3 cubic yards of waste, or 606 gallons. Because the Bagster is only 2 ft 6 in. high, large bulky materials, like a sofa or other furniture items, are not going to fit well.
The Bagster is a good choice if you have 3 cubic yards or less of debris and your individual items are on the small side.
10 Yard Dumpster
As its name implies, a 10 yarder can hold up to 10 cubic yards of waste.
10 yard dumpster dimensions vary by hauler, but a common size is 12 ft long x 8 ft wide x 3.5 ft tall.
Learn more:
Typical Weight Limits
Bagster
You can load up to 3,300 lbs of debris into the Bagster (provided it meets all other size/fill requirements).
10 Yard Dumpster
The amount of weight included in the price of renting a 10 yard dumpster varies by hauler, so look closely at the 'included weight' when renting a dumpster.
The average included weight of a 10 yard dumpster is 2-3 tons, or 4,000-6,000 lbs. Generally, if you go over the included weight, there is a 'price per ton' for the additional weight.
Price per ton for additional weight depends on the disposal fees charged by landfills in your area, but ranges from $60-$100 on average and is often pro-rated.
Placement Protocols
Bagster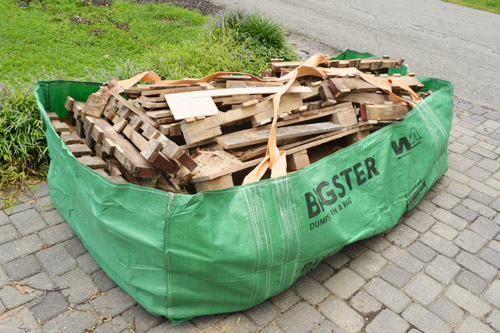 Just because the dumpster bag is small and portable doesn't mean you can place the bag anywhere. If you place the bag in your side yard or backyard, away from truck entrance points, WM won't be able to snag it with their truck and crane.
Bagster placement is generally in your driveway or on your front lawn, by the road. In order for Waste Management to be able to pick the bag up, there must be a minimum of 18 feet of overhead clearance. In addition, the crane cannot extend outward beyond 16 feet.
For trucks to fit, alleyways and driveways must be at least 12 feet wide, and trucks cannot turn into a driveway from an alleyway.
Of course, leaving a Bagster on your lawn for days or weeks will kill the grass underneath, so generally a driveway is the best option, if available.
10 Yard Dumpster
Dumpster placement is generally on your driveway, parking lot, or possibly in an alley or on the street.
Some cities prohibit dumpsters on the street or require a permit in order to do so. Be sure to ask the dumpster providers you speak to about permitting requirements in your area and whether or not they will handle this for you.
Roll-off dumpsters are generally 8 feet wide, and the trucks that pick up these containers are a similar width. If available, driveway placement is generally preferred.
If placing near the garage, be sure the hauler leaves enough room for your dumpster door to swing open and your garage to be accessible. Discuss dumpster placement with your hauler.
Permitted Debris Types
| ALLOWED | NOT ALLOWED | RECYCLABLES ALLOWED | SOMETIMES ALLOWED |
| --- | --- | --- | --- |
| Asphalt | Aerosol cans | Cardboard | Glass |
| Bathtubs | Antifreeze | Files/Folders | Yard waste |
| Brick | Appliances | Junk mail | |
| Cabinets | Asbestos | Magazines | |
| Carpeting | Barrels | Metal cans | |
| Concrete | Batteries | Milk cartons | |
| Doors | Chemicals | Office paper | |
| Drywall | Computers | Paper products | |
| Insulation | Electronics | Pizza boxes | |
| Flooring | Fluorescent bulbs | Plastic bottles/jars (#1 & #2) | |
| Furniture | Food waste | | |
| Mattresses | Fuel | | |
| Packaging | Hazardous waste | | |
| Paneling | Liquids | | |
| Plaster | Medical waste | | |
| Plastic | Microwave | | |
| Plywood | Monitors | | |
| Rock | Oil | | |
| Roofing | Oil filters | | |
| Sand | Paint | | |
| Screens | Propane tanks | | |
| Siding | Railroad ties | | |
| Sinks | Solvents | | |
| Tile | Television | | |
| Toilets | Tires | | |
| Trim materials | | | |
| Windows | | | |
Typically, the materials allowed in a Bagster and a dumpster are very similar.
Bagster
Most types of construction and demolition debris, household junk, and heavy debris, like bricks and cement, are allowed.
With the Bagster, whether yard waste is allowed depends on your location.
Paint, chemicals, hazardous waste, propane tanks, and appliances are a few of the restricted items that are never allowed in a Bagster. Check out WM's bag filling guidelines for a complete list of what is and isn't accepted in a Bagster.
Dumpster
Because the two get dumped in the same place—the landfill—what you can and can't put in a dumpster is very similar to that of a Bagster.
Prohibited materials can vary by hauler, so be sure to check with the dumpster companies you speak to in order to see what is and isn't allowed in their dumpsters.​
Final Considerations
So, which works better for you—buying a 3 yard Bagster or renting a 10 yard dumpster? The answer really depends on the type and amount of debris you have.
If you're only pitching 3 yards or less of general household junk, a dumpster bag is a great option. But 3 yards of capacity fills up fast.
If you're unsure whether or not you'll have more than 3 cubic yards of debris, the safe bet is to rent a dumpster. Don't be surprised if the things you want to get rid of multiplies after you have the dumpster bag or dumpster.
Getting rid of debris and junk is almost always contagious. It feels good to cleanse yourself of unneeded stuff, and you'll almost always find more to get rid of than you anticipate.
---
---
Learn more: