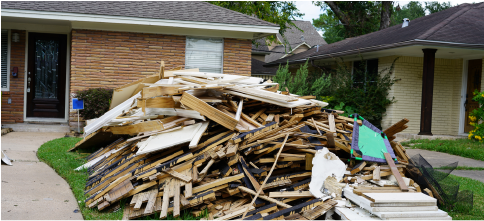 Updated March 11, 2022
Professional storm cleanup services are great for a broad range of property cleanup projects, including storm cleanups, like after a hurricane.
Professional storm damage cleanup and junk removal services can save you time, stress, and risk after a hurricane.
Junk removal companies specialize in a variety of cleanup-related services, including hurricane cleanups, so they know what to look for post-storm to ensure that no additional damage is done to the property.
All workers are also outfitted in all the necessary personal protective equipment for safety; they are aware of the potential dangers of storm damage and cleanup, and they are trained, licensed, and insured for the safety of all involved.
Some cities may offer assistance for areas that have been affected by large natural disasters, but in circumstances where you're left to take care of your property on your own, Hometown can help you find a qualified company near you.
We make it easy to find reliable junk removal and storm cleanup companies so that you can remain safely indoors while professionals use their skill and fleet of equipment to dispose of your damaged items and yard waste quickly and efficiently.
Jump to:
---
---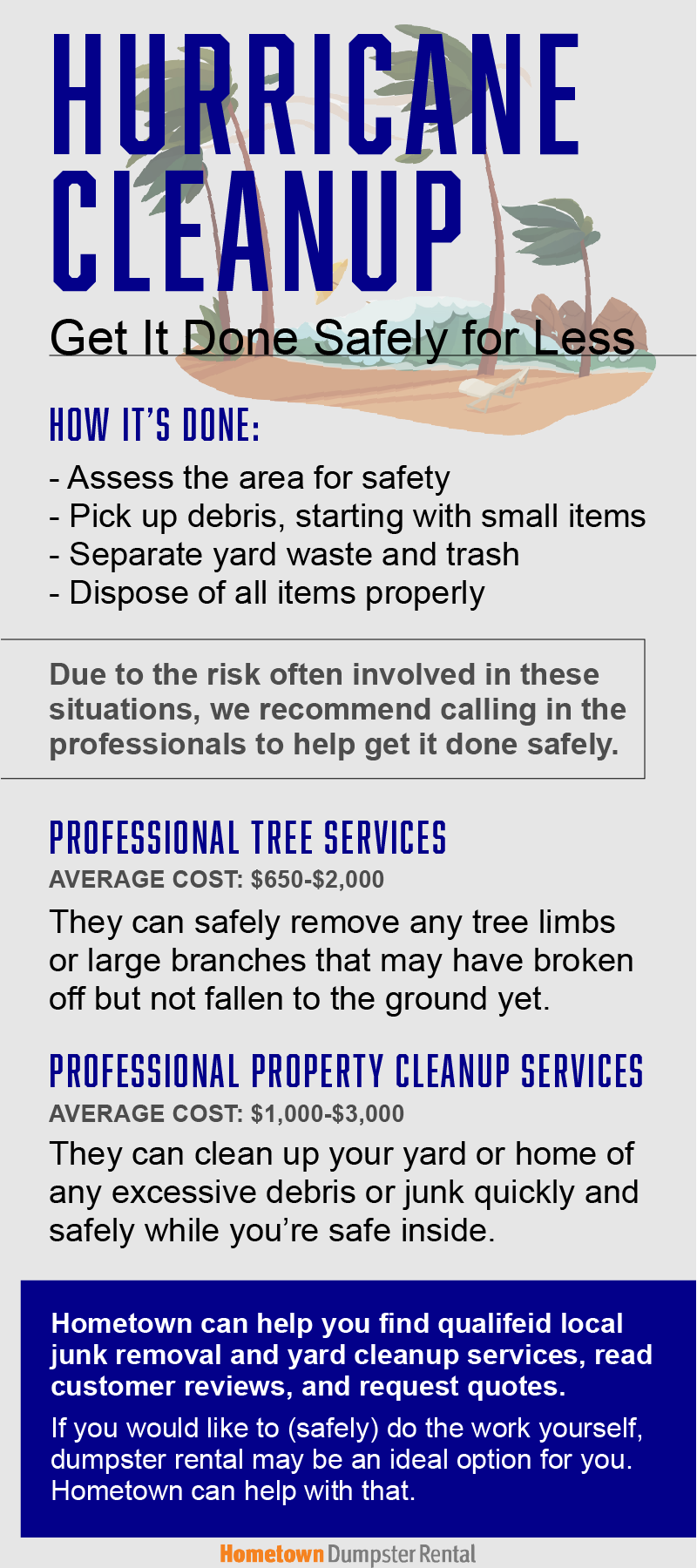 How It's Done
Clearing any loose debris from your property after a hurricane will allow you to get a clearer picture of any damage your property has sustained.
Start by keeping your distance and looking up to see if there are any damaged, hanging limbs that may have broken off but not fallen to the ground yet.
Do the same scan for downed power lines or other potential dangers.
If you can confirm that it's safe to proceed with the cleanup, it's time to remove any leaves, branches, lawn care equipment, or outdoor furniture that's blown around or doesn't belong.
We recommend starting with the small debris and progressing to the larger and more involved aspects of the project as you go.
Keep in mind: You should never work alone during a hurricane cleanup, and you should always make sure the area is safe before you attempt to assess the area or do any kind of cleanup work.
Due to the risk often involved in these situations, we recommend calling in the professionals to help get it done safely.
That could involve hiring a tree or landscaping professional who specializes in carefully removing damaged portions of trees.
Or it could involve hiring a junk removal company that offers storm and yard cleanup services.
Learn more:
Who to Call
Storm cleanup work of any kind can be hazardous, and flood conditions make it even more so, which is why hiring professional assistance with your storm cleanup is always highly recommended.
If your home insurance coverage includes the cost to clean up the damage, you will need to have professional documentation. This is just another reason why hiring a professional may be better than doing it yourself.
With professional storm cleanup, a junk removal crew will come out to your home and assess the extent of the work.
They'll usually walk the property and listen to your questions and concerns to ensure they remove everything you'd like hauled away.
With hurricanes, this often involves removing broken fences, outbuildings, yard furniture, siding, roofing shingles, tree limbs and branches, broken play sets, and general trash or debris.
The crew of two or more members will then provide you with a quote for the work, and if you agree to the price, they'll get started then and there, hauling away everything as discussed.
Once the cleanup is complete, they should provide a written invoice which you will then pay before they leave.
On average, storm cleanups range from $1,000-$3,000, but your exact cost of cleanup will depend on how extensive or involved it is, how much space the waste takes up in their trailer/truck, where you live, and who you hire.
Hometown recommends reaching out to at least two or three junk removal companies to get a quote. This will help ensure you pay a fair price for your hurricane cleanup services.
Throughout the cleanup, you can be safely inside or tending to other matters. Junk removal is designed to minimize stress during an already stressful time.
---
---
Find out more: