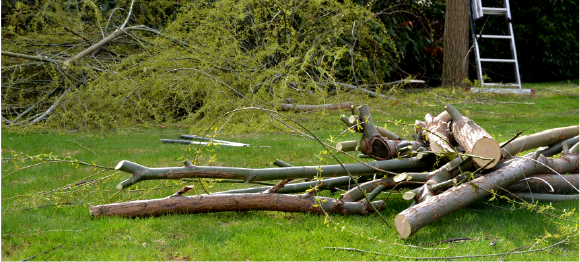 Fallen tree limbs, large branches, wind-blown trash, and stripped siding from houses...these are all items you might find in your yard after a big windstorm.
To clean up your yard after a storm, professional storm cleanup services can help get it done fast.
Professional storm cleanup and junk removal services can save you time, stress, and risk.
In this guide, we'll discuss:
---
---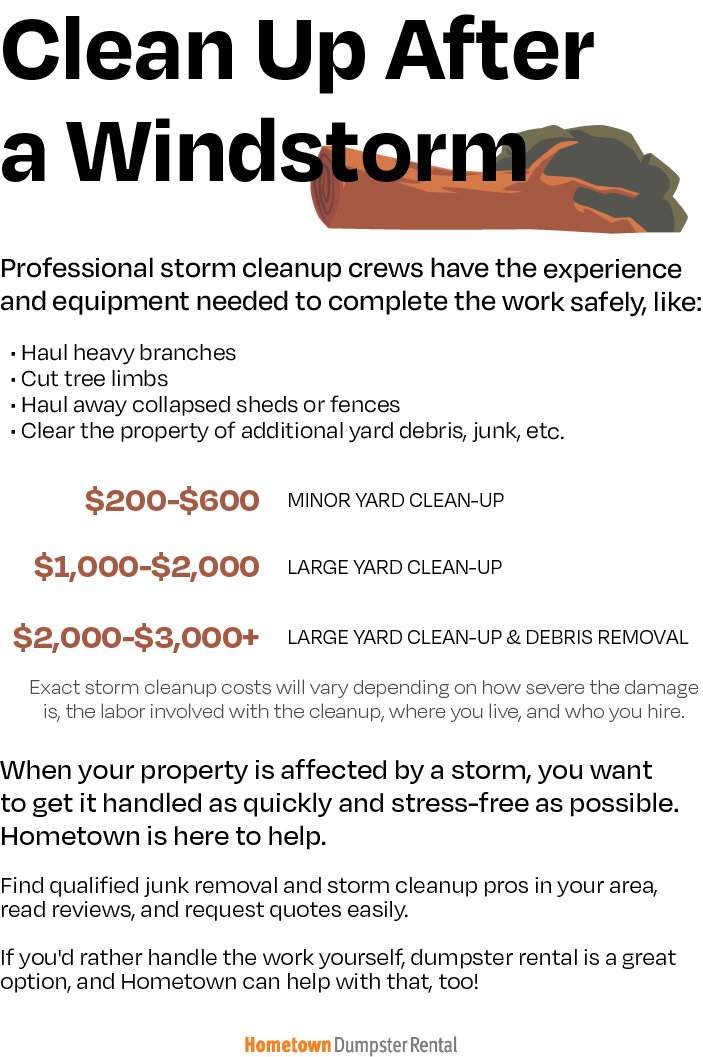 Why Hire Pros to Help with Storm Cleanup
Big windstorms can cause a great deal of damage, and in some cases, the resulting damage can be dangerous to deal with yourself.
Once you're sure there are no downed lines or damage to your home, we recommend starting to find cleanup assistance ASAP.
Professional storm cleanup crews have the experience and equipment necessary to safely haul heavy branches, cut tree limbs, haul away collapsed sheds or fences, and clear the property of any additional yard debris, junk, or wind-blown objects, like siding, trash, or sharp objects.
In some places, storm clean-up is a city-provided service, but for areas where the city doesn't offer contractor clean-up, Hometown can help you find a qualified cleanup crew near you.
Storm cleanup crews use saws and other equipment to break up large limbs and branches, and then haul away any yard waste or debris in the yard.

From there, the debris is hauled to the nearest yard waste collection facility, junk is donated or recycled whenever possible, and everything else is taken to the landfill.
So while you're safely indoors, the storm cleanup company can clean up the aftermath of a windstorm in record time and give you your yard back.
How Much It Costs for Storm Cleanup
Storm cleanup costs can vary a great deal depending on how severe the damage is, the labor involved with the cleanup, where you live, and who you hire.
For a relatively minor storm cleanup, including removing fallen tree branches and scattered junk or trash from your yard, you can expect to pay anywhere from $200-$600.
If you have large, heavy tree limbs that need to be cut up and hauled away, you can expect this cost to increase to $1,000 or more.
If an outdoor feature, like a fence or shed, was also ruined as a result of a windstorm, the costs increase even more to $2,000 or more.
If your home was damaged in a windstorm from a fallen tree, reach out to your insurance company right away to get it repaired.
Note: If you live in an area prone to windstorms or other types of storms, it may be worth adding Debris Removal Coverage to your property insurance. This coverage would mitigate or eliminate the cost of paying the pros to clean up and dispose of debris from a covered loss, leaving you with less stress in the long run.
How to Find the Best Storm Cleanup Company
When your property is affected by a storm, you want to get it handled as quickly as possible, and Hometown gets that.
Hometown can help you find qualified junk removal and storm cleanup pros in your area, read reviews, and request quotes easily and free of charge.
Give as much detail about your project as you can to each company you speak to in order to get the most accurate junk removal quote. Oftentimes, junk removal companies will need to come out to your property to assess the work and provide a quote.
Whenever possible, we recommend getting more than one estimate for your junk removal project.
If you'd rather handle the work yourself, dumpster rental is a great option, and Hometown can help with that, too! Just like with junk removal, Hometown can help you find local dumpster rental companies, makes it easy to request multiple dumpster quotes, and read reviews.
Note: If your property has extreme damage, we recommend reaching out to a restoration company.
---
---
Read more: