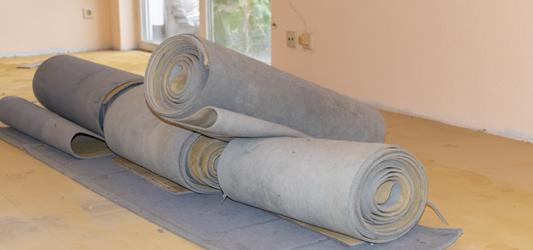 Updated December 6, 2022
Pulling up your old carpeting is fairly simple, but getting rid of it can be a whole other story.
Getting rid of old carpet isn't difficult if you have a plan in place, which is why Hometown has gathered information on several carpet disposal solutions for your convenience.
We'll go over:
---
---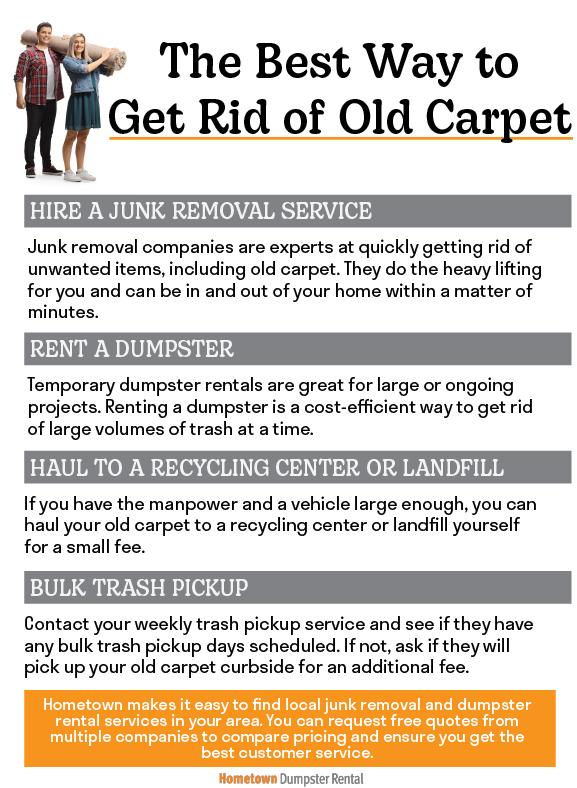 DIY Carpet Disposal
Most municipal trash pickup services allow small amounts of carpet thrown in with household trash.
It is rare, however, for them to accept large amounts of rolled up carpet, like a whole room's worth.
There are a few ways to get rid of a large amount of carpet on your own:
Haul it to a carpet recycling facility.
Haul it to a landfill.
Wait for a bulk pickup day in your neighborhood.
Break it up into small pieces and slowly get rid of it with your regular trash over time.
Some recycling facilities can recycle carpeting into a plastic resin, which is then used for many different products across many different industries.
Items like construction materials, shingles, automotive parts, floor coverings, and more can be created from recycled rugs and carpet.
Many people are unaware that carpet and rugs can be recycled and an estimated 5 billion pounds of rugs and carpet end up in landfills each year, where they never decompose.
Needless to say, recycling your carpet is the best way to dispose of it if you cannot resell or repurpose it yourself.
If there are no recycling facilities or programs near you that accept carpeting and you're left with no other choice, landfills do accept it.
You can haul it to the landfill yourself where you will be charged a fee based on the weight of your carpet. Landfill dump fees vary by location.
If you'd rather not go through the struggle of loading, hauling, and unloading the heavy carpet, ask your waste hauler if there are any scheduled bulk trash pickup days or if you can make arrangements for them to pick it up at the curb. There is likely a fee that goes along with this service.
If you have a ridiculous amount of time and patience, breaking down your carpet into small pieces that you can slowly add to your regular household trash could be a way to get rid of your old carpet, but it will take weeks if not months to get rid of large amounts of carpeting using this meticulous method.
Read more:
Hiring a Junk Removal Company to Haul Away Your Old Carpet
The easiest way to get rid of old carpeting is to hire a junk removal company to come and haul it away.
This doesn't require you to haul it to the road, but if you choose to do so, the junk removal company may offer you a lower price for fast and convenient loading.
Most junk removal companies are committed to recycling and donating as much and as often as possible, so asking each provider you speak with how they'll dispose of your old carpet is a great way to hone in on the best service in your area.
If you've never had to arrange junk removal services before, it's fairly easy:
Contact multiple junk removal companies for quotes to compare pricing, availability, and customer service.
Once you've decided which company is the right choice for the job, contact them and arrange a window of time for pickup.
After the junk removal company has hauled away the carpeting, you'll receive an invoice with the balance owed.
Get the best bang for your buck by hiring a locally-owned and operated company; they tend to be less expensive and provide more personalized service compared to larger competitors.
Hometown makes it easy to find locally-owned junk removal companies that service your area.
By entering your zip code and answering a few quick questions about your project, you'll be shown companies that service your area, and you can request free quotes from as many service providers as you'd like!
Continue reading:
Renting a Dumpster for Carpet Disposal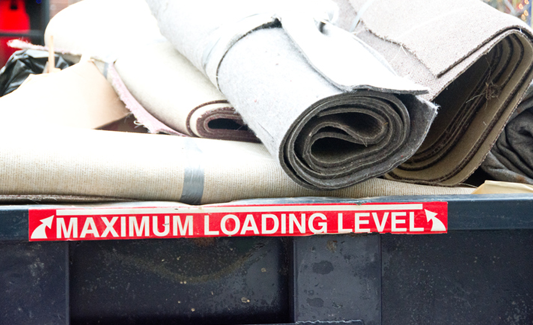 If you've ripped up your old carpeting because of a remodel or renovation and have other debris and material to get rid of, renting a dumpster is a great option.
Roll-off and trailer dumpsters are the most common types of temporary dumpster rentals and are an affordable way to get rid of large amounts of trash at once.
Dumpster rentals are particularly ideal for ongoing projects that take multiple days or weeks to complete, as it allows you to easily keep your worksite safe and tidy.
The most common dumpster rental sizes are:
Renting a dumpster is an economical choice for large jobs where you have to throw out seven or more cubic yards of material.
Just like with junk removal service, Hometown can help you find reputable, licensed, and local dumpster rental providers in your area.
You can request multiple quotes to price shop and read verified reviews from real customers, all in one convenient place.
We can help provide answers to some of your biggest waste-related questions.
---
---
Learn more: