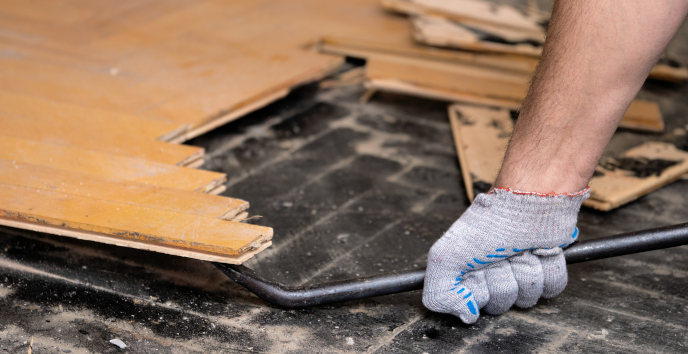 Updated August 18, 2022
Tearing out old flooring to make way for the new is an exciting project that can really transform a home in a positive way.
A key aspect of tackling a flooring project is planning and executing the cleanup, and renting a dumpster is a cost-effective and speedy solution.
The scale of your project and type of flooring you have will dictate the ideal dumpster size for your flooring removal. A 10 or 20 yard dumpster is sufficient for most residential flooring cleanups.
Read on to get the details you need to ensure a smooth and seamless rental experience when getting a dumpster for a flooring removal project.
Jump to:
---
---
Type of Flooring and Square Footage
The two key factors when determining the right dumpster size for a flooring removal are:
Flooring material/type
Total square footage of material
Let your dumpster rental provider know the type of flooring you're getting rid of, but more importantly, have an estimate of the total size of the flooring.
You can estimate the square footage of each room using a length x width calculation.
This is easy for square or rectangular rooms. For example, a 12 ft x 10 ft room has an area of 120 square feet.
To estimate the area of rooms that aren't perfect squares or rectangles, divide the room into sections to create multiple squares or rectangles.
Calculate the area for each section, and then add each together to get a ball park estimate of the total area of the room. See image below for an example of how to do this.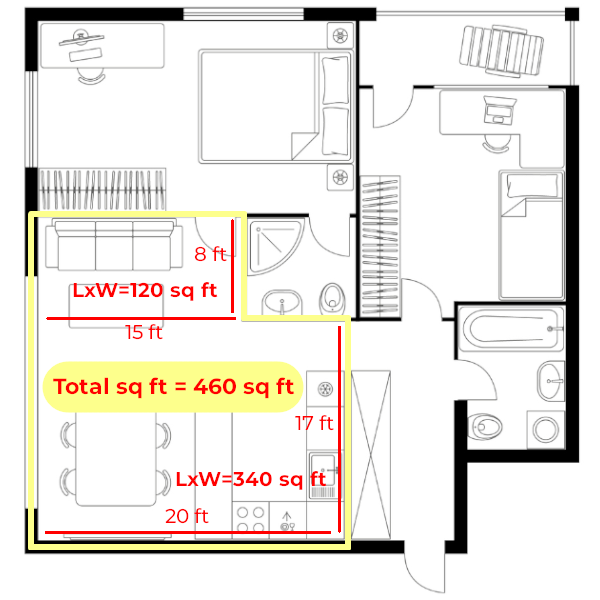 Two key bits of information to have in hand when booking a dumpster include whether there are multiple layers of flooring, and whether the sub-flooring is part of the removal.
Each situation requires additional dumpster space.
We suggest getting several online quotes before hiring a junk removal company. Don't base your decision on price alone, as the reputation of a company should be a key factor in finding a good junk hauler.
Dumpster Size for Flooring
In the majority of cases, a 10 yard to 20 yard dumpster will accommodate a residential flooring removal project.
There are some exceptions where a larger dumpster may be necessary:
Very large homes
Multiple layers of flooring and sub-flooring included in disposal
Other renovation debris is also included in the cleanup
A 10 yard dumpster is ideal for disposing of flooring removed from 1-2 rooms or even a whole house flooring removal project for small-to-average size homes.
0 yard dumpsters accommodate just about any type of flooring material, including wood, laminate, tile, and carpeting.
A 20 yard dumpster will accommodate most whole-home flooring removal projects.
This is a widely available size that does not cost much more to rent compared to the 10 yarder.
It may be a good option if you have a larger home or you intend to dispose of the sub-flooring along with the flooring itself.
Common Dumpster Dimensions
10 yard dumpster: 12 ft x 8 ft x 3.5 ft
20 yard dumpster: 22 ft x 8 ft x 4 ft
If your home project consists of more than just flooring disposal, a larger 30 yard or 40 yard dumpster may be the best option.
These larger dumpsters are suitable for larger residential demolition projects, interior renovation (kitchen, bath, etc.), or when other bulky materials are going to be disposed of in the dumpsters.
There are other types of dumpsters available that can work well for flooring disposal, including trailer dumpsters.
These dumpsters generally offer between 10 and 20 yards of loading capacity.
This type of dumpster sits on rubber tires, which makes it a good option for placement on soft surfaces, such as asphalt or lawns.
Bag style dumpsters, such as Bagster, are also an option.
Since Bagster and similar bag-style dumpsters only offer 3 cubic yards of loading capacity, they are not ideal for flooring removal projects involving more than one small room of flooring material.
Additionally, you may need to cut larger materials, such as plywood subflooring, in order to make it fit properly in a Bagster.
Dumpster Rental Costs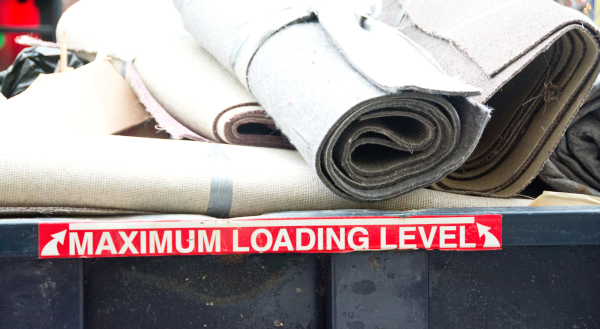 The cost to rent a dumpster is influenced based on the following factors:
Location
Dumpster size
Rental Duration
Other factors (potential extra fees, discounts, etc.)
The average cost to rent a roll-off dumpster in the U.S. can be found below:
10 yard dumpster: $350
20 yard dumpster: $450
30 yard dumpster: $550
40 yard dumpster: $650
Keep in mind that these are average costs, and your actual cost may vary. Expect to pay more in high cost-of-living areas, and the opposite is true in low cost-of-living areas of the country.
Most dumpster rental companies accept flooring materials of all types, such as hardwood, tile, carpeting, and others. There may be an exception to this rule when it comes to disposal of moldy materials or asbestos. These materials require special handling. Check with your dumpster rental provider for disposal of hazardous materials.
You'll pay a flat-rate fee with most dumpster rental companies.
This includes container drop off, a specified rental duration, pick up of the container, and disposal.
There is a potential for an additional fee, referred to as an overage fee, for going over the stated weight allowance.
This is not a major concern for most flooring removal projects unless you're dealing with heavy tile or concrete flooring.
Save on rental costs by asking if there are any current promotions or discounts available for special groups, such as seniors, military/veterans, first responders, or teachers.
The other most effective way to score a slight discount on dumpster rental is to contact at least three or more dumpster rental companies for quotes.
You can compare prices and services to ensure you're getting the best deal – Some may even beat competitors' pricing if you ask.
---
---
Learn more: Hometown Dumpster Rental Blog