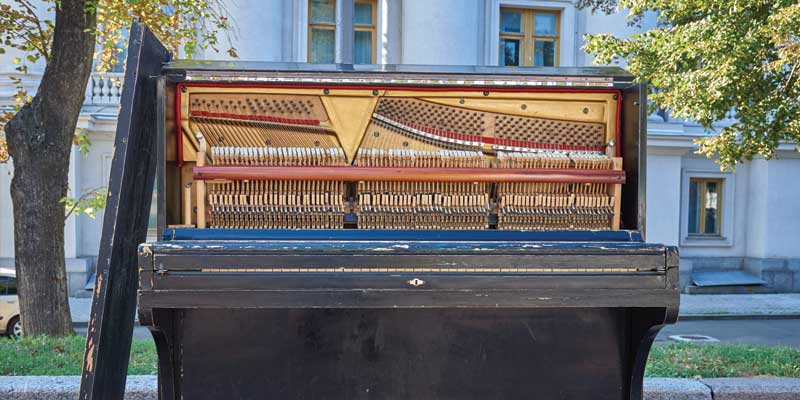 Updated April 13, 2023
When it comes time to get rid of your old piano, it's not as simple as throwing it into your truck and hauling it to a landfill. Moving a piano requires multiple people with the appropriate tools and manpower to get the job done without causing any harm to your property or themselves.
Junk removal services are the go-to choice for piano removal, but you may be wondering how much this will cost. That's why we've put together this guide to explain average costs and the different factors that affect piano removal costs so that you can know what to expect before you start price shopping.
In this guide, we'll discuss:
---
---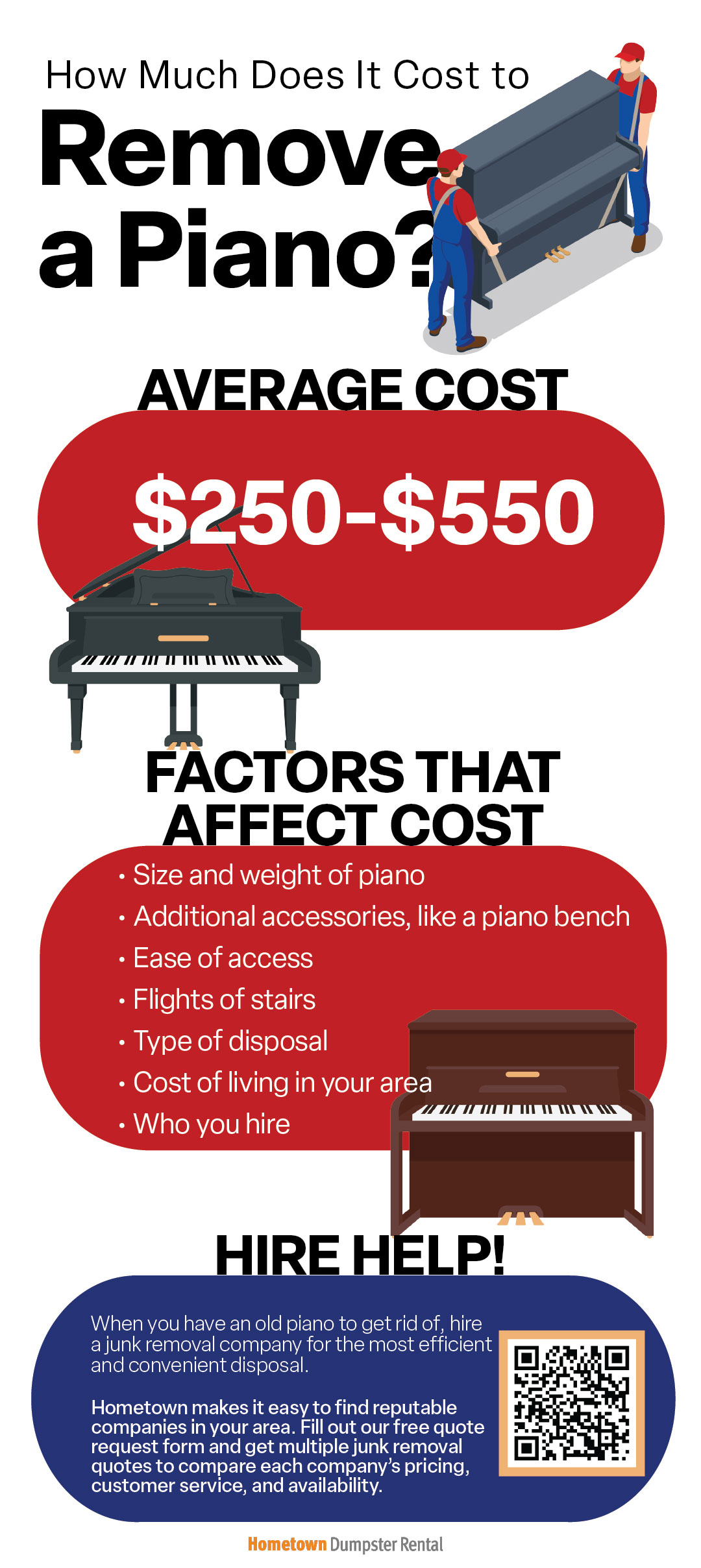 How the Piano Removal Process Works
There are two main types of pianos, and depending on which type you're having removed, the process could look slightly different.
Grand pianos are the largest type and what one typically pictures when they think of a classical piano. Grand pianos can be disassembled in order to fit through doorways and make the moving process easier. You start by removing the music rack and lyre, then you separate the four legs from the rest of the piano body. Each piece, including the piano bench, is wrapped separately for safe travel in a padded moving blanket or something similar.
The separated pieces can be removed and loaded onto a truck by hand, while the main body will likely be placed on a dolly or hand truck and secured with ratchet straps so that it doesn't shift while it's being transferred. The junk removal crew, usually made up of 2 people, will then use a ramp to load your piano onto their truck.
Upright pianos are smaller and what are typically found in homes or music classrooms. They feature a flat back and can fit comfortably against a wall. Instead of being disassembled like a grand piano, upright pianos are moved as whole. The fragile or movable items on an upright piano should be wrapped with bubble wrap and secured with moving tape on the foot pedals, top lid, and fall board. The entire upright piano is then padded with a moving blanket or something similar, and then moved in the same manner as a grand piano: with a hand truck/dolly and ramp.
Once the piano is loaded onto the junk removal crew's truck, they'll then haul it to a place that will accept it as a donation. If the piano is in bad shape and needs to be hauled to a landfill rather than a donation center, less care will be taken and there will be no need to wrap it in protective padding when loading it. It will still require disassembly, multiple people, and hand trucks or dollies for safe transfer.
Factors That Affect the Cost of Piano Removal
Piano removal costs will vary based a variety of different factors, including:
Size and weight of piano
Additional accessories, like a piano bench
Ease of access
Flights of stairs
Piano removal for donation vs. hauling to a landfill
Cost of living in your area
Who you hire
The larger and heavier an item is, the more it will cost to have a professional junk removal company to remove it, and pianos are no different. There are typically additional fees for extra items, like piano benches, and the removal fee will also be dependent on the weight of any additional items. Lack of ease of access and the presence of stairs will affect the cost of removal due to additional effort and time. Narrow doorways, multiple flights of stairs, and a location far away from a company's normal service area are all examples of circumstances that will increase the cost of piano removal.
As previously mentioned, how a piano is removed and loaded will vary based on where it's being hauled to. Pianos that are being donated and need to be handled with care will require more effort and could cost more than hiring a company to load it into a truck and haul it to a landfill.
Where you live and who you hire will have a big impact on how much a piano removal project will cost. If you live in the suburbs, most services probably cost less than they would in a big city. The cost of junk removal services in Dayton, OH can be expected to be much cheaper than they would in Chicago, IL, so keep that in mind when reading about average costs. Prices will also vary from one company to the next, which is why it's important to get in touch with multiple junk removal companies in your area to compare pricing.
Read more:
How Much Piano Removal Costs on Average
The national average cost to remove a piano is around $250-$550. The low end cost for piano removal typically starts at $150 and is likely reserved for the easiest of piano removal jobs in areas with a low cost of living. An example would be an upright piano removal placed at the end of a driveway that can be hauled to a landfill where landfill fees are below the national average. The high end cost for piano removal services can be as high as $2,000 and would be for more challenging circumstances. An example of a piano removal costing this much would be for a very large and heavy grand piano, located up several flights of stairs in an apartment in NYC that needs to be transferred 60 miles upstate to be donated in perfect condition. No matter your circumstances, these price discrepancies prove just how important it is to get multiple quotes from different piano removal services in your area.
How to Find Piano Removal and Disposal Near You
The best way to get multiple quotes from different junk removal companies in your area that provide piano removal services is to fill out Hometown's single quote request form.
Hometown publishes locally-owned and operated junk removal services across the country who are reputable, licensed, and insured. By searching your zip code and answering a few short questions about your piano removal project, you'll be shown qualified companies that service your area.
From there, you can read more about each company, read verified reviews from real customers, and request free quotes to compare pricing, customer service, and availability. Ask the right questions before hiring a junk removal company to be sure you've found the right company for the job.
---