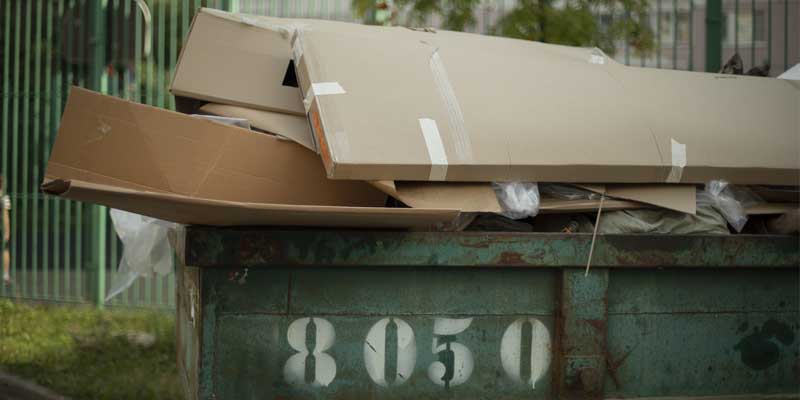 Updated June 6, 2023
When you have a large quantity of trash, junk, or debris to get rid of, there are a few different options available to help handle the load.
A common residential-friendly disposal solution is purchasing a dumpster bag, like Waste Management's Bagster. Bagsters are a convenient way to get rid of up to 3 cubic yards of waste, but many fail to realize that you could rent a 10 yard dumpster with 3x the disposal capacity for a comparable price.
We'll go over everything you need to know about the pros and cons of Bagsters and 10 yard dumpster rentals, including cost comparisons, loading capacity, and more.
Jump to:
---
---

Average Cost to Purchase and Get a Bagster Picked Up
Unlike a standard dumpster, you actually purchase a Bagster rather than temporarily renting one. Bag dumpsters are typically disposed of with all the waste it contains and are a single-use product.
Bagsters can be purchased at various home improvement stores like Home Depot, online retailers like Amazon, or directly from waste management companies that offer dumpster bag pickup services. Bagsters cost $20-$30 on average, which can seem like an incredibly attractive option for those who are on a budget. However, this cost can be misleading for those that don't do their research as this cost does not include the cost of pickup and disposal, which makes up the majority of your final bill.
The cost to have your filled Bagster picked up and disposed of will vary based on several different factors, like landfill fees in your area, where you're located, who you hire, and more. With that being said, the cost to have a Bagster picked up and disposed of costs $130-$320 on average.
That makes the total cost of using a Bagster around $150-$350 on average, or $50-$117 per cubic yard.
While Bagsters typically have a capacity of 3 cubic yards, the weight of the bag's containments cannot exceed 3,300 lbs. For extra heavy debris, like concrete, you'll likely only be able to fit a single cubic yard of your waste while honoring the Bagster's weight limit.
It's important to fully understand the terms of your Bagster service agreement, as overfilling your bag or adding prohibited items can result in additional fees. Commonly prohibited items include tires, oil, paint, medical waste, appliances, electronics, food waste, and more.
Learn more:
Average Cost to Rent a 10 Yard Dumpster
Temporary dumpster rentals come in many different sizes to accommodate all different types of disposal projects. 10 yard dumpsters are one of the most popular choice sizes for residential use and offer over 3x the capacity as a Bagster.
In addition to different sizes, dumpster rentals also come in different styles, with roll-off containers and trailer dumpsters being the most popular. Roll-off containers have a side swinging door that makes loading heavy items much easier, while trailer dumpsters sit on rubber wheels for easy maneuvering and added driveway protection.
Both options feature an open top so that you can quickly toss your unwanted waste over the walls, but be sure to tarp the top if heavy snow or rainfall is possible. Wet trash and debris weighs significantly more than dry waste, so keeping out precipitation can be the difference between you going over your dumpster's weight limit or not.
The average weight limit for a 10 yard dumpster is 2-3 tons, or 4,000-6,000 pounds. Exceeding your dumpster's weight limit will cost $75-$100 on average per ton over the limit. Similarly to Bagsters, it's important to thoroughly go over the terms of your dumpster rental agreement to avoid overage fees for going over the weight limit or adding prohibited items, like paint, pesticides, car oil, rubber tires, toxic waste, and more.
The national average cost for a 10 yard dumpster rental is $250-$450, or $25-$45 per cubic yard. This cost typically includes a 5-7 day rental period and the cost of delivery, pickup, and disposal.
Your local costs could be more or less than these nationwide averages and will vary based on a number of different factors, like the type and weight of your waste, how long you rent the dumpster for, the cost of landfill or recycling fees in your area, where you're located, who you hire, and more.
When you look closely at the total average cost to use a Bagster to dispose of your waste vs. renting a 10 yard dumpster, it's clear why traditional dumpster rentals are a much better value. Not only do 10 yard dumpsters have over 3x the loading capacity as a bagster, but the costs are very comparable.
If you compare the cost of each service per cubic yard, 10 yard dumpster are actually typically cheaper than Bagsters, with temporary dumpsters costing $25-$45 per cubic yard vs. Bagsters costing $50-$117 per cubic yard.
It's also worth noting that estimating the total weight and yardage of your waste can be hard to do and it's not uncommon to underestimate the amount of junk/trash/debris you have to get rid of. In the unfortunate event that you underestimate how quickly you can fill the 3 cubic yards of a Bagster and have to purchase a second bag, you will likely be paying more than you would have to have just rented the 10 yard dumpster to begin with.
The cost of two Bagsters is not only more expensive than a 10 yard dumpster, but it's significantly less loading room than a regular dumpster as well.
Continue reading:
How to Find Disposal Solutions Near You
Renting a temporary dumpster from a locally-owned and operated company is the best bang for your buck when it comes to disposal solutions.
National waste disposal companies, like Waste Management, service many states throughout multiple regions. You might assume that because they're a larger operation that they would be able to offer the best pricing, and while that that can sometimes be true about weekly municipal trash pickup services, it's not usually the case when it comes to their dumpster rental services.
Local waste haulers beat out competitors when it comes to both pricing and customer service. It's not uncommon to speak directly with the owner when you contact a local dumpster rental company, offering a more invested, personable service than large corporations are capable of.
You might be wondering, "How do I find local dumpster rental providers near me?", and that's where Hometown comes in.
Our goal is to make renting a dumpster easily accessible and affordable by publishing locally-owned and operated disposal companies across the U.S. We vet every company we publish to ensure that they're licensed, bonded, and insured to perform their services so that you only get connected with reputable services near you.
Hometown's site is easy to navigate and only takes seconds to show you personalized search results! By simply entering your zip code and answering a few quick questions about your disposal needs, you'll be shown qualified local dumpster rental providers that service your area.
Getting multiple free quotes is the trick when it comes to getting the best price and finding the best customer service. Request free quotes from the dumpster providers that show up in your search result, or Hometown can match up your quote request to the right local experts for you. Either way, we make getting quotes fast and easy.
Save time and get started with your free dumpster rental quotes on Hometown today.
---
---
Keep reading: