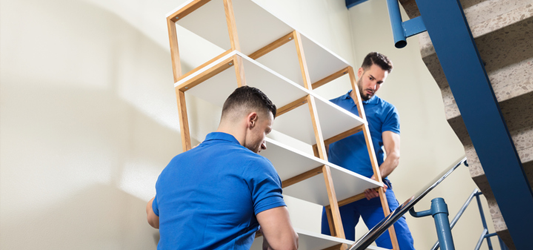 Updated May 25, 2022
When it's time to clean out your home or rental unit, the quickest and easiest method is to hire a junk removal service.
In this guide, we'll go over the many benefits of hiring professional junk removal services to clean out a home and how to find licensed and insured junk removal companies in your area.
Jump to:
---
---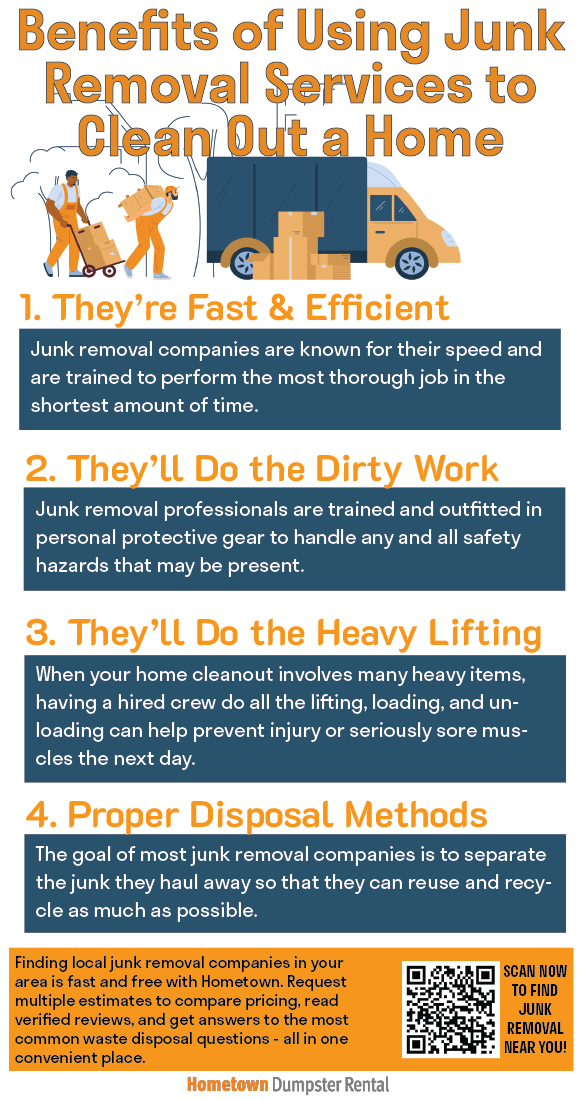 Junk Removal Pros Are Fast and Efficient
Arguably the biggest benefit of hiring a junk removal company to perform your home cleanout is the speed and efficiency in which they do so.
Junk removal companies are known for their speed and are trained to perform the most thorough job in the shortest amount of time.
Junk removal companies prefer to schedule multiple jobs per day to maintain efficiency and increase profits, which is why they aim to complete each job quickly so they can move on to the next one.
For most projects, two junk removal pros will arrive to your location to perform the work together.
Larger, more complex cleanouts, like hoarder home cleanouts, will likely require more people to get the job done in a timely manner.
Typical home cleanout projects can be completed within a single business day, averaging 3-8 hours, while small home cleanouts can be done in even less time.
The same project could take you 2-3x as long to complete on your own, and then you'll have to worry about where to dump all your belongings.
You can speed up the time it takes for a junk removal company to complete your home cleanout by having items in easily accessible areas.
Move items from the basement, attic, or second floor to the first floor so the junk removal crew can avoid stairs. Or, you can even pile up your belongings outside or at the end of your driveway for the fastest service possible.
If your home cleanout is on a strict timeline and you need to get it done fast, it's worth contacting several junk removal companies in your area for quotes.
Learn more:
Leave the Dirty Work to the Professionals
There are several health and safety hazards that can result from a home cleanout, like:
Respiratory issues from exposure to allergens
Exposure to insect, pest, or rodent feces
Exposure to mold, lead, or asbestos
Tripping hazards
Dehydration
If you're sensitive to any of these potential safety hazards or if you know that these hazards are present in your home, professional junk removal services are your safest and smartest option.
Junk removal professionals are trained and outfitted in personal protective gear to handle all of these conditions and more.
If these aren't of particular concern for your home cleanout project, it's still worth considering how much time, strength, and motivation you have to take on all the hard, dirty work yourself.
Employing junk removal services to handle the brunt of the work for you is a convenience that can be invaluable for many.
Continue reading:
Junk Removal Crews Will Handle the Heavy Lifting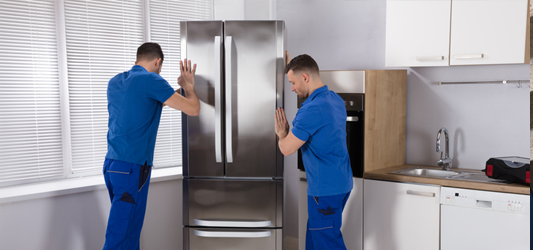 When your home cleanout involves many heavy items, like furniture and appliances, having a hired crew do all the lifting, loading, and unloading can not only save you time, but it can help prevent seriously sore muscles the next day.
It's important to not over exert yourself in order to prevent injury, so be certain that you have the strength, equipment, and assistance needed to remove all the heavy items.
Proper Disposal Methods
When it comes to getting rid of a whole homes' worth of belongings, your regularly scheduled municipal trash pick-up service likely won't cut it.
Unless you decide to bag everything up and have the space to slowly get rid of it over time, you'll need to either rent a dumpster or hire someone to haul it all away.
Renting a dumpster from a locally-owned company is the most cost-efficient choice if you decide that hiring a junk removal company is out of your budget.
If you have many items that are in good condition that can be donated or recycled, a local junk removal company is a great resource.
The goal of most junk removal companies (or the reputable ones, anyway) is to separate the junk they haul away so that they can reuse and recycle as much as possible.
Professional junk removal services are experts at separating trash from recyclables and typically have long-standing relationships with local recycling facilities.
Even construction and demolition debris can be recycled and reused to make new construction material.
With nearly 140 million tons of trash ending up in U.S. landfills every year, it's important now more than ever to hire companies that utilize environmentally friendly practices.
Whether you opt to rent a dumpster or hire a junk removal company, Hometown can help.
Our site is easy to navigate and produces personalized search results within a matter of seconds.
You can find licensed and insured dumpster rental and junk removal companies that service your area by searching your zip code.
From there, you can read more about each company, get answers to the most common waste removal questions, read verified reviews from real customers, and request free quotes from as many service provides as you'd like.
We recommend getting multiple pricing estimates to make sure you're getting the highest quality service at a price that is competitive for your area.
---
---
Read on: