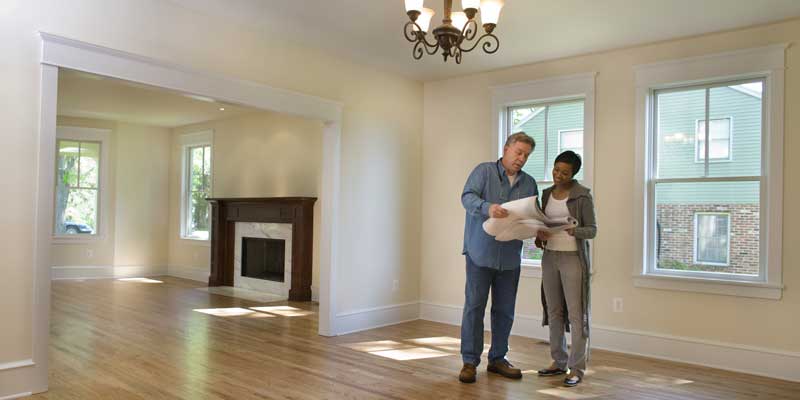 Updated August 1, 2023
Home renovations can be transformative and life changing, but even when you hire a professional contractor to tackle the renovations for you, there is still work that needs to be handled beforehand.
It's important to properly prep the areas of your home being renovated before the work begins to not only ensure your belongings are protected, but to ensure that there are no unnecessary road blocks getting in the way of the contractors or DIY experts performing the work.
We'll go over the most important and often overlooked steps to take before your home renovations begin.
Jump to:
---
---

Arrange a Storage Solution
Before you start clearing out the area of your home that is being renovated, you'll need to have a storage area ready to accommodate the items being temporarily relocated.
For renovations only taking place in one room of the house, it's typical for people to make space in a spare bedroom, basement, or their garage to temporarily store all furniture, decor, clothing, or other items that normally belong in the room being renovated.
If your home renovation is a much larger, more involved project, it's possible that you'll have to store your belongings off-site. Popular options to accommodate this include utilizing extra space at nearby friends', family, or neighbors' homes or renting a temporary storage shed.
Keep reading: Planning a Successful Demolition or Renovation Project
Clear Out Clutter
It's important to remove as many belongings as possible in the parts of your home being worked on prior to the work beginning.
It's typically not enough to just cover all furniture with sheets to protect them from airborne dust and debris. A better way to ensure that your furniture and other items are protected is to have them removed and stored elsewhere for the duration of your renovation project.
Decorative items, such as hanging art or other displays, should be removed from the room, as well as curtains, rugs, plants, and other easily removable items.
If your renovation is taking place in an area with built in storage that is being replaced, like cupboards or vanities, these should be emptied completely for the smoothest and most organized renovation. This also applies to clothing stored in nearby closets to avoid the chance of dust settling into the fibers of your wearable belongings.
While removing your belongings in preparation of your renovation, this is a good time to sort through each item and determine whether or not you'd like to actually keep it. It's so common for us to store items in drawers or cabinets where they end up being forgotten about and rarely used.
Use this time to sort through your belongings and consider getting rid of items that you no longer use. A good rule of thumb to follow is that if it's something you haven't used in 6 months or longer, it's probably safe to donate or throw out.
You might also want to consider doing this in the area of your home that you plan on using as temporary storage. If you have a spare bedroom, office, basement, or garage that you plan on storing items in throughout the renovation, it's not uncommon that you'll have to make room for these storage arrangements.
Consider taking advantage of this by taking inventory of your items in your storage area as well and set aside items that can be given or thrown away.
Home improvement projects are the perfect excuse to finally declutter parts of your home that have been put off for too long and will only further improve the quality of life that your home renovations help provide. Decluttering has several mental and physical health benefits and should be part of your renovation plan.
Learn more:
Prepare for Disposal
After you've successfully sorted through all your belongings in both the renovation and storage parts of your home, you should have a pile of items that you are ready to let go of. Whether this pile is small or large, you'll need to arrange for a way to dispose of it.
One of the most convenient ways to get rid of unwanted household items is to hire a junk removal company to load and haul it away.
Junk removal is an especially great choice if you have a decent amount of items still in good, usable condition that maybe you've just outgrown or are outdated. Junk removal companies are known for being environmentally friendly and usually sort through all the items they haul away in order to donate as many salvageable items as possible rather than just dumping them at a landfill.
If you have a large amount of items to get rid of before your renovation project, renting a dumpster might be the better choice for you. Renting a temporary dumpster can be more cost-effective than junk removal services when you have 7 or more cubic yards worth of junk or trash to get rid of. A dumpster rental on-site before, during, and after your renovation also provides a great way to contain and control renovation debris if you're responsible for the cleanup.
It's important to keep in mind, however, that renting a dumpster requires you to do all the heavy lifting and loading. So, if you have old, heavy furniture or appliances to get rid of and you don't have the proper tools, strength, or help to load the dumpster on your own, junk removal services are likely the better disposal solution for you.
Junk removal companies can have your unwanted items, big or small, loaded into their truck or trailer and hauled away to the appropriate facility within a matter of minutes in most cases.
Whether you decide that junk removal or dumpster rental is better for your pre-renovation home declutter, Hometown can help you get in touch with locally-owned and operated services in your area for completely free quotes.
We provide a simple, fast way to get multiple quotes from different junk removal and dumpster rental providers in order to compare pricing, customer service, and find the availability your project requires.
Simply enter your zip code and answer a few short questions about our disposal needs and we'll connect you with the right local experts. We never sell or share your data; it's only given to the appropriate service providers you request quotes from!
---
---
Read on: