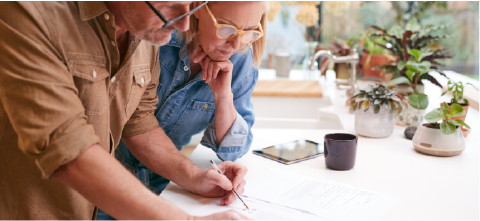 Updated January 19, 2023
Estate cleanouts often take place during a sad and stressful time, whether after a loved one passes away or going through a divorce, which is why making it as smooth of a process as possible is so important.
Hometown can help ensure your estate cleanout project goes smoothly and gets completed with minimal stress.
Our top two tips for cleaning out an estate include:
---
---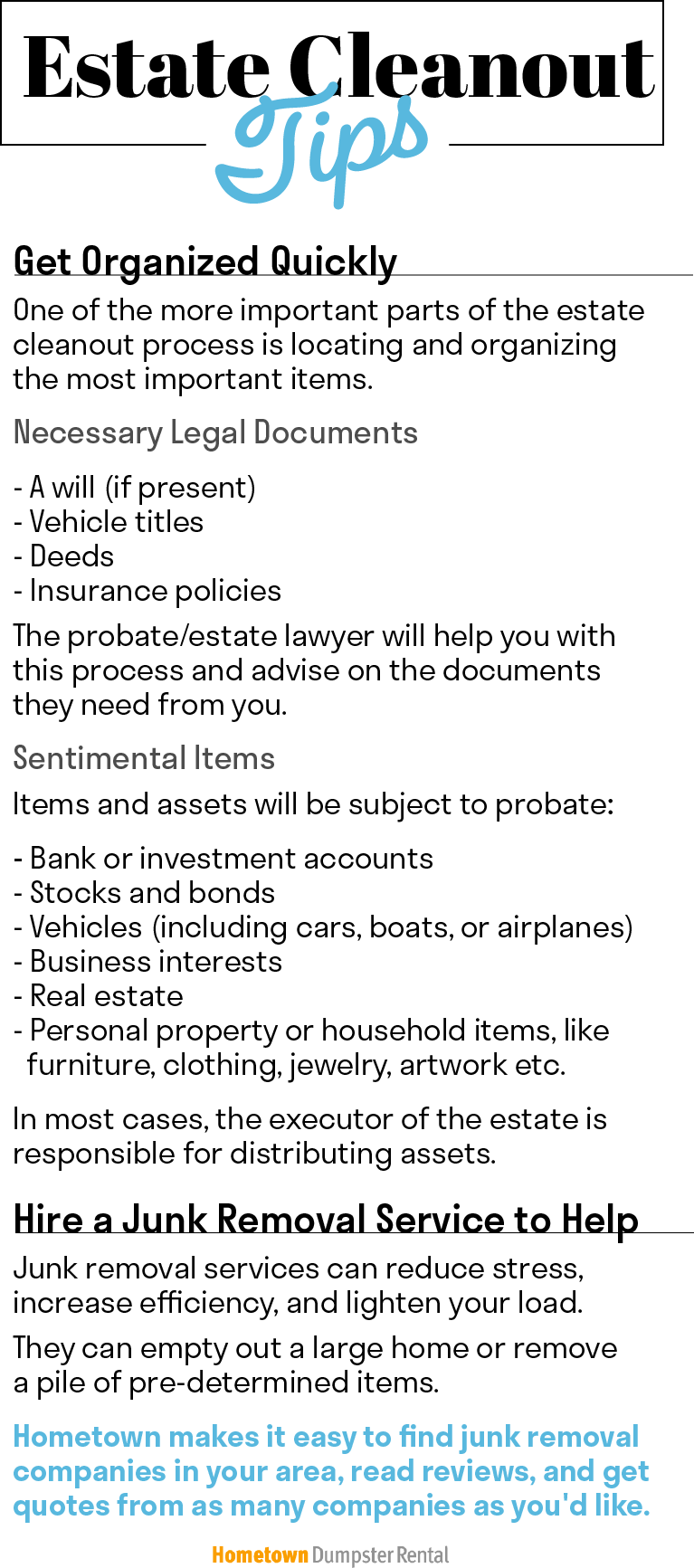 Get Organized as Quickly as Possible
One of the more important parts of the estate cleanout process is locating and organizing the most important items first...
All Necessary Legal Documents
You will need to locate the following documents:
A will (if present)
Vehicle titles
Deeds
Insurance policies
Typically, the probate/estate lawyer or divorce lawyer will help you through the process and advise on any documents they need.
Sentimental Items
Any items and assets that are in the decedent's sole name, not payable-on-death, don't have beneficiary designations, or are left out of a Living Trust are subject to probate.
These assets can include:
Bank or investment accounts
Stocks and bonds
Vehicles (including cars, boats, or airplanes)
Business interests
Real estate
Personal property or household items
Household items and assets, like furniture, clothing, jewelry, artwork etc., typically don't have much monetary value, but they can have immense sentimental value.
In most cases, the executor of the estate is responsible for distributing such assets accordingly.
Learn more:
Hire a Junk Removal Service to Help
Estate cleanouts are never a fun project and usually are the result of a very sad and stressful moment in one's life.
Whether you're cleaning out the estate of a deceased family member, getting a divorce, or you are a landlord dealing with the eviction of a tenant, junk removal services are a great option.
Junk removal services are a fantastic way to minimize stress, increase efficiency, and lighten your load.
Hiring a junk removal company allows you to forget about the taxing, manual labor involved in an estate cleanout and allows you to direct your focus to more important matters, like selling valuable items from the estate, dealing with legal matters, or grieving with your family.
Experienced junk removal companies, or estate cleanout services, understand that this is a vulnerable time for you and can offer as much, or as little, assistance as you deem necessary.
They have the ability to empty out a large home full of unwanted items, donate salvageable items to local charities, recycle items that are accepted in local recycling programs, and dispose of the rest.
Hometown makes it easy to find local junk removal companies in your area, read customer reviews, request quotes from as many companies as you'd like, and ensure you get great services for a fair price.
---
---