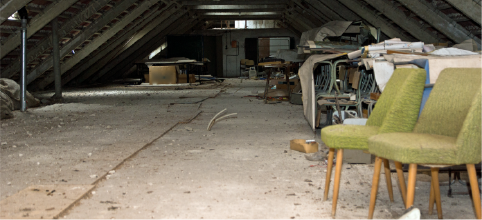 Junk removal companies specialize in home cleanouts, business cleanouts, and every type of cleanout in between.
If you've never hired a company to help with a cleanout before, you may be wondering what to expect.
The junk removal process is simple, but we'll break it down for you so you know exactly what to expect from the first point of contact to the last.
Jump to:
---
---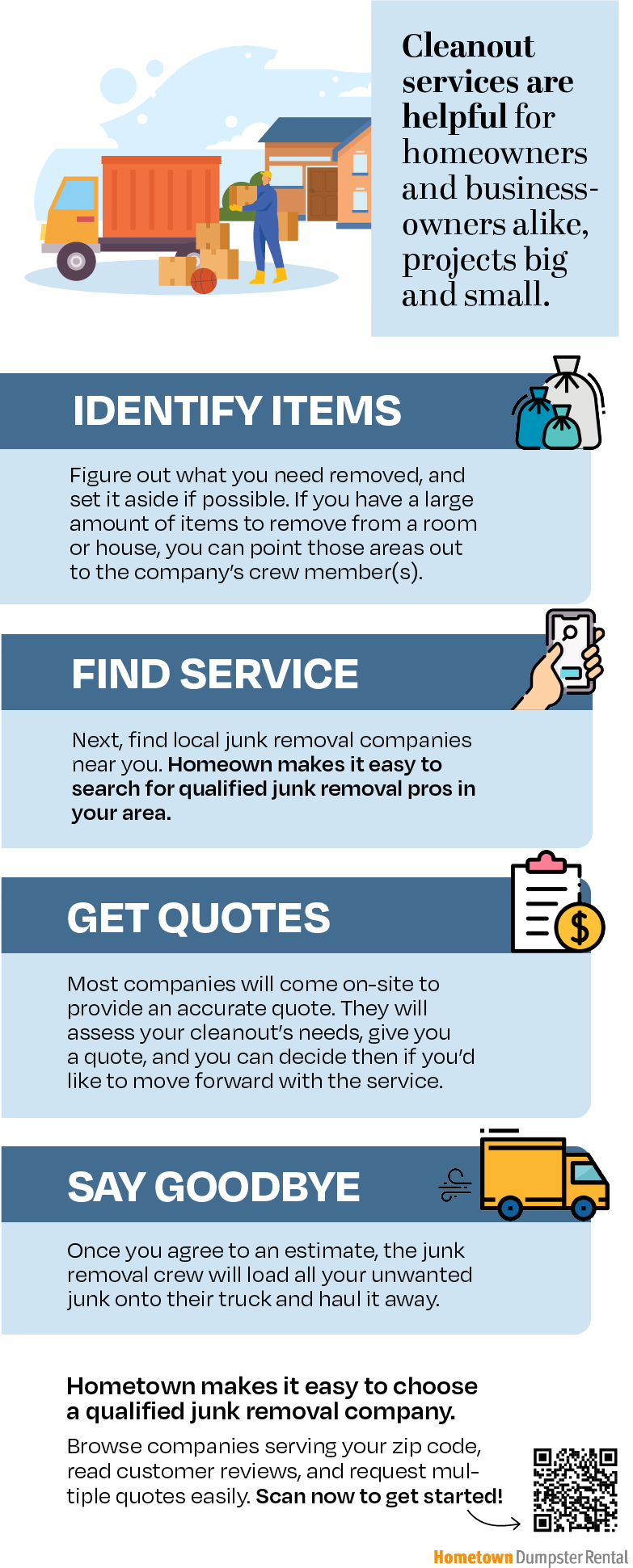 Know What You Want to Remove
The first step to beginning any cleanout project is knowing which items you want the company to take.
When you have multiple items, assembling them into a pile is the easiest way for companies to assess your project's needs, how much debris you have, and how much your project will cost overall.
However, piling up your items isn't always a feasible option.
If you have an entire area that needs to be completely ridded of junk and other items, like a garage cleanout, basement cleanout, attic cleanout, whole-home cleanout, or hoarding cleanout, then you can simply point out the area(s) of items to the company when they come to give you a quote.
Learn more:
Browse Local Companies to Work With
The next step to a cleanout project is choosing the right junk removal company to help.
Hometown makes it simple to search for qualified junk removal companies in your area.
While there, you can easily compare the services they offer, read reviews from past customers, and request quotes from as many service providers as you'd like.
Keep reading:
Get Multiple Junk Removal Quotes
If you have a small amount of bulky items to toss, like with an appliance removal or furniture removal, then the junk hauler may be able to give you a quote before coming out to your site.
However, if you have more than a few items to get rid of, the junk removal company will typically need to see your junk in person before giving an accurate estimate on-site.
In most cases, a crew of one or two people will come out to your property to assess your cleanout project.
Once you point out the cleanout services you're looking for, they'll be able to determine the junk's volume and the work it will take to remove it safely.
They then provide you with an exact quote for your junk removal services, and if you're happy with the price they give you, the team gets to work immediately to remove your junk.
If you don't agree with the price they quoted you, there's no obligation to hire.
Junk removal estimates are free, and you're not required to move forward with their service.
We recommend getting a couple junk removal estimates whenever possible to reduce the chances of hiring a company with poor customer service, a busy schedule, or pricey services.
Find out more:
Watch Your Junk Drive Away
Once you agree to an estimate, the junk removal crew will carefully carry or roll your items out of your home/business and load it onto their truck.
They will often sweep the area as well to ensure you're left with a clean space.
After your junk is hauled away, all that's left to do is relax and enjoy your clutter-free space.
From there, if you have a lot of items, they typically will take your items back to their headquarters to separate them for donation, recycling, or disposal.
Most junk removal companies prioritize donating and recycling whenever possible to ensure the proper handling of all waste, junk, and debris.
Most will donate reusable items in good condition and recycle when possible, only taking items to the landfill when absolutely necessary.
---
---
Keep reading: