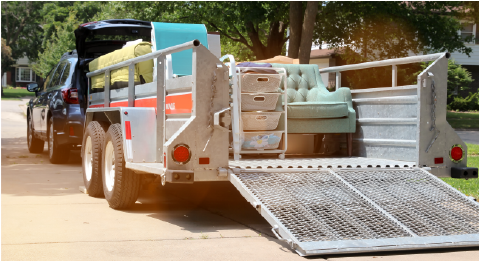 Updated July 13, 2022
If you're doing a cleanout of your home, whether before a move or during a spring cleaning project, you likely have some furniture you need to get rid of.
Luckily, there are a few options available:
---
---

Sell Your Furniture to a Local Buyer
While you may not want the furniture you're getting rid of, somebody else might.
The saying "one man's trash is another man's treasure" certainly applies here, and there are a number of ways to sell or donate furniture that is still in decent condition.
If your goal is to sell your furniture and make some money, there are a number of ways to do so.
Facebook Marketplace, Craigslist, and Apartment Therapy Bazaar are three great options for listing your furniture online and selling it locally.
Haul Your Furniture to a Local Donation Center or Charity
Another great (free) option is to donate your still usable furniture to a local donation center or charity.
Goodwill and Salvation Army typically accept furniture, as do most local charities, but call to confirm that they accept furniture like yours first.
Donating your furniture can be a fulfilling way to give another person a piece of furniture they love while also giving it a new life rather than letting it rot away in a landfill.
Hire a Junk Removal Company to Remove Your Furniture
Junk removal services are a convenient, fast way to get rid of furniture responsibly, as well as any other junk you may be getting rid of during a home cleanout.
On average, furniture removal costs $150-$300 but can be more or less depending on the number of pieces you have, how big or heavy they are, where the furniture is located (up or down stairs), and where you live.
Contrary to popular belief, junk removal services don't involve simply hauling your items to the landfill; junk removal companies donate and recycle items whenever possible.
If you only need furniture removed, the junk removal crew will come out to your location, provide a quote, and if you agree with the estimate they gave, they'll typically get to work immediately, loading it into their truck, and then drive it directly to a local donation center. (They should also provide you with a receipt of donation.)
If you have furniture and other items or junk to get rid of, the junk removal team will come out to provide a quote, but instead of driving the items to a donation center, they take everything back to the company's location where it is separated for disposal, donation, or recycling.
If your furniture is in poor condition and not able to be donated, the company will take it to the landfill for disposal instead.
Regardless of the condition your furniture is in, junk removal services can provide a fast, convenient solution for removing it.

We recommend reaching out to multiple junk removal companies before hiring one to be sure you get the best price for the best furniture removal services, at a time when you need it.

Hometown makes it easy to browse local providers, read customer reviews, and request free, no-obligation service estimates.
---
---
Keep reading: