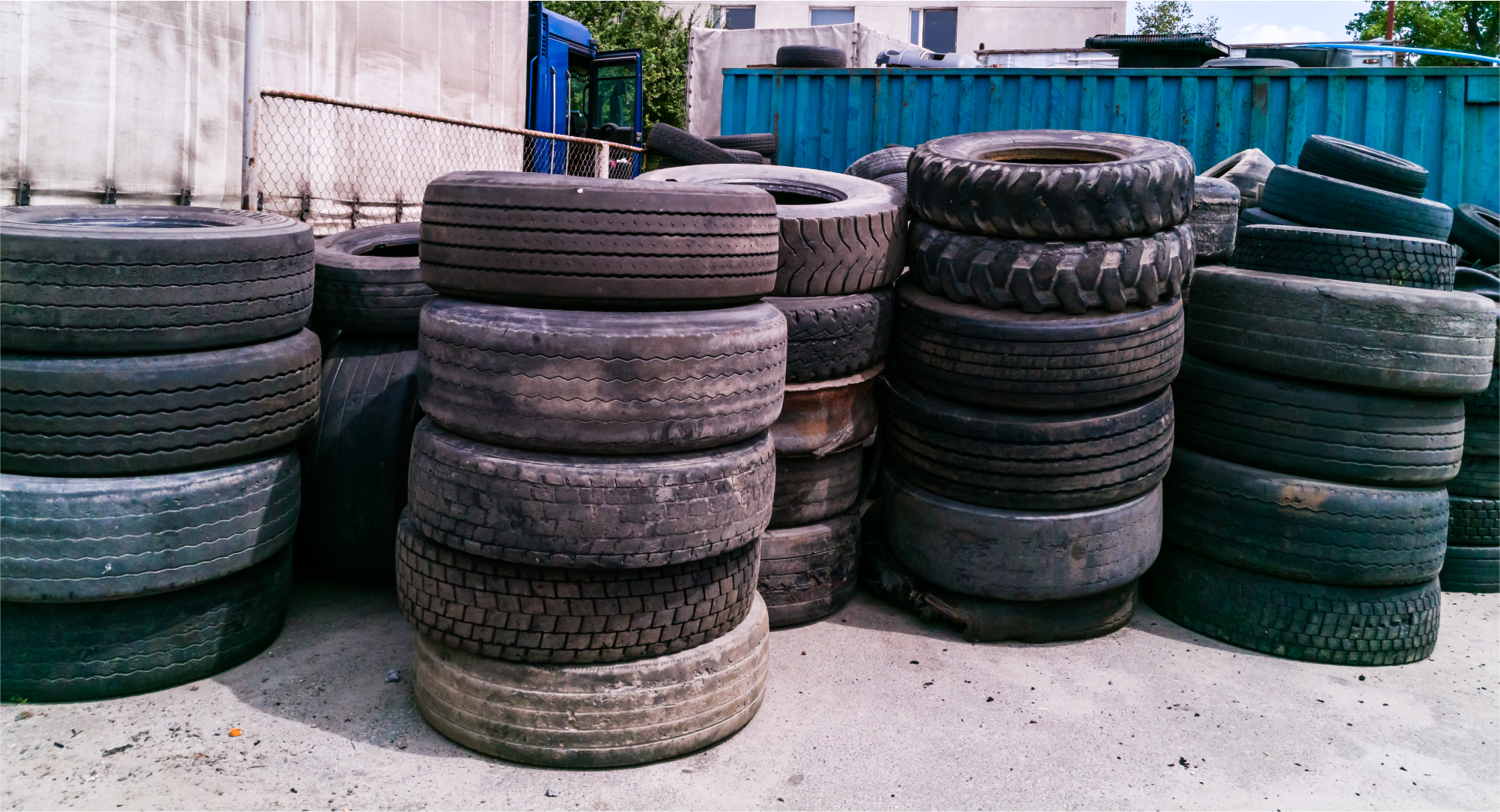 Updated February 23, 2023
Hiring a junk removal company to remove a set or even a pile of old tires is a fast, simple way to get the job done without having to lift a finger.
Depending on the amount of tires you have to get rid of, a junk removal crew could potentially complete the removal in under 20 minutes.
That's much faster than the time it would take to load them up yourself and haul them to the nearest recycling facility for proper disposal.
Here's what to expect from the tire removal process...
---
---
Get Quotes to Compare Tire Removal Services
The best way to get the best price for any project, including a tire removal, is to contact multiple companies for quotes to compare pricing, availability, and customer service.
We recommend getting at least 2-3 quotes to ensure you're paying a competitive price.
Hometown makes it easy to final local junk removal providers that service your area.
By providing your zip code and answering a few short questions about your service needs, you'll be shown a list of local, licensed, and reputable companies that are near you and ready to help.
Getting multiple quotes from local junk removal companies for your tire removal project is the best way to ensure you hire the right company for the right price, and nobody makes it more simple than Hometown.
One of the best ways to get great services for a competitive price, at a time that fits your schedule, is getting multiple quotes from local tire removal companies.
Hometown's quote request form allows you to quickly describe your yard waste removal project and send out your quote request to qualified companies in your area.
Start by answering a few questions about your project...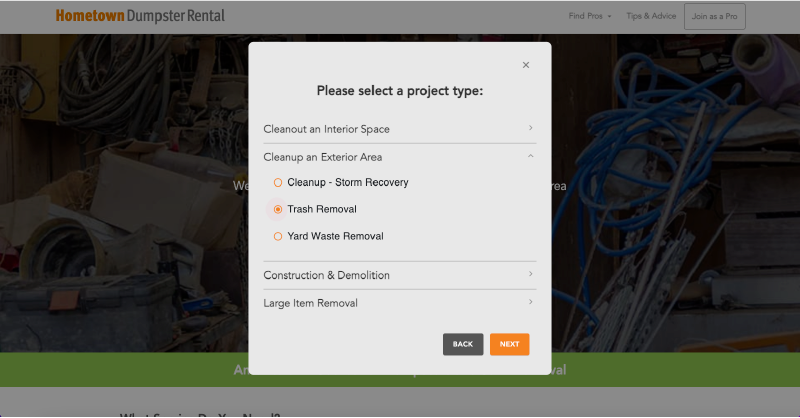 Select the type of project you have. (Don't worry. You'll be able to describe your project in more accurate detail later.)
Enter the address where you will need service.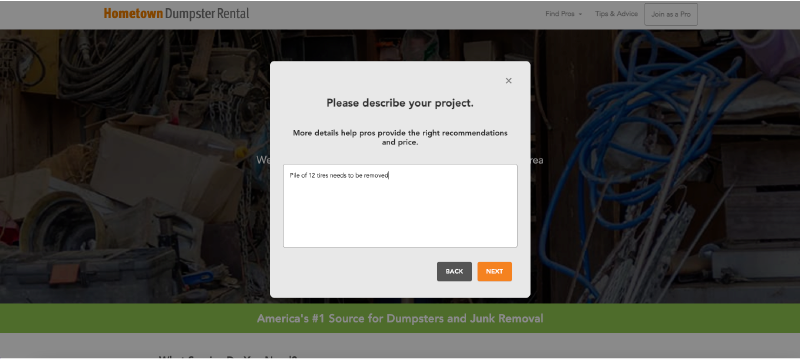 Describe your project as clearly as you can, including roughly the amount of tires you need removed as well as any other important details that may impact how the tire removal is completed, such as limited accessibility or other mixed debris.
Select how many quotes you would like to request from local providers.
We recommend selecting "Up to 3" because the more quotes you get, the more information you'll be able to compare, like companies' cost, availability, and overall customer service.
The more quotes you can compare, the higher your chances of hiring the best company for the job.
After describing your project, we'll get your contact details so companies can reach out to you to provide a quote.
We never share or sell your data. We only use your project details to help connect you to the right local experts and to follow up on your satisfaction level.
Once your request is submitted, you'll receive a text alerting you when a company accepts your request and agrees to provide a quote.
The junk removal companies will then follow up with you directly to schedule a time to come out to your property and provide an accurate quote for your light demolition project.
If you haven't requested quotes from junk removal companies yet, Hometown can help you find qualified local junk removal services, read customer reviews, and easily request quotes from them.
Average Cost of Common Tire Removal Projects
Knowing the average cost of tire removal projects will make it easier for you to identify a good deal.
The number of tires you have and where you live will affect the price you pay for your tire removal project, but the average cost of tire removal is $75 on the low end to $700 or more on the high end.
If you have a large tire removal project, the companies you speak with may need to come to your location to provide you with an on-site estimate.
Read on: How to Determine Which Junk Removal Quote Is Best
Choose a Service Provider
Remember: There's zero obligation to hire when getting quotes from junk removal companies, or any contractor for that matter.
Once you've gotten a handful of quotes from local junk removal companies, compare the information they've given you and choose the service that will best take care of your tire removal needs.
It's important to make sure you're getting a good price, but customer service and availability are just as important, so keep that in mind when choosing a junk removal company.
Keep reading: Questions to Ask Junk Removal Companies Before Hiring
Tires Are Removed
Junk removal companies will send a crew of 1-2 workers to roll and/or carry tires from your property onto their truck/trailer.
If necessary, they may use dollies or other equipment to help them with their loading.
Unless the amount of tires you have is extreme, the removal should be fairly quick and completed within 10-30 minutes.
Pay Invoice
Once your tire removal project is completed, before leaving your home or business, the junk removal company will provide you with an invoice.
Oftentimes, they'll take a credit card or cash on the spot.
In some cases, you can call into the office to pay the invoice over the phone.
Be sure to discuss payment before hiring services so that expectations are clear ahead of time for both parties.
Tires Are Properly Recycled
After your tires are loaded and payment is arranged, the pros will then transport your tires to a local recycling facility.
Tires are repurposed and recycled in a myriad of ways, like:
Using an incinerator, boiler, or cement kiln to use the tire for energy
Rubberized asphalt
Playground mulch
Road embankments
Material for new tires
Tires are not allowed in landfills.
---
---
Keep reading: